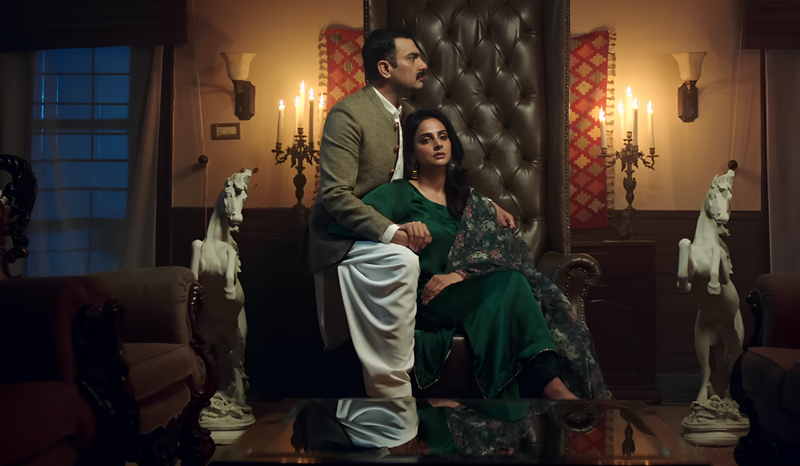 Adnan Sarwar's maiden foray into TV gives viewers hope that the future might not be as bad as they expect

TV series might be a new platform for the genius behind Shah, Motorcycle Girl, and Aik Hai Nigar but Adnan Sarwar proves that if your heart is in the right place then nothing matters except hard work and dedication. In Express TV's recently concluded mini-series Gunah, he showed that if treated correctly, a normal plot can be executed in an outstanding manner, and if actors are made to play characters, they even might have an ace up their sleeves. Rabia Butt and Sarmad Khoosat were the outstanding aces in the director's sleeve during the six weeks Gunah was screened whereas Saba Qamar and Juggun Kazim were there to support them in their own way. It would be a sin not to watch the tightly scripted, wonderfully executed, and brilliantly acted mini-series which might make you proud and content by the time you reach the grand finale.
The Plot
Powerful landlord Malik Hayat Khan (Sarmad Khoosat) is left helpless when his wife Gul Noor (Juggun Kazim) allegedly runs away with their children's tutor Ahmed (Ali Raza). His in-laws (Roohi Khan and Zafar Abbas) then try to present their other daughter Gul Meher (Saba Qamar) to Malik Hayat who agrees for the sake of his children. However, things take a dramatic turn when an honest cop SHO Sabiha (Rabia Butt) enters the scene and decides to investigate what really happened – did the housewife really run away, or was there more to the story. As the story unfolds, the police realize that Malik Hayat Khan's henchman Rahim was integral to the crime and by shadowing him, they solve the case.
The Good
The star of the mini-series is its script which was penned by Mohsin Ali, the man behind TV hits like Aisi Hai Tanhai and Dunk. Unlike the full-fledged TV series which comprises more than 20 episodes, he was able to keep the audience intrigued for six weeks, besides creating some of the most memorable characters portrayed on TV recently. Be it Rabia Butt's SHO Sabiha or Sarmad Khoosat's Malik Hayat Khan, every character he created had a backstory, had a method behind their madness and above all, was integral to the plot. Rabia Butt's eyes did most of the talking and the way her character kept her cool in front of the calculating Malik Hayat played miles away from his comfort zone by Sarmad Khoosat, makes you want to see her return as SHO Sabiha, and him as Malik Hayat, again.
Newcomer Ali Raza was also able to impress in his limited scenes as the tutor and his chemistry with Juggun Kazim raised all the wrong flags during the first free episodes. One must also commend Juggun Kazim and Saba Qamar who played sisters for a change (they were rivals in Sarmad Khoosat's Paani Jaisa Pyar) and were shown to be interested in the same man, which made the plot more interesting. However, one of them was married to that guy and the other was hoping to replace her and the way director Adnan Sarwar executed that was remarkable.
The same can be said of the background score by Mohsin Allah Ditta which grows on you and is as important to the mini-series as the script or the actors. It might remind the Hollywood fans of The Last of the Mohicans' background score which is a good thing considering no one aims that high in our TV industry. The DoPs Omar Daraz and Zaid Safdar Sandhu must be commended for their cinematography which reminds you of both films and OTT platform shows and if someone makes you forget that you are watching a Pakistani drama, then that's an achievement in itself.
The Bad
Involving a child in the main plot could have been avoided as that didn't seem to resonate with the kind of audience that was watching Gunah. In the second episode, he could have injured himself in a fight in school rather than finding a random blade and cutting his wrist, and similarly, in the final episode, his involvement was needless. At that point in time, everyone is a different person and that was one of the two things that disturbed me as a viewer during the series.
The second one locking the sister in a room with her alleged lover which might have been acceptable in the pre-Netflix era but today comes out as hilarious. I was sort of hoping that the writer doesn't do what Samina Peerzada's character did to Samiya Mumtaz and Adnan Siddiqui in Meri Zaat Zarra e Benishan but I was wrong. Anything else would have been better.
The Verdict
If you had to handpick a project to show Netflix officials that Pakistan can produce quality content, then Gunah would be on top of the list because it has written 'Made as Netflix' all over it. One must appreciate the decision of Express TV management who relaunched themselves in a manner that no other TV channel dared to.
To keep it limited to six episodes was a masterstroke and would prove to be beneficial to the drama scene in Pakistan which needs to rid itself of the Saas Bahu saga which is making viewers switch to OTT platforms instead of entertaining them.