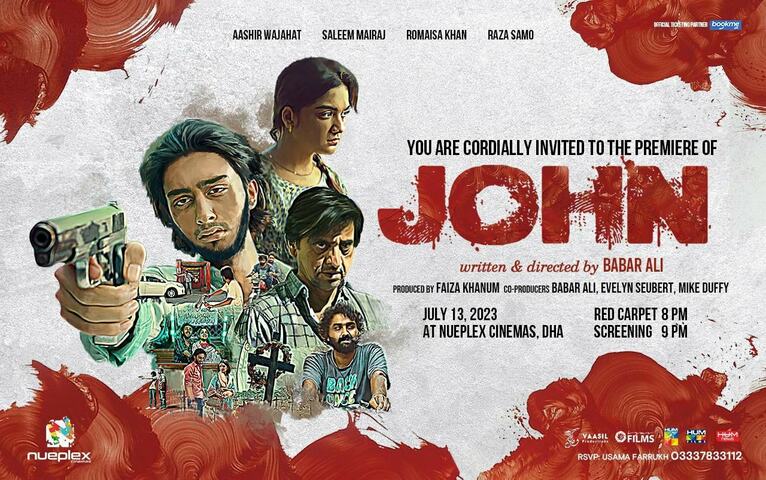 After The Legend of Maula Jatt, the only film that comes close to the masterpiece is director Babar Ali's creation!

If you thought Bilal Lashari's The Legend of Maula Jatt was a one-off attempt, think again! Despite a string of failures, Pakistani cinema is back to surprising the audience with Babar Ali's John where he makes you sit literally on the edge of your seat for the entire run. It wouldn't be surprising to say that John might have the Satya effect on the local film industry if used intelligently. Before Ram Gopal Verma's flick which was released 25 years ago, gangster films were a rarity in India but after Satya, it evolved into a genre that is loved by all.
So, what makes John better than any film release post-TLOMJ and why are the audience calling it the best film to be released in the last 25 years? Let's find out by looking at everyone associated with the film from the ship's captain to those who obeyed him in front of the camera!
Babar Ali, the ship's magical captain!
First and foremost, John is Babar Ali's baby who conceived, nurtured, and directed it in a manner that will make you forget all the half-baked films released this year. Not only does it have a story that has romance, action, and thrill but also because it is edited just like an English film. From intercut sequences where John is riding a bike and where the passengers change to the scene where he meets his boss in front of a swinging electric bulb, everything Babar Ali does turns to gold.
From simple but impactful dialogues to brilliant cinematography of Karachi by Asghar Ali Ghanchi, where the viewers get to see lesser filmed places like the Christian cemetery (Gora Qabristan), railway colony where minorities live, and the shrine of Hazrat Lal Shahbaz Qalandar, John is top-notch in every way.
The sound design and background music might have been done in India but that's okay considering the end result has come up as a Pakistani project the audience could be proud of. The way the director has represented the Christian community of Pakistan is also a step in the right direction because they are an integral part of our society. Their Churches are as classy as they come while their houses and their way of living are something that should have been covered in a film long before it eventually did.
The Matchless Saleem Meraj
From theatre to TV and now films, Saleem Meraj has never disappointed the audience with his performance even though some of his choices have been horrendous but he has rectified it all with Dawood in John. For once, the veteran actor was cast in a role that was made for him, where he could use his unlimited expressions, give variation to his matchless voice and appear as a dominating character, unlike his many previous outings as a film actor.
His dialogues were the reason why many in the cinemas were not talking to their partners on either side of the seat; when he delivered a well-crafted line, he meant every word and that's what helped the film, his co-stars and above all the writer/director who penned and filmed it. For some, the character might seem like another shade of his Laal Kabootar avatar but in reality, it was much bigger, much better, and much scary than that. If any actor wants to know how one should act in a film to make an impact, watch Saleem Meraj in John and you will definitely get a lot of pointers from his mannerisms and expressions.
The mature Aashir Wajahat we need
He may have worked in his father Wajahat Rauf's films before John but 2023 is the year of the new Aashir Wajahat who made his debut way back in 2015 as a child actor in Karachi Se Lahore. First, he was part of a HUM TV Ramadan play Chand Tara and now makes his debut as a main lead in a feature film. His father Wajahat Rauf and mother Shazia (director and producer of his earlier projects) had nothing to do with John except encouraging their son to go ahead and explore himself which he did in a great manner.
From someone who couldn't ride a bike or fire a gun to playing a gangster who could do both, Aashir Wajahat was the mainstay of John. Be it the scene where he is asked to clean a sewer or where he gets to know what Dawood does for a living, Aashir's expressions were pure gold. The romantic angle was also a twist in the tale and he handled them all in style. Despite blackening his face to look like a poor boy from the Christian society, he was able to look the part he auditioned for and excelled in.
Raza Samo and Romaisa Khan excel on Debut
The two biggest takeaways from John were debutant Raza Samo and Romaisa Khan who managed to look the part as well as be the character on their first try. Despite not having much experience as an actor, Raza was able to pull off Fazal convincingly and had the funniest lines in the film. Not only did the audience laugh at his stupid jokes but also wanted to see more of him, which they couldn't since he wasn't the main character or the supporting one.
As for Romaisa, she was amazing as Maria not because she looked like Maria but because she spoke as well as thought like a girl from the Christian community who wanted nothing else but a stable life. Her scenes with Aashir Wajahat before and after the wedding are a treat to watch and it is her character's strong traits that eventually change the way John sees his life and career.
Even the supporting characters were flawless!
One must mention the name of Tabish Mughal as Bali Pehelwan who was outstanding like a veteran, even though it was the first time he acted in a film. The way he stood up opposite Saleem Meraj's character and made a separate place for himself as the main antagonist proves that there is no dearth of talent in Pakistan.
Furthermore, had a lesser talented actress than Faiza Gillani been cast as John's mother, or someone other than Ehteshamuddin been chosen to play the headmaster of the school where John is employed, the impact on the audience would have been far less than it eventually did. Faiza Gillani's accent as a Christian of Punjabi descent was so spot-on that you had to wonder whether she was playing the character or the character was playing her. Ehteshamuddin, known more for his work behind the camera, was amazing as the soft-spoken headmaster whose interaction with John before he went over to the dark side made the first half laughable.
One must acknowledge the producer Faiza Khanum for ensuring that director Babar Ali gets everything he desires and that's why the film comes out as a complete entertainer instead of a half-baked attempt like Madaari which also dabbled in the gangster genre but failed big-time.