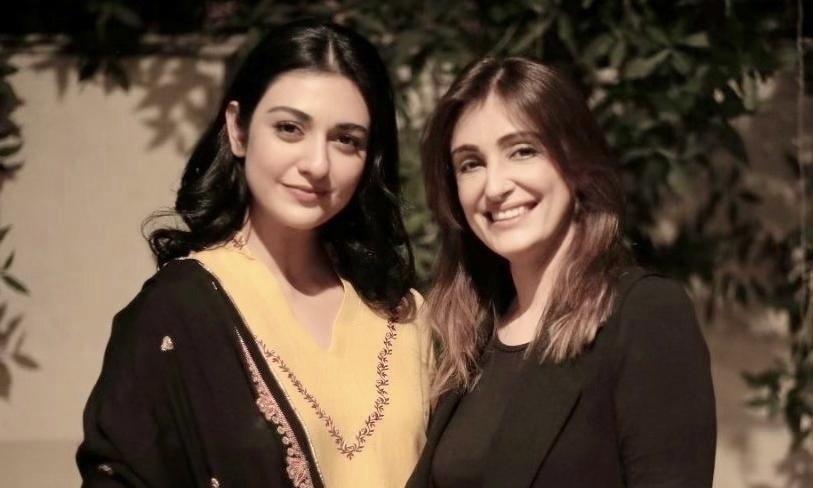 We interviewed the ace producer Shazia Wajahat on her career and the production of her newest project 'Raqs-e-Bismil'!

Shazia Wajahat is known in the world of media for her ace skills as an executive producer at Showcase Production and Showcase Films, having worked with her husband, Wajahat Rauf, the powerful duo has produced successful films, dramas and more to come!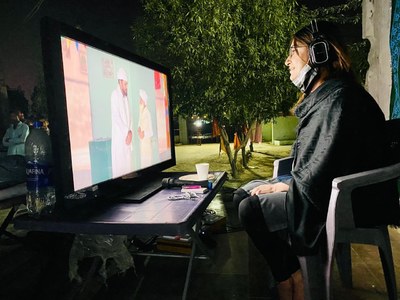 As a producer, Shazia Wajahat has done both dramas and films, including Karachi Se Lahore, Lahore Se Aagey, Chhalawa and even Parde Mein Reine Do, the latter of which will resume production in a month. In addition to films, Shazia has also done drama serials such as Yaar-e-Bewafa, Qaid, Mein Kaise Kahun, Damsa and most recently has teamed up with Wajahat Rauf for their hit drama serial Raqs-e-Bismil which aired in late December.
We've asked Shazia Wajahat a few questions regarding her production career and most recent drama serial!
Q. How did you get into the field of production?
Wajahat has been doing productions since the early 2000s, so I used to go visit him on sets and take the kids too when they were small. When the kids started growing up and I had time on my hands we were doing Kya Life Hai for Cornetto in 2008; that's when he asked me to help him out in the production. So I did all the scheduling and taking care of production, that's where it started and I started liking it, it kept me busy and I really enjoyed the work, so that's where I stepped in.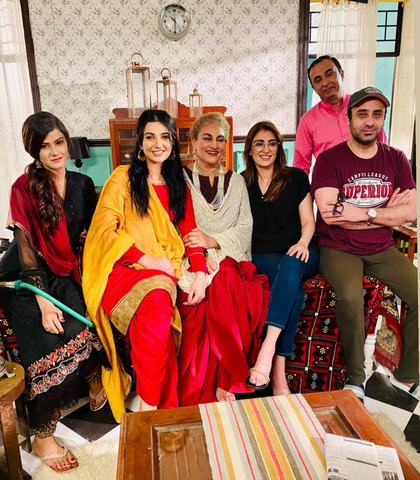 Q. What is it like to work with your husband, Wajahat Rauf, on collaborative projects?
Working with Wajahat is a learning experience. I've learnt a lot from him to now be on my own, making my own decisions on sets etc. He has been incredibly supportive and very encouraging, I ask him a lot of questions! He also wants me to get into direction as well, since we've been on sets together and we've produced so many dramas that I've got that eye for direction now, but not sure about pursuing it at the moment. It's always a lot of fun when we're together doing a project, when he's got his director's cap on, production gets a little neglected so that's where I step in and take care of all the other things so he can take care of his creativity and direction.
Q. How was the process of selecting the cast for Hashim Nadeem's penned script of Raqs-e-Bismil? Are you happy with the characters chosen?
Raqs-e-Bismil is something I can call my 'baby'. When I contacted Mr. Hashim Nadeem after seeing his dramas, he was kind enough to talk to me and oversee dialogues before giving us the script. It was the first time but he had seen some of our work so he said let's give it a shot. I had to do everything on my own initially because Wajahat was not involved in the beginning, he said it's now time that it's your thing and you do it how you want to do it.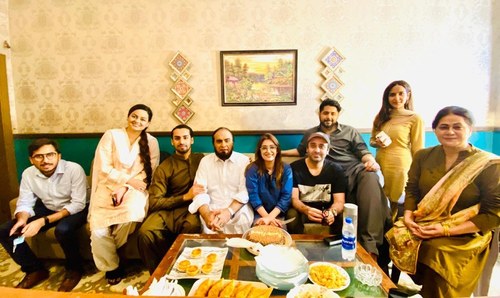 When I read the first few episodes it was so powerful and entertaining that I told Wajahat he should direct it even though he was hesitant because he has been focusing on films recently which have their own magic and way of doing things. Before he came on board I had already started casting and thinking of people in my head, as I tend to do because I could picture in my head. Then I requested Wajahat to do it again because he will do justice to this project. After I made him read it he agreed to it.
The names the Assistant Director and I noted down were thankfully really excited due to the characters being very strong, so there was no difficulty, everyone was on board and it was a great experience! Everybody joining us was known for their powerful acting, and worked incredibly hard, I think people will agree with me about the actors as the perfect choice for the characters they are playing.
Q. What is it like working with Imran Ashraf Awan in a role such as Moosa's?
I was a fan of Imran Ashraf's work when he did Alif Allah Aur Insaan. I told him he did a tremendous job and that we would eventually work together in person. When Bhola came out my son, Aashir, told me I just had to work with him, he's a brilliant actor! When I received Raqs-e-Bismil and I read the script the first name that came to mind was Imran Ashraf. Hashim Nadeem Sahab was very involved in the casting as well, having options written of different characters, with Imran's name there too. I just called him up and briefed him on the story and he agreed, saying he will do this character. This was all through lockdown and he got on board and I was very excited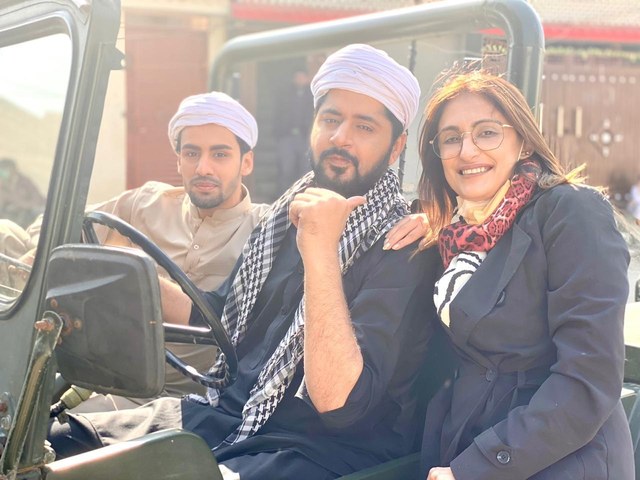 The working experience with him (Imran Ashraf) has been really nice, I haven't seen someone so hardworking, amicable and genuine. We work with a lot of actors who have their own qualities, with Imran, he takes everyone with him, it's not just about him on set it's about every character, he helps everyone around him, including the younger actors. He was so much fun to work with and did a wonderful job, which will be visible on screen.
Q. How do you feel about the tribal fashioned storyline of Raqs-e-Bismil? Did you expect such a great response to the first episode?
Yes it's a tribal fashioned storyline, it's happened before too. This is real life and it's happening, educated people may have come out of this but it exists. We know the response would be huge but were a bit worried about it. It's about the way you execute it, the dialogues, the way it has been written is beautiful and logical. When people see it they will see the different feel to it, despite it being a theme that has come on screen before.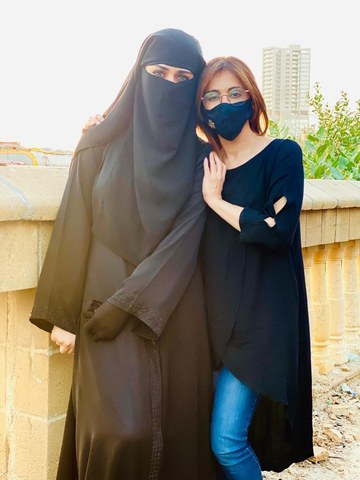 Q. This is Sarah Khan and your 5th collaboration together, did you know she was perfect for the role of Zohra?
I hope we continue to do projects together because she is the most amazing person to work with. The characters we've done previously are completely different. In Sabaat her character was a bit bold and energetic, but her other roles have been a bit similar even in our own projects. Sarah's always the shy one, she's a bit careful with the character she plays. But when I read the script and about Zohra's character my heart was set on Sarah playing it. When I discussed it with Wajahat he also agreed on Sarah as the choice, so did Mr. Hashim Nadeem.
Subsequently, I called Sarah about playing Zohra and she had a similar response to Imran's about the role. As an actor I think she has transformed a lot, she is getting better and better with time which you will see in her performance, how she has done justice to the character. Our decision was right!
Q. How did you select the locations for the shoot?
We had 30-35 locations which is a little unusual for a drama. When you have a director like Wajahat Rauf who has films on board, selecting locations is a task! Every director has their own perspective but since he's a film director too, he evaluates how to make it look grand for the shoot, what's important and what's not. The process was a bit difficult, you'll see all kinds of locations on screen. Something funny which happened was when Mehmood Aslam Sahab asked us where we're finding all these locations, which is up to the director, guaranteeing we see that grandeur in dramas.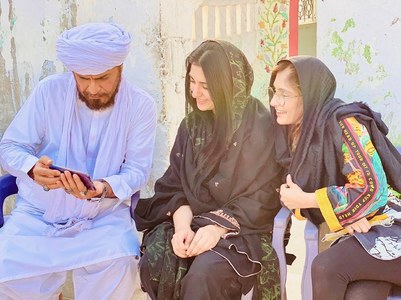 We put in a lot of effort with the director's input, there were last minute selections, scheduling issues but since we have a good team which has worked together before we were able to choose all the suitable locations.
Q. Was the character of the Pir Qudratullah Shah meant for Mehmood Aslam?
Pir Qudratullah's character couldn't have been any normal person. He's Raqs-e-Bismil's backbone and I had the late Abid Ali in my head for the role, who would've done an amazing job. Mehmood Aslam has worked with us as well in films before, and we needed to select the top of the top. When we called him he was a bit worried about keeping the beard in the heat, but we told him this character is his and he has to do it, he did a fantastic job in Khaani and we've seen him execute his serious side brilliantly. Wajahat was convinced that it has to be Mehmood Sahab and after guaranteeing we'd take care of the beard he was on board and has done a tremendous job!
Q. Is there any upcoming project in the works after Raqs-e-Bismil?
Yes, there is another project, a web series that is shooting currently. We also have Parde Mein Reine Do, our film which was halted because of coronavirus and will resume in February. Before Raqs-e-Bismil there was a concept I was working on with the writer Asma Nabeel, which has been delayed because Raqs-e-Bismil had come up. Now we're back on track with a very different concept which Asma is writing, a family story, so we will start working on that.