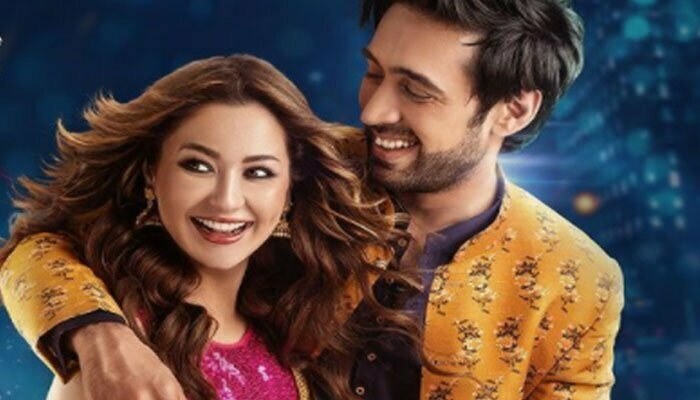 Wajahat Rauf's 'Pardeh Mai Rehnay Do' starring Hania Aamir & Ali Rehman has us intrigued!

The come-back of Pakistani cinema post the prolonged covid hiatus has started off with a bang! A line-up of some exciting and highly entertaining films are all set to make cinema-goers forget all their woes of the pandemic. After the news of movie Khel Khel Mein broke, another upcoming film, "Parde Mai Rehnay Do" has certainly caught our attention with its newly launched teaser. Featuring, the gorgeous starlet Hania Aamir and the blue eyed wonder-boy, Ali Rehman Khan in the leading roles whereas, legendary actor, Javed Sheikh is finally making a comeback and we're loving his hilarious opening one-liner in the teaser, setting the mood for the rest of the film. The movie is giving out a fun, energetic, comic, dramatic, groovy and over-all entertaining vibe - just what the audiences need at this time to loosen up, have some fun and enjoy a much deserved light-hearted 'masala' movie-night with their friends and loved ones!
Parde Mai Rehnay Do is brought to you by the makers of Karachi se Lahore, Lahore se Agey and is directed by Wajahat Rauf who has successfully directed various blockbusters in the past. The film is produced by Wajahat Rauf, Shazia Wajahat and Wajahat Abbasi while the the script is the brain-child of writer, Mohsin Ali of super-hit drama 'Ishqiya' and Dunk fame. The film's release date has not yet been announced but we're looking forward to what this promising team is bringing forward to the audiences this time around.
The teaser opens up with a 'baraat' scene with a loud band playing, people dancing and a lot of 'hulla-gullah' going on, they're interrupted by Javed Sheikh's hilarious one-liner and we're then introduced to the drop-dead gorgeous heroine of the film, Hania Aamir, and her better half in the movie, the dapper Ali Rehman Khan. The couple is shown having a good time in some candid shots where they seem totally in love and are also seen celebrating their wedding anniversary. A peppy dance number takes over where Hania Aamir and Ali Rehman Khan are setting the screen on fire with some epic moves, and are dressed to kill, Hania looking to paint the town red in that dazzling 'saari' while Khan complements her in a yellow sherwani. We're absolutely loving the on-screen chemistry of the two on-screen.
What raises our curiosity is the next part of the one-minute teaser, the happy couple is now distraught and we see Hania leaving her beau, crying her heart out and Ali Rehman Khan walking away from a marriage hall. There definitely seems to be something happening and we're anxious to see the complete trailer to have some insight as to what's causing havoc in their lives all of a sudden.
Some may argue that the Pakistani audiences have matured and are looking to watch intellectual movies but we do believe that some feel-good, all out 'masala' movies are definitely needed to have some fun on a night out! Time will tell how the movie fares at the cinemas, but we're certainly going to be adding 'Parde Mai Rehnay' Do to our must-watch list!
Watch the teaser here: