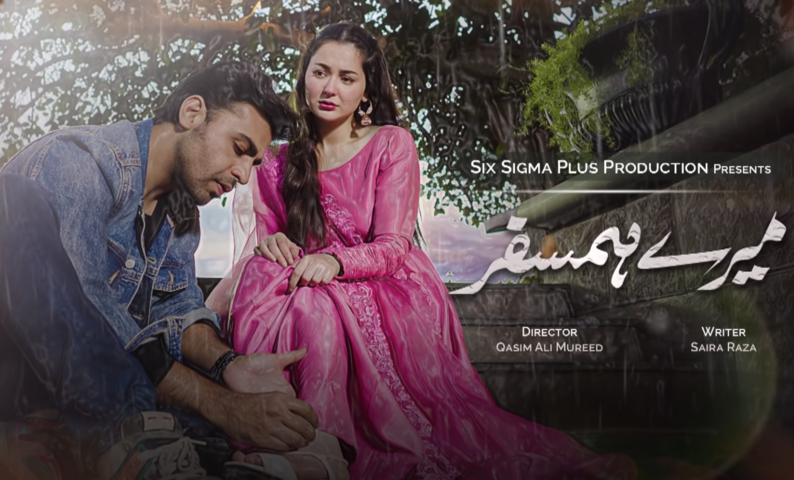 ARY Digital's Mere Humsafar featuring Hania Aamir & Farhan Saeed starts with a bang!

ARY Digital's most awaited drama 'Mere Humsafar' kickstarted just before the year ended, featuring the gorgeous Hania Aamir and dapper Farhan Saeed in leading roles, Mere Humsafar is one of those block-busters in the making. The hype around the leading pair has caused quite the stir, Farhan Saeed and Hania Aamir are coming together on-screen for the first time and people are excited to see this unconventional duo sizzling on the small screen.
The first episode set the stage for the main plot showing the younger versions of Hamza (Farhan Saeed) and Hala (Hania Aamir). Mere Humsafar will be following the couple's romantic saga in the midst of a full-blown family drama which includes the age old saas-bahu saga featuring Saba Hamid, Samina Ahmed and Tara Mehmood. Hamza and Hala are first cousins where Hala is seen to be intrusted in the care of her grandmother (Samina Ahmed) by her youngest son Nafees (Aly Khan). He manages to convince his family by promising monthly payments for supporting his daughter, in a way he is abandoning her in order to marry a foreigner back in England.
A classic love story, an unconventional pairing, a star studded cast and an emotional yet intriguing narrative are what make Mere Humsafar worth the watch, we explore what we believe makes the show a super-hit in the making :
Hania Aamir in a tailormade role for Mere Humsafar
Hania plays the sweet and naïve young girl who will hopelessly fall in love with her older cousin Hamza. The actress who has a number of blockbusters to her name such as Ishqiya, Dilruba and Aana to name a few is all set to play 'Hala', the teasers show a scared, soft-spoken and innocent Hania Aamir in love with a charming Farhan Saeed aka Hamza. After the sharp and witty role she played in Dilruba, we are excited to see her in a complete opposite avatar this time around.
The drama boasts of a star studded cast and a great team
Apart from the leading actors, the show boasts of a star studded cast that includes seasoned actors Samina Ahmed, Saba Hamid, Waseem Abbas, Angeline Malik and Tara Mehmood. Osama Tahir, Zoya Nasir and Hira Khan will also be seen playing pivotal roles.
Mere Humsafar is directed by Qasim Ali Mureed of Prem Gali, Aangan and Tich Button fame, the show has been penned down by Saira Raza who has super-hits Dil Mom Ka Diya, under the production banner of Six Sigma Productions.
Hania Aamir and Farhan Saeed's unconventional pairing has us excited!
The two actors are coming back on screen after a short hiatus, Farhan Saeed was last seen in Prem Gali while Hania was last on-screen in Dilruba. The show is family-centric that revolves around the budding romance between Hamza and Hala a.k.a Farhan Saeed and Hania Aamir who will grow up together as cousins in the same home. The duo have shared an amazing rapport on-screen which is visible through the teasers aired earlier.
What are we expecting from Mere Humsafar?
The first episode started off with a bang, the show will be highlighting the issues people face while living in a joint family and will revolve around Hala who was abandoned by her parents in the care of her extended family. We are eager to see how the sassy, eye-rolling child turns into a naïve and timid Hala in the long run as the drama goes through a time jump in the upcoming episode.