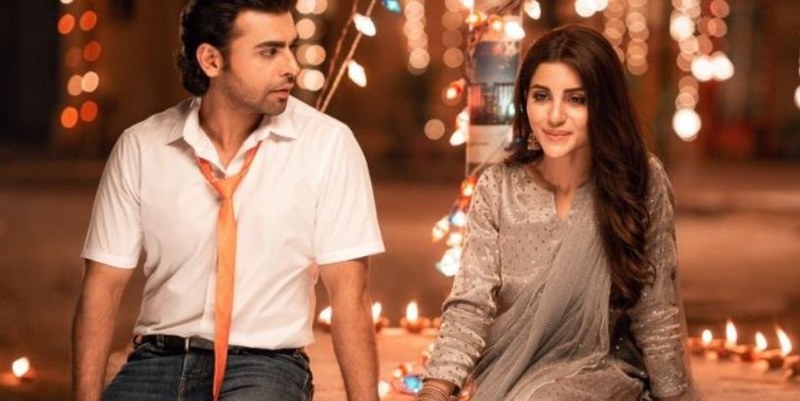 Prem Gali is full of laughter and drama in its latest episodes!

It has been quite some time since we last reviewed Prem Gali. If truth be told, the drama seemed like old wine in a new bottle and hence, we stopped watching it.
But the buzz and the raving reviews prompted us to consider viewing it again. And after a binge-watching spree, we have decided that Farhan Saeed and Sohai Ali Abro's rom-com of a drama is indeed an addictive watch.
It has been twelve episodes to Prem Gali and the drama has proven itself as a Monday motivation indeed. With serious shows on other channels, this play is your cure to all the post-weekend blues.
Let's take a quick review of what has been happening in the story all this time.
A hilarious drama within a drama
Loyal viewers of Prem Gali must be aware of the topsy-turvy ride of a romance Joya (Sohai Ali Abroo) and Hamza (Farhan Saeed) are going through. Finally recognizing their feelings for each other, they are facing the ordeal of dealing with their respective families.
Joya's women-centric family, featuring her grandmother Rahat (Shamim Hilaly), mother Shireen (Saba Hamid) to her maternal aunt Musarrat (Uzma Hasan) has been playing their roles to make our break our heroine's love story.
While Rahat is one supportive grandma, Shireen is a tough cookie while her sister is a softie. To make their love story a success, Hamza kickstarts a pseudo proposal service for Joya to make Shireen realize that there is no better suitor for her daughter other than Hamza.
Joining hands with Rahat, the plan comes into full spring with Joya and Hamza acting as if they are against marrying each other. They pulled off the entire drama so that no one finds out that is indeed a love marriage.
Of course, they were bound to be obstacles in their plan. Musarrat is highly against the idea of marrying Joya in a household where no woman could survive. Hamza's uncle (Abdullah Farhatullah) is also adamant that this union is a mistake as he is under the assumption that Joya loves someone else.
Amidst all the drama, Shireen ultimately likes the idea of marrying Joya and Hamza. Our hero admits to his grandfather (Qavi Khan), father (Waseem Abbas), and uncle that he and Joya are in love with each other. To escape the scandalous gossip in the neighborhood, Shireen instructs Joya to pretend as if she is against the marriage. All goes well until at the end moment, she put forwards the demand of making Hamza a live-in-son-in-law.
A furor erupts between the families upon this condition and Joya-Hamza's whole plan to make their 'shaadi' a success becomes a fiasco.
All the things we love about Prem Gali
The best thing about Prem Gali is the individual flavor each character is bringing in the story. In their own hilarious ways, all of them unite perfectly to create colorful chemistry of their own in their vibrant neighborhood.
So far, the most adorable performance being delivered is that by Qavi Khan. His endearing acting as the loving grandfather has made his character the main attraction of the show. In every scene, his presence as the elder of the family shines through, proving he is a gem of a veteran that our industry is blessed with.
On the other hand, our trio of women including Saba Hamid, Shamim Hilaly, and Uzma Hasan is over- powering the male cast of the story.
They are outstanding in their roles, especially Saba who is playing the role of Shireen as the boss woman of the house like a pro. From her styling, her dialogue delivery, her facial expressions to her body language; she has aced the challenging tom-boyish character of a strong mother with sheer perfection. Sohai and Farhan have truly become the new happening couple on our screens. We won't be surprised if brands will start roping them in together for commercials or directors will want to cast them as a pair in movies. Our leading lady is delivering all the drama and vivaciousness the avatar of Joya demands. But it is Farhan Saeed that we have become an ardent fan of. He is proving that he is one of the best in the business, both with his package of looks and fine acting chops. He has donned the exhilarating character of Hamza with aplomb.
We won't stop watching Prem Gali for now. Its witty dialogues and light-hearted humor are compelling us to keep returning to it. Super excited to know how Hamza and Joya will be uniting now, given that their tale has hit a massive snag.