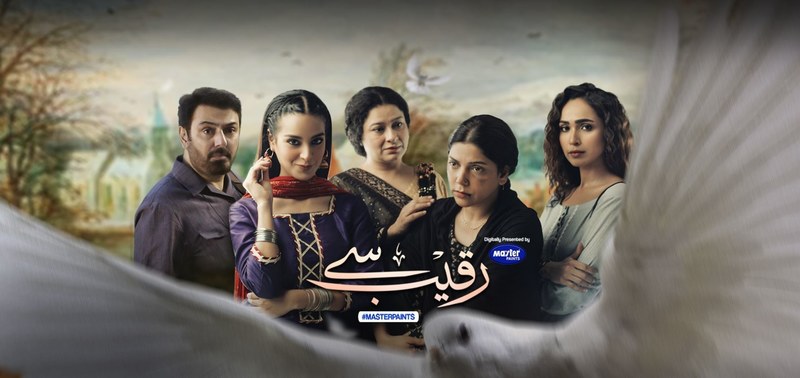 Watching 'Raqeeb Se' is like witnessing poetry in motion.

Hum TV has been on a roll, after blockbuster dramas on air like Mushk and Raqs-e-Bismil we are now being treated with Raqeeb Se which has a power-packed star cast that includes the legendary actors, Nauman Ijaz, Sania Saeed and marks Hadiqa Kiani's TV debut.
The Story So Far
Nauman Ijaz aka Raqeeb Se's Maqsud Sahib is confronted in the middle of the night with his former love, Sakina (Hadiqa Kiani) and her daughter Ameera (Iqra Aziz). Hajra Begum (Sania Saeed) and Maqsud's wife welcomes Sakina with open arms, quite the opposite of what we would expect any wife to do. Insha plays the strong-headed daughter of Maqsud and does not support her parents' decision in welcoming Sakina and her daughter into their homes. Today's episode introduces Sakina's husband Rafiq Ali after Ameera and Maqsud go to the village without Sakina. Rafiq constantly taunts Maqsud about his past with Sakina and also threatens to kill him for what he believes he has done. On the other hand, Insha confronts Sakina and by bringing up how her father has been harbouring a long lost love for her for twenty years while ignoring his wife. The episode ends with a confrontation between Maqsud and Rafiq Ali who wants to avenge his wife's betrayal from him.
Maqsud Sahib Steals the Show With his Mind-blowing Performance!
Nauman Ijaz is a treat to watch, the versatility he shows in different roles just goes to show what a fine actor he is. Not saying much, Maqsud Sahib is the centre of the drama amongst all the Raqeeb Se ladies. Sandwiched between his wife and past lover, we are anxious to see how his character's story unfolds later.
Hadiqa Kiani's Debut Has Everyone Amazed!
Hadiqa Kiani's TV debut in Raqeeb Se is phenomenal, the shy timid Sakina she portrays has us in awe of her performance. Hadiqa has completely nailed the portrayal of a domestic-abuse survivor. The OST for Raqeeb Se has also been sung in Hadiqa's melodious voice and we absolutely love it
Sania Saeed as Hajra Begum Is Everything Good In Raqeeb Se
Sania Saeed is un-paralleled by none, one of the finest actors of Pakistan's TV industry, she gives life to each character she plays, taking it to the next level. Playing the calm and cool as a cucumber, Hajra Begum she shows us a completely different perspective of a wife whose husband has never fully forgotten his former beau. Instead of being jealous of Sakina she is confident and has faith in her husband. It has been an interesting watch, seeing a love triangle of this sort being played out as we are generally used to watching the jealous wife/ex-lover scenario on our screens.
Iqra Aziz and Faryal Mehmood Shine With Stellar Performances
Iqra plays Ameera, the loud, wild and sassy daughter of Sakina. Iqra has made her name amongst the industry within a short span of time and her acting in Raqeeb Se reminds us of her role in 'Ranjha Ranjha'. We love her comical dialogues and expressions that speak louder than her words. Faryal Mehmood plays Insha, who is a stark opposite of Ameera, the independent, sensible and calm doctor. She is amazed at how her mother is so welcoming towards Sakina and her confrontation with the two leading ladies was executed brilliantly in the latest episode.
Kudos to the Masterminds Behind the Drama!
Raqeeb Se cannot be talked about without mentioning Bee Gul the writer and Kashif Nisar the director who has brought Bee Gul's poetic script to life.
This story of long-lost love is one that audiences can relate to whole-heartedly. We are curious to see how the drama takes the next turn, after Rafiq attacks Maqsud Sahib, what will be Sakina's and Ameera's fate?