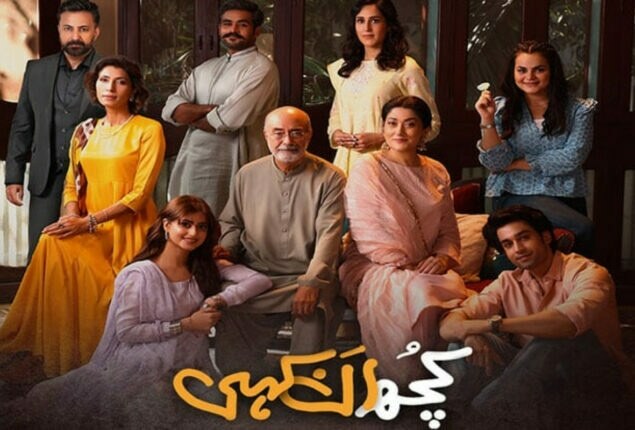 Aliya faces difficulties adjusting at her new work place

With Asfar's domineering attitude and constant reminders that her allegiances are no longer with Sehrish, Aliya finds it difficult to keep up at her new work place. In addition to all of that, Salman is still being impolite to her and acting rudely.
Kuch Ankahi, an Ary Digital drama that airs every Saturday, has gained a lot of attention for its progressive stories and the way it tackles some of our society's most pressing problems, such as girls being pressured into marriage, body shaming, and many others, in a heartfelt manner with hints of humour. Mohammad Ahmed wrote the play, and Nadeem Baig has directed it. Bilal Abbas Khan, Sajal Aly, Mohammad Ahmed, Vaneeza Ahmed, Babar Ali, Mira Sethi, Shehryar Munnawar, and a host of other outstanding actors are among the drama's impressive cast.
Agha Ji's House:
Agha Ji's House: Sensing Deepak's concern over his father taking him along, Sofia Phuppo tells him that he will stay with them until he finishes his matriculation. She does, however, ask him to swear that he will be strong to save his mother from being beaten by his father. Samia begs her to let her manage her issues on her own, and she persuades her mother that if she is unable to resolve the situation, she will seek their help. When Samia requests her to keep any of her issues from Agha Ji, her mother responds that she will never keep anything from him since relationships that are unconditional and unselfish cannot keep things hidden.
Agha Ji becomes enraged and tells Shammo that he was aware Zareena would make such demands when Shammo told him about her plans to seize control of their home. However, he asks to inform them that the house she is so desperate to own is the subject of legal proceedings and that many people will make claims to it after his passing.
Sofia believes that selling the home is the only way to address all of Agha Ji's issues, including Samia's. Sofia makes a promise to deal with Samia's issue while she and Aliya are talking about it. Aliya, though, asks Sofia to not take any action for Samia's matter.
Sofia urges that the only way Agha Ji's issues would be handled is if he sells this property. Aliya suggests she make Agha Ji understand this nicely and lovingly.
When Sofia questions Salman about why he hasn't spoken to them or visited, he responds that he has been busy since Rafi left. Sofia advises him to look for job like Aliya as running a business on his own is difficult. He responds that he won't surrender stupidly just because a bad scenario arises and that people who sacrifice their ideals develop a habit of looking for quick fixes to their difficulties.He doesn't precisely answer Sofia's question about if he and Aliya had a disagreement about her job.
Aliya becomes irritated and responds that if she didn't even consult Agha Ji about it, why should she ask Salman, when Sofia questions her about whether she asked Salman before switching jobs. Aliya responds that she did tell him, but sadly he ended up acting like a typical man.
Saif and Samia:
Saif wants Samia to get his mother's approval before making jewellery for Tania's project because her permission is required in this house, even to sneeze. Samia believes that she will be able to deal with Mummy, though, due to to her patience. She indicates that she also anticipates Saif standing up for her in the event of an outburst, to which Saif responds that he won't intervene and that she must bear the consequences of her own actions. She claims that Saif should reason with his mother because he is her husband and he will eventually have to take responsibility. Saif advises Samia to ask Sofia to speak with his mother since only she has the guts to do that.
Salman:
When Salman's mother (Almas) questions Salman about why he has been acting so strangely for a few days and if Aliya is the one with whom he had a disagreement. Aliya has compromised her ideals and will start to take shortcuts habitually, he responds angrily. He worries that Aliya has ended up being like everyone else because she chose the course that offered her the most advantages without even seeking his advice. Aliya is a smart, mature girl, so why would she require advice from you to make decisions, responds his mother. Salman reveals that, although being aware that she switched her loyalty because he promised her a competitive wage plan, the person she is working with is a horrible man. His mother wonders if he is feeling insecure and suggests when we love someone, we tell them that we are there for them through good times and bad. She continues, "We all know and see how hard she is working to support her house." Salman responds by asking if this means she will accept any offer of good money. Salman's mother gets angry by this and warns him for spewing such crude comments about a girl in front of her. If you can't stand by her, at least respect her, she says.
Aliya and Asfar:
Asfar is dissatisfied that Aliya accepted Jaffery's help with the billboard placement. Jafferey defends Aliya by pointing out that this would have been a challenging task for her, to which Asfar responds, "Why is she working if such tasks seem challenging to her?" Asfar then questions why Jaffery is so concerned about Aliya. Asfar commands him to return to Sehrish. Aliya interjects, claiming that this is unfair as it was she who asked Jaffery for assistance so that she couldn't work with the laborers alone. According to Asfar, she should have hired any marketing firm to handle that for her. When Jaffery ends the conversation and walks away, Asfar asks Aliya, "Will she be seeing him off now?" She is now loyal to him, she is reminded, but he corrects himself and says "her work." He is reminded by Aliya that while a person might compromise, they cannot sell their allegiances. At this point, he asks Aliya if she is willing to make any compromises, including working long hours and taking on any challenges or duties. When Aliya says that she thinks she made a mistake, Asfar reminds her that the employment contract she signed forbids her from quitting for at least a year, and if she does, she will be required to pay one year's salary. But if she spends some time here, she'll see that things are actually not all that horrible.
Asfar: Asfar's father shows up to meet him and inquires about the hoardings, wondering how he could put up signs bearing his name while the decision on the stay order was still being considered. When his father asks why he wants to make a spectacle for the world to witness, Asfar responds that he is doing it to show that there are fathers like him in the world.
Neha:
Neha meets a commercial director on Deepak's insistence, and when the director's assistant invites her to demonstrate her dancing skills at his home, Neha deftly responds by telling the man that her parents will also be coming because they came with her. Tanya comes up with the idea of using Neha as a model for their project after she informs her about it while she was working on her project with her friends.
Sofia and Thanvi: Sofia is seen sitting in Thanvi's car as they head somewhere. She tells him that she is going with him and will return with him in his car, amid Thanvi's concern that she would flee like she did some time back.
What we think:
Salman's motives for being angry with Aliya for such a long time are now unclear, and the whole cold war between the two is dragging on a little too much. The episode didn't clearly outline anyone's story; in fact, new stories are budding (including Thanvi and Sofia), and we're not sure how they'll develop. We believe Asfar is also attracted to Aliya because of the slight jealousy we detected in his tone when he saw Aliya talking to Jaffery and the fact that he mistakenly (or intentionally) wanted Aliya to be devoted to him. If that's the case, we hope that this drama will present a fresh take of a love triangle rather than the standard drama with two men falling in love with the same woman. We adored Salman's mother's talk because it revealed how smart and forward-thinking his mother is, which is where Salman gets his ideal men characteristics from. We hope that one or two narratives will at least be clarified in the upcoming episode because the overall mixed plate of different stories with a hazy execution is becoming a little confusing. Do you believe Samia would be able to gain Saif and his mother's love with her compassion and patience? Let us know in the comments section.