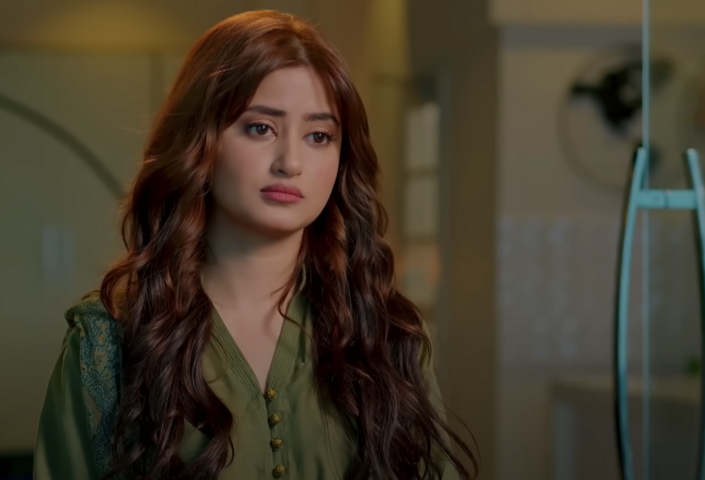 Aliya decided to leave Asfar's job after realizing that no matter what she accomplishes there, he will never be...

Aliya decided to leave Asfar's job after realizing that no matter what she accomplishes there, he will never be satisfied with it and her loyalty will always be called into question. However, something stopped her. Salman, on the other hand, is quite dissatisfied with the decisions Aliya makes without ever consulting anyone.
Agha Ji's House:
Sofia begs Agha Ji to get rid of Thanvi and reject his proposal, and if he does, she swears she won't demand her share of the property. Agha Ji strongly disapproves, telling Sofia that he has already finalized her marriage to Thanvi and that nothing will change his decision.
Meena appears quite pleased that her husband has finally given her his earnings for the first time after their marriage. Tania asks Meena if she would allow her daughter Neha, who has an acting offer, to accept it. Meena responds "no," stating that her husband won't allow. Tania, however, is adamant that Meena simply needs to bring Neha to their house and that she will take care of Meena and everything else. Shammo cautions Meena, saying, "You know what kind of a man your husband is, so whatever you do, do it on your own responsibility."
Asfar and Aliya:
Asfar lectures Aliya after a lipstick fell from her bag and rolled towards his feet. She is enraged by his constant anger over such little matters. She makes the decision to quit even if she would have to sell her car to pay him her salary. Aliya writes her letter of resignation, but when she goes to keep it in Asfar's room, she finds pictures of Asfar's childhood with his father. She hands Asfar her resignation letter when he inquires as to what she is trying to hide. When he asks Aliya if the task, she came to his office for is finished, she responds that it is and that she has discovered that Asfar has no regard for anyone.
Asfar becomes angry and asks Aliya that just because he has disclosed a few intimate details about himself does she now have permission to enter his office, home, and life, and leave whenever she wants. He reprimands Aliya and informs her that he won't accept her resignation since she can't just say sorry and quit whenever she likes. Asfar calls Sehrish to thank her for asking Aliya to celebrate his birthday and he promised her that he would pay her a home visit.
Salman and Aliya:
Sehrish has noticed that Salman is being possessive of Aliya, since he argued that Aliya should have at least informed someone before going to Asfar's house and returning late the other day. But that made him realize he needed to speak with her, so he did. He urges Aliya not to do something like this again. He insists that she should have let him know if she needed to go to Asfar's house. Aliya responds by saying that if she couldn't even tell her parents, how could she have told him. Everyone at her house became really concerned, he responds, but Aliya claimed that everyone in her family understands her perspective except for him. He needs to trust her, she says, because she went there knowing no one else would be there and the conversation she had there was very personal. She became irate, and when Salman reminded her that he wanted commitment, Aliya said that there can be no commitment if there is no trust and that she will get married if she finds someone who is like her.
Tania:
Shakeel has seen Mona at her house. They are looking into how to persuade the university guard to reveal everything about what happened to Mona now that they know she is still alive. Tania informs Aliya that Mona has been the victim of harassment and she will undoubtedly take some action. Aliya warns her that although she won't stop her from standing up for what is right, she only wants to remind her that women who experience harassment often give in to pressure from their families and society before backing down and leaving the person who stood up for them to suffer. She gives her the assurance that she would support her no matter what, but she must be extremely careful in this situation.
Saif and Shagufta:
Shagufta shows up at Saif's workplace and insists that they get married. Saif requests Shagufta to allow him some time since Samia has done a lot for him as well, just as she has helped him during his trying times. He says that in order to inform her about this, he needs some time and guts. Shagufta grants him another two weeks to sort his matters with Samia and his mummy.
Samia and Saif:
After receiving payment for her jewelry, Samia makes the decision to get her house fixed. She asks her mother-in-law for advice on whether to fix the bathroom or her room first. The way Samia has totally renovated their home has impressed and satisfied Zareena. However, Saif suggests she save some money rather than spending it all on them and their home since she might need it in the future.
Samia is asked by Zareena if she will leave them in bad times because she believes Samia will somehow alter Saif's destiny. Samia reassures her that Saif is extremely hardworking and has the power to change his own fate.
What we Think?
Salman, Asfar, and Aliya took front stage in the episode. It appears that Aliya may grow apart from Salman due to his possessiveness as she begins to realise that Asfar is not a particularly awful person. We now believe that Asfar and Aliya might end up together given that he has finally changed into this kind and caring guy. Also, we admire how things are improving between Samia and Zareena; it appears that, if Saif ever decide to get married to Shagufta, Zareena will back Samia. Shagufta's involvement in the plot is becoming somewhat boring, but we think she will stick around until her own past is revealed. Additionally, the banter between Thanvi and Sofia is dragging a little bit, so we need to know if she will wed him or not.
The upcoming episode's preview suggests that Aliya will get a car from her workplace; how do you think Salman will respond? Let us know in the comments section.