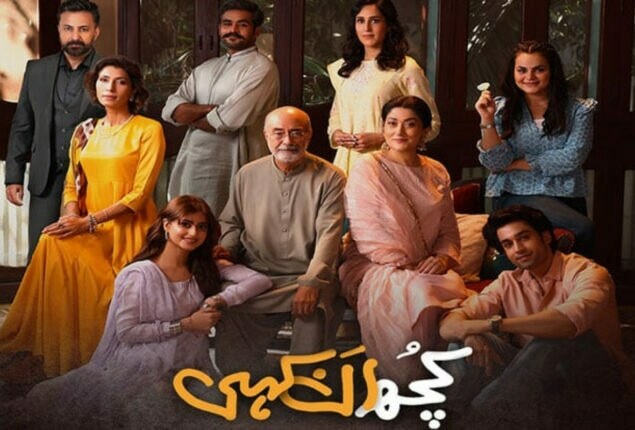 Asfar's proposal baffles Aliya and leaves Salman worried!

Finally, Asfar has proposed, and Aliya is completely baffled. Salman is obviously not happy because his predictions came true and he is uncertain about Aliya's decision.
Asfar and Aliya:
Asfar was convinced by Aliya to meet his father because he would be having a bypass procedure, and Asfar is now worried about his father as well. He discloses to Aliya that he has a lot of things he wants to discuss with his father but is afraid to because he worries about what might happen to him. Asfar, however, is reassured by Rahim Sahab that he would return as he was taken to surgery. Asfar and Aliya talk while they wait for the operation. Asfar claims that he has always desired people around him and his house to feel lively. He told her that he plans to bring his father home after his recovery. After that, he asks if she will marry him. Aliya was unable to speak since she was so surprised by this. Asfar did not press her for an instant response.
Asfar has informed Rahim Sahab that he will be moving in with him now that he has improved. Rahim Sahab expressed regret for what he had done, but Asfar reassured him that he had only done what he believed to be in his best interests.
Asfar calls Aliya and requests to meet for coffee. Salman and his mother were arriving, so she turned down his offer. He understood that they might also be bringing a proposal for Aliya. He then makes a call to Salman and asks him to meet. Salman was initially puzzled, but after realizing this was about Aliya, he made the decision to meet him.
Agha Ji's House:
Thanvi has managed to persuade Sofia that having a friend and a partner is more essential and significant in life than getting married, and as a result, Sofia has agreed to get married to Thanvi. Aliya is really perplexed following Asfar's proposal. Samia observes her resigning as she was typing it. When she inquires as to why, she informs her that Asfar has proposed. Samia queries whether there is something unique about him that makes her think so much. She claims that Asfar is a very kind man and that she would not have been able to save the house if he had not provided the financial assistance when she needed it.
She came to understand from Samia that, despite the magnitude of the favor, there are alternative ways to pay him back than by sacrificing her own life. Samia emphasizes that because she has never made rookie decisions, she expects that she won't this time either because it's a matter of her life.
Tania arrives and informs them that Almas and Salman are coming over for Aliya's proposal. Almas asks Agha Ji and Shammo to marry Salman and Aliya while his immigration process for Canada is arranged so that they can both apply together. Almas, though, questioned if they were looking at any other options for Aliya. Agha Ji was surprised when Shammo said that they could only respond after consulting Aliya for her opinion on the matter.
Salman and Aliya:
Aliya appears perplexed, and Salman has noticed that something is wrong with her. Aliya tells him that Asfar has proposed her.
Salman wonders if she hasn't been able to respond to him because he has provided the amount she required to save her house. Aliya told him that she earned the money through her employment and not because Asfar did some favor for me. Salman then questioned why she was delaying the issue and providing vague responses, or whether she wanted the two of them to engage in a fight to the death for her. Aliya makes fun of his idea by stating that it would be interesting. When Salman insisted on knowing her reason for this confusion, she said that if she knew herself, she would have told him.
Shagufta:
Shagufta realized her error when her father left her home to go to an old home and she observed how Saif had changed and was definitely in love with Samia. She brought her father back home and asks for his approval to perform as a theatre performer just like him. When her father inquires about marriage, she responds that it isn't her ultimate objective in life to get married.
What We Think?
We are thrilled with how everyone's tale has ended happily, and now that Sofia Phuppo is getting married, we can't wait to see her wed in the last episode. We admired how each story was written thoughtfully rather than hurriedly.
Aliya's confusion and keeping both boys hanging in the middle, however, is starting to frustrate us as well (there, Salman! We can understand your rage) but we can also kind of appreciate Aliya's perplexity considering how difficult it is for a girl to select a life partner in a society that is predominately misogynistic. We're hoping the last episode delivers on our anticipation (Aliya and Salman FTW!) What do you believe Asfar wants to discuss with Salman, and who do you think Aliya will end up with? Post a comment and let us know.