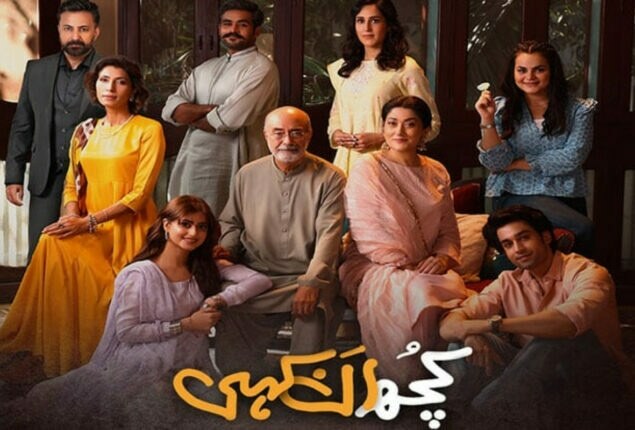 Things between Aliya and Salman are not looking well since Salman is unhappy that Aliya is working for Azfar.

The audience's love for Kuch Ankahi grows with each new episode. Every Saturday, the drama is aired on ARY Digital, and it has been consistently addressing stereotypical issues in our culture. The drama has been consistently addressing stereotyped issues in our culture and society. Nadeem Baig is the drama's director, while Mohammed Ahmed, who also plays the part of Agha Ji, wrote the script. The captivating storyline and compelling characters in Kuch Ankahi explore a variety of subjects, including women's legal and religious rights to property, workplace harassment, and social pressures for young women to get married.
Sajal Aly, Bilal Abbas Khan, and Mira Sethi are among the amazing cast members of this light-hearted and entertaining drama. Kuch Ankahi, undoubtedly should be on your watch list right now.
Agha Ji's House:
After receiving threats and clear warnings from his brother about taking legal action against Agha Ji for his share everyone was very disheartened. When Sofia suggested that they must sell the house and equally distribute rightful shares to everyone, things took a bad turn at Agha manzil. However, Deepak's wish to start studying again and him getting admission into school after the entire family especially Agha Ji helped him practice for the admission test, proved to be fruitful in bringing back the same hustle bustle of the house. Everyone seems very happy after Deepak got admission in the school and they are all in their celebratory spirits.
As the family celebrated Deepak's admission to school, Thanvi arrived with celebratory goodies, but Sofia didn't appreciate his presence. When Salman's mother asked Sofia how she found the courage to elope from her own wedding during a time when it was rare even in films, Sofia replied that she did what she thought was right for herself. Aliya assured her father that she wouldn't let him lose, no matter what. Meanwhile, Shakeel had been dreaming about confessing his feelings to Tania, but when he finally did, Tanya makes sure he never thinks about such a thing ever again.
Aliya and Salman:
Salman indirectly confessed his feelings for Aliya. However, when Aliya told Salman that she had joined Azfar's office because of a better package and lack of growth opportunities in Sehrish's office, Salman was offended and left without further talking about it.
When Aliya asked Salman if he didn't like her working for Azfar, he didn't answer her clearly. Salman was seen thinking about how people change so quickly. He couldn't understand why Aliya accepted Azfar's offer when he thought she would never compromise on her own rules. When Aliya called Salman for some advice, he refused to speak to her and told her that advices are only taken before decisions are made.
Azfar and Aliya:
After Sehrish's suggestion Aliya went to Azfar's office where he being himself asked her if she was there to spy on him, which obviously offended her. However, he eventually offered her a job in his office and asked her to join from the next day. As she joined work, Azfar started being a very bossy boss and asked her to follow set rules, such as "the boss is always right." When he asked Aliya to start working on the housing scheme that Sehrish was working on, she reminded him that he had sent her a stay order, and it was a good idea to wait until the court's decision was pending. Azfar reminded her that she needed to compromise on her own rule, however, Aliya was quick to retort back with saying she was still deciding whether she wanted to work for him or not.
Samia:
Zareena is persistently asking Samia about when they could shift to Agha Ji's house, but Samia told them it would not be possible. Tanya asked Samia to make jewellery for her assignment
Meena:
Meena's husband came to Agha Ji's house and threatened to meet Deepak without permission. When he tried to hit Meena, Sofia interfered and agreed to pay him money on the condition that he worked himself and didn't force Meena to work. If he failed to do so, she would take him to the police and report him for drugs and physically torturing his wife.
Sehrish:
When Sehrish's father caught Sehrish arguing with her husband to let her talk to her son whom he had not talked to since two weeks, he suggested that she file for a divorce because their lawyers would destroy her husband if she did.
What We Think?
Finally, Aliya and Salman were given more screen time. Even though they are fighting again in this episode, thankfully it is not as harsh or aggressive as it was in previous episodes. We're not clear why Salman is upset that Aliya is working at Azfar's office—is it truly the fact that she is breaking her own rules? or is Salman harbouring some jealousy because he thinks Aliya might end up liking Azfar since he is rich? We believe it's a bit too early to decide that right now.
The way the whole family is supporting Meena and Deepak and how devoted Sofia is to them has genuinely warmed our hearts. It was quite uplifting to see Meena and her family being treated with such affection and care, as we don't typically see that in our society. The fact that Meena and her children had never been treated differently despite being a member of a minority group, which is often the contrary in our country, was what made this story even more heartening. In the upcoming episode, we really hope seeing more of Aliya and Salman.
What will Aliya do regarding her job at Azfar's office? Comment below and let us know.