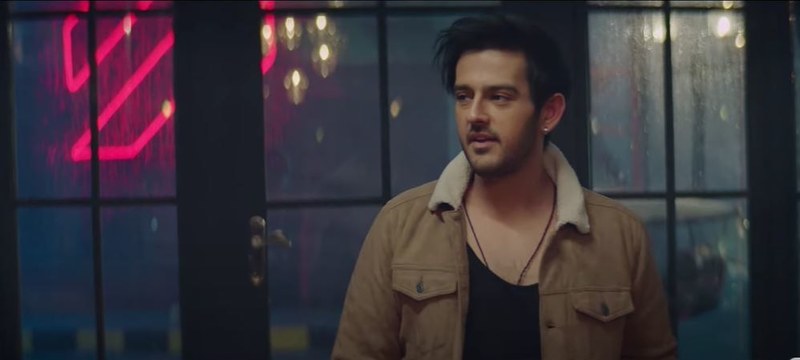 Azaan Sami Khan debuted his first song on the 10th of February, 'Main Tera', and here's our take!

He may have started his career as a music composer for films like Parwaaz Hai Junoon, Superstar and Parey Hut Love but Azaan Sami Khan was always born to sing. The son of music composer and singer Adnan Sami Khan and renowned TV and film actress Zeba Bakhtiar had both music and acting in his genes, and he combined them both to come up with his debut music video, where he sings, acts, and composes for himself. Main Tera would remind the audience of his father's earlier songs (from Raag Time days) but with a touch of modern music, lyrics and of course, Azaan Sami Khan.
The Plot
Azaan Sami Khan plays a drifter who fails to gain entry into a closed restaurant, breaks into a song and sort of coerces the owner of the restaurant into letting him in and serving him food. The two poles apart people then end up having dinner together, and the song serves as a bond that gains strength from the beginning till the end. From being on the outside to the inside, Azaan Sami Khan tries all the tricks in the book – from using a pay phone, to pleading for food without saying much – but it was the song that did the trick.
The Good – The youngster doesn't follow his dad but himself!
First of all, appearing in a music video did wonders for the youngster; in an era when music is either being done on stage or in OSTs, Azaan Sami Khan's bold move to release an album (digital, hopefully!) and music videos might give hope to all those music enthusiasts who aren't producing songs anymore. Secondly, the best thing is that Azaan Sami Khan doesn't go the RD Burman way like his father did and came up with his own style that might remind the listeners of his talented father but not RD Burman.
Produced by Meghdeep Bose, the compositions look straight from the 1990s when romantic songs were the 'in' thing but hey, we do need a little love in our life so that we can break away from the hatred that consumes us. Azaan Sami Khan does a fantastic job as a vocalist, and makes one wonders why he didn't sing any song in his films; maybe he wanted to surprise the listeners by coming up with something that suits his style, and if that was the idea, he has succeeded in raising a few eyebrows. Not many music composers would go for an orchestra these days and prefer minimum instruments but that's not how Azaan Sami Khan works. Like his father, he uses proper orchestra and the best musicians in the business to come up with a debut song that will stay for the listeners for a long time.
Also, Mohammed Ehteshamuddin's direction is first-rate and proves that an accomplished director can do anything from films, TV to a music video. He keeps his team together (DOP Suleman Razzaq) and delivers a music video that might go onto serve as a benchmark for youngsters out there. And yes, it is his voice on the radio at the start and end of the music video where he announces Main Tera and teases the other song in pure 'Amin Sayani' style that was again part of the lives of those who grew up in the latter half of the last century.
The Bad – The lyrics could have been a little better
The loss of his frequent collaborator Shakeel Sohail must have hurt Azaan Sami Khan, for the late lyricist wrote some wonderful songs while working with the composer. Be it Parwaaz Hai Junoon, Parey Hut Love or Superstar, Shakeel Sohail did the bulk of the songs and sadly passed away last year. Had he been around, Main Tera would have been written as a proper song instead of a song that targets teenagers and people in their 20s. That might be the same age group as the singer but a song with perfect lyrics caters to all, not just a few. Also, the sudden disappearance of the restaurant owner and the emergence of herself in another avatar will make you watch the music video again because it does look confusing at first.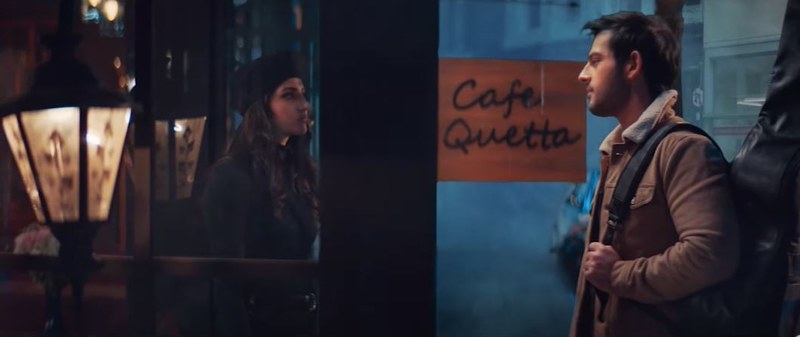 The Verdict – Azaan Sami Khan makes his parents proud!
Azaan Sami Khan has been composing songs for a long time and those who have worked with him praise him for his professionalism. After all, his mother Zeba Bakhtiar was herself one of the most professional actors in the business, while his father Adnan Sami Khan still works hard to create songs that stay with his listeners forever. The youngster makes both his parents proud by coming up with Main Tera at a time when no one dares to compose music citing financial loss, unavailability of music channels and lack of sales for audio CDs. With his upcoming song releasing next month, one hopes that Azaan Sami Khan challenges himself and creates something different that will herald the return of popular music in Pakistan, and give hope to those who have the talent but not the means to make it to the top.