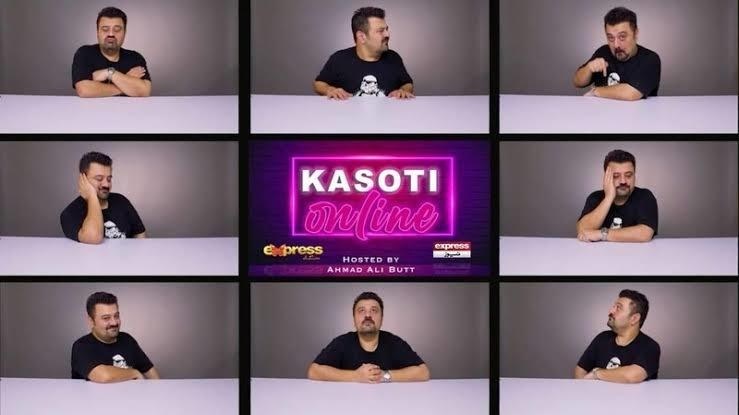 If you want to see a gameshow done right, you have to see 'Kasoti Online' hosted by none other than the King of Comedy.

A title well deserved, Ahmad Ali Butt's method of hosting is on another level on Express Entertainment's Kasoti Online, which has become increasingly popular since its inception, and rightfully so!
Not only does the audience get to see Ahmad Ali Butt in a totally different role as the host of his very own forte, a comedy show after Pepsi Battle of the Bands, but the fact that by being his authentic self, the actor and musician has effortlessly won over fans of the show who are eagerly waiting on the next episode.
If we were to present reasons to watch Kasoti Online, we would credit much of its popularity to the host himself. Without Jawani Phir Nahi Ani's 'Pipi' keeping us amused with comically timed expressions, vocal cues and his sense of humour, the virtual game show would not have the same impact it has now. Butt manages to make the celebrity guests feel comfortable at the same time engaging in fun small-talk before the rounds commence, which makes it more enjoyable for viewers who get to see public figures of the industry in a realistic light, competing against each other while we ourselves try to answer the questions mentally!
With guests such as Humayun Saeed, Ali Azmat, Ali Noor, Nadeem Baig, Fahad Mustafa, Sheheryar Munawar, Maya Ali, Osman Khalid Butt, Gohar Rasheed, Asim Raza, Adnan Siddiqui and Vasay Chaudhry to name a few, the show already has incredible promise of being entertaining, but the EP vocalist's interaction with the stars themselves and his epic one-liners make us feel like a part of the experience as we get to meet famed stars in the industry informally while they're pitted against each other for the game, bringing out their competitive streak which no other show has done. What makes it even more intriguing is when the Mr. Shamim star hosts celebrity couples such as Asad Siddiqui and Zara Noor Abbas, Iqra Aziz and Yasir Hussain, or Hira and Mani, which gives the audience a chance of seeing our favourite actors, musicians or directors in their true element and the added thrill of defeating them!
Ahmad Ali Butt's friendly dynamic with the guests appearing on the gameshow makes it all the more exciting without boring the audience one bit, as casual conversation and jibes only add to the comedy factor of the show, subtracting any awkwardness seen on professional platforms at times. The apt graphics and tiny edits which accompany the hilarious sound effects keep us hooked to what's going on, making Kasoti Online a must watch. Although there have been 12 episodes so far, the show has not failed to impress with its modern take on virtual competitions and fabulous host, who keeps the viewers attention locked.
A few notable favourites from the show included Nadeem Baig's incredible meltdown against Vasay Chaudhry, Hamza Ali Abbasi and Gohar Rasheed going head to head like professionals, Zara Noor Abbas showing her competitive side against husband and Zebaish costar Asad Siddiqui, and of course, Ali Azmat knowing way more than you thought!
Another reason why Kasoti Online is a gameshow which actually teaches those watching something apart from the fun facts of knowledge both locally and internationally in the world of history, art and media, is its ability to be modernised and 'with the times', as seen with the playful end-credits. The informal yet irresistible factors make this game show one to look out for in 2020 and the year to come, as it understands what the audience wants and personifies it, giving us a thrill and moments to be entertained by during the pandemic; and having the potential to become a full-fledged game show after!