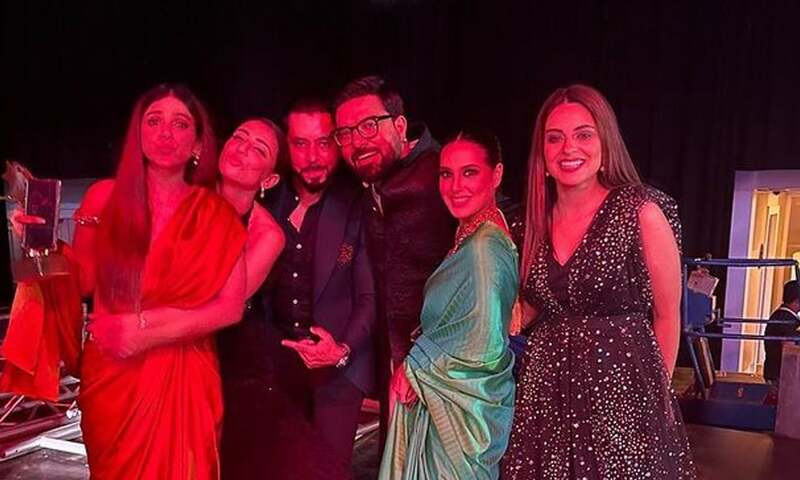 It was a breath of fresh air to see the celebrities dressed to the nines on the red carpet and partying their heart out.

The weekend kickstarted with all the right razzmatazz and pizzaz for Pakistan's entertainment industry. After all, the fraternity witnessed the grand affair of Pakistan International Screen Awards (PISA) 2021 being held after a year, post the pandemic-stricken lockdown....
It was a breath of fresh air to see the celebrities dressed to the nines on the red carpet, partying their heart out and bagging the prestigious accolade on stage.
The dazzling award night delivered a very coordinated celebrity red carpet, with most of our stars delivering desi fashion choices with aplomb. We spotted some of our darling starlets draped in sultry sarees, the rest donning floor-sweeping gowns and the men flaunting suits and tuxedos.
Let's review all our favorite celebrity sartorial statements that wooed us with their sparkling details and become the most memorable looks of the night.
Ushna Shah
The actress looked like a total firecracker last night and paraded her high-spirited energy donning a black ruffled gown by Elan and an extravagant belt, cinching the waist. Her dress has surely become the talk-of-the-town on social media for being so massively glamorous.
Arsalan Naseer
Sky-rocketing to fame in the industry in no time, the YouTuber-turned-actor Arsalan Naseer bagged the accolade for Best use of Humor on Social Media. The budding star looked like a total rockstar all suited up and dressed all dandy in black and white for the big night.
Amar Khan
Turning heads at the red carpet, Amar Khan stunned in her shimmery sequined gown by minutiae. She confidently rocked it and the dress fitted gorgeously on her, complimenting her nude make-up and sleek hair.
Hania Aamir
The hottest look of the night was surely owned by the darling diva Hania Aamir. Dressed in a slinky gold saree by Amna Chaudhry, hair straight with a middle parting and a hot-red pout; her minimalist look was a picture-perfect choice of glamor for PISA.
Feroze Khan
Tailored to excellence, Khan appeared like an ultimate dreamboat in her three-piece grey and blue suit. Sashaying on the red carpet in sassy shades, the hero attracted all the eyeballs, making sure he took the glam quotient through the roof.
Sana Javed
Yet another saucy saree look of the evening was owned by Sana Javed. Draped in an emerald green saree, the actress glowed like a goddess; exuding grace, confidence, and enigma.
Faysal Quraishi
Black was indeed a popular color of the night and Faysal Quraishi looked effortlessly young and heroic in his dark sherwani ensemble by Humayun Alamgir. Oozing royalty, the actor had class and luxe written all over his outfit.