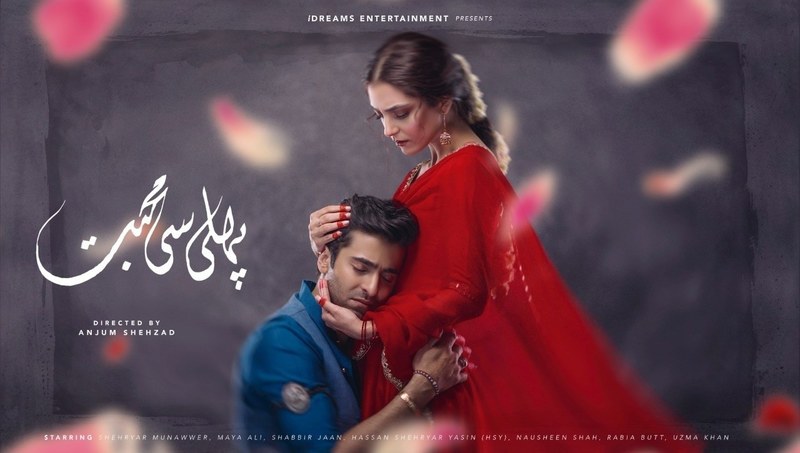 IDream Entertainment's Pehli Si Mohabbat captures the viewers' imagination with its 'unusual' take on love.

Dramas come and go, but some leave a mark with their originality, which is hard to find in the era of plagiarism. Written by Faiza Iftikhar and directed by Anjum Shahzad, Idream Entertainment's Pehli Si Mohabbat is one such play that has captured the viewers' imagination with its 'unusual' take on love. Featuring Sheheryar Munawar and Maya Ali for the first time on TV, the play takes you down the memory lane when love was simple, when the opposition was bitter and when life came out as a winner despite hurdles and obstacles. These and many other points make the play an ideal watch for your weekend. Let's discuss:
Maya Ali & Sheheryar Munawar's sizzling chemistry
Ever since they appeared together in Paray Hut Love a couple of years back, people have been talking about Maya Ali and Sheheryar Munawar's chemistry that was visible on the big screen. However, it is hard to bring the same intensity to TV, but the two actors have done a commendable job, considering they are themselves returning to TV after a long gap. Sheheryar plays the carefree lover boy, who is engaged to his cousin but falls in love with his neighbor portrayed by Maya Ali, who has a lot on her plate. She has to deal with her stepmother who is not from a respectable background, a father who has to answer the neighborhood for the marriage and her beau who follows her on foot or on a motorcycle, whatever is available. The scene at the park was nothing short of a filmi moment the two actors shared, and gave the love-deprived viewers something to remember by!
A 'changed' Hassan Sheheryar Yasin is a delight to watch!
You may know him as the leading fashion designer Hasan Sheheryar Yasin, or the host of one of the most talked-about Talk shows 'Tonite with HSY', but here, he is in a different avatar altogether. He plays the elder brother of the carefree Sheheryar Munawar, as well as the Moulvi who bullies others in the name of religion. From his wife to mother, brother to neighbor, he meddles in every other person's life and then tells them what to do, and what not to do in light of Islamic teachings. He may be right on occasions but his confrontation with his mother (Saba Faisal) make you realize that she may be more right than him. That HSY has managed to shed his own carefree image and become a different person altogether is in itself an achievement that he should be proud of.
The 'girls' are a treat for sore eyes!
And then there are the girls, besides Maya Ali, who dominate whichever scene they are in. From Rabia Butt who plays the 'notorious' new woman in the life of Rakhshi's father (Shabbir Jan), Saba Faisal who plays their neighbor, and Uzma Hassan who is her daughter, everyone has a significant place in the plot. While Rabia Butt's Nargis has to prove her loyalty to her stepdaughter and husband, Saba Faisal's character has to balance her life as a mother to three children who are poles apart when it comes to their personalities. And Uzma Hassan's character holds the key since she has been through the exact situation through which her youngest and most favorite brother is passing currently. They all are fabulous actors and with Anjum Shahzad at the helm, their performances have been first-rate; especially the scene where Nargis confronts her opponents while she was buying vegetables from a vendor!
The magic of Anjum Shahzad returns to ARY!
There is hardly any director around who has more hits to their name than Anjum Shahzad, who has been around for a long time. He started his career 'Bobby' in Family Front and then migrated to behind the camera where he has excelled ever since. From Hum Sab Umeed Se Hain to Darr Khuda Se, his body of work features hit dramas like Mora Piya, Mirat-ul-Uroos, Rang Laaga, Khuda Aur Mohabbat, Satrangi, Khaani, and Romeo Weds Heer to name a few. He was absent from ARY Digital for a few years but makes a brilliant comeback with Pehli Si Mohabbat where he brings the class of Khaani, the comedy of Romeo Weds Heer and the romance of Khuda Aur Mohabbat to give the viewers something they were missing dearly on TV. He may not have used his usual actors in the play but whoever he has cast and directed, has come out as a force to reckon with.
The background score is to die for …
Ali Zafar is a king when it comes to OSTs, as we still remember his Ehd-e-Wafa OST that aired last year and became a rage. The best part about his rendition is the fact that it can be used in both sad and happy situations, and that's exactly what the director does in Pehli Si Mohabbat. Whenever there is the need of the OST in the background, it magically arrives and makes the mood lively or dark as per the requirement. He may not have acted on TV for a long time but his vocals come out as a separate character who links the audience and the characters they are watching together.