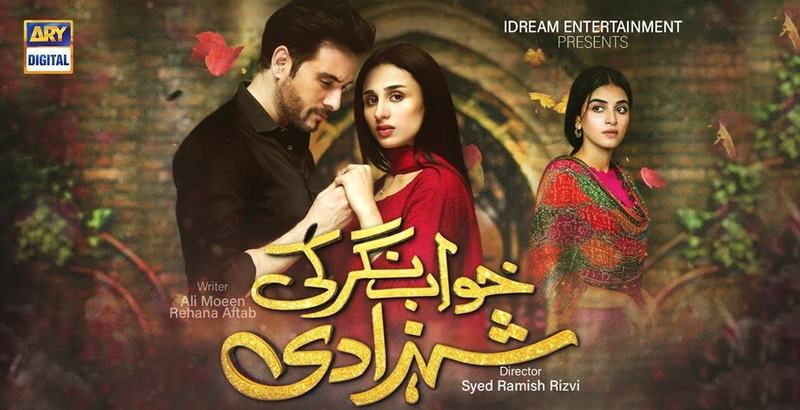 Khwab Nagar Ki Shehzadi follows the story of Meera (Mashal Khan), her husband Saim (Mikaal Zulfiqar) & their maid (Anmol Baloch).

The Story So Far
This week's episodes 5 to 8 made quite a development in the play's storyline. A love triangle of sorts seems to be forming as it seems like Saim and the maid are slowly becoming too 'friendly' with each other. Sehar begins feeling jealous of Meera on different occasions and also voices her complaint to Saim indirectly for which he ignores Meera's phonecall to make Sehar happy. On the other hand, Meera is oblivious to this and is living in her happy bubble. She and Saim announce they are expecting their second child to their families and everyone is ecstatic to hear the good-news. Sehars parents are facing issues of their own after her mother Shamim falls sick suddenly and there seems to be no cure for her condition. She then asks her husband Jamil to bring back their daughters to the village so she can see them for one last time as she lays on her death-bed. Jamil travels back to the city and reaches Meeras residence, but is threatened by her to leave or she would inform the police. He returns the next day and pleads with Sehar accompany him back to the village but she doesn't believe him and he returns empty handed. Finally Sehar meets her sister Samina and confides in her about Saim's flirtatious inclination towards her to which her sister advices her to flirt back. Sehar seems to have taken heed to the advice and has begun pleasing Saim by dressing up and cooking special sweets for him.
The Good
We love how Sehar's (Anmol Balochs) character has developed after the first week of the drama going on air. From a damsel in distress, she finally seems to have come in terms with her fate and has already begun aiming for the bigger picture.
Meera remains head-strong in trying to protect her maid from any harm. We loved Mashal Khans performance in the scene with Sehars father Jamil when she told him off for being a lying cheat and threatened to call the police on him. She acted fiercely and embodied a strong, independent woman perfectly!
The Bad
The over-dramatic acting by some of the supporting cast in the drama becomes a difficult watch such as Sehar's mother and Samina's mother-in-law. It seems like the two keep screaming instead of merely speaking their dialogues.
There have also been some loopholes in the storyline as well, we found it strange to see Sehar's father in town after running away for his life. Did he not fear for his life anymore when he came knocking at Meera's house looking for Sehar and then going to Saminas house as well?
What's Next?
We can't wait to see what the next week of Khwab Nagar Ki Shehzadi has in store for us. Will Meera fall flat on her face for helping out her maid? Watch the next episode to find out!