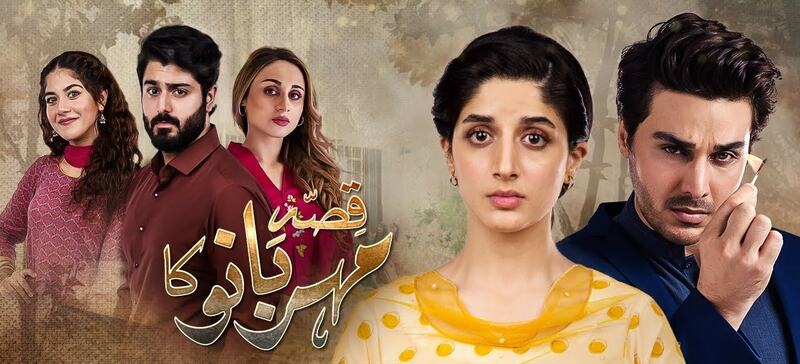 The Ahsan Khan, Mawra Hocane and Mashal Khan starrer Qissa Meherbano Ka has come to an end this weekend. The drama...

The Ahsan Khan, Mawra Hocane and Mashal Khan starrer Qissa Meherbano Ka has come to an end this weekend. The drama had created quite the buzz among drama enthusiasts as it tried to tackle a sensitive topic that has never been discussed on Pakistani television before Qissa Meherbano Ka.
The 'taboo' topic of marital rape was shown when Mawra Hocane's Meherbano was subjected to the horrendous act by Murad her husband who had previously abandoned her for 10 years and only returned when he knew he would receive all of Meherbano's properties after marrying her. Kudos to the team behind Qissa Meherbano Ka to have tackled and portrayed the message of marital rape so delicately yet it got the message out there for everyone to see.
The public may be divided on the end of Qissa Meherbano Ka after Mehran and Meherbano did not end up together. However, we do understand the message the show-makers were trying to give out to the masses. A Single woman can fight against the world and raise her child by herself, she doesn't need a man in order to navigate through life. We loved the amazing end to one of the best dramas out there breaking through the clutter of saas-bahu sagas we are normally bombarded with.
Ahsan Khan Proved Once Again He Makes the Perfect Antagonist!
Ahsan Khan shone as the notorious Murad, reminding us that he plays the 'baddie' amazingly well, everytime he came on screen he made the viewers flinch, oh how we hated Murad, however he proved Ahsan Khan had done a remarkable job playing the character to a T. While some believed Murad would mend his way towards the end of the show, Ahsan Khan had already hinted that the character would have no redemption or remorse upto the very end and that is what happened. He not only lost his son after he was sentenced to jail but also lost his second wife Fary who testified against him helping Meherbano win her case at the very last minute. She then announced she was pregnant and would never let him meet their child as she was moving to get away from him.
Mashal Khan Shines as Fary in QMK's finale
Fary was always on the wrong side of things in Qissa Meherbano Ka, however the viewers did believe her character was in the grey and Fary finally came around in the finale when she supported Meherbano in the court. Her becoming a witness for Mehru was all that she needed at the time and Fary managed to save her from being sentenced for defending herself from getting burnt alive. Mashal Khan proved her mettle once again as the fiery Fary in QMK and we can't wait to see what she has up her sleeves next.