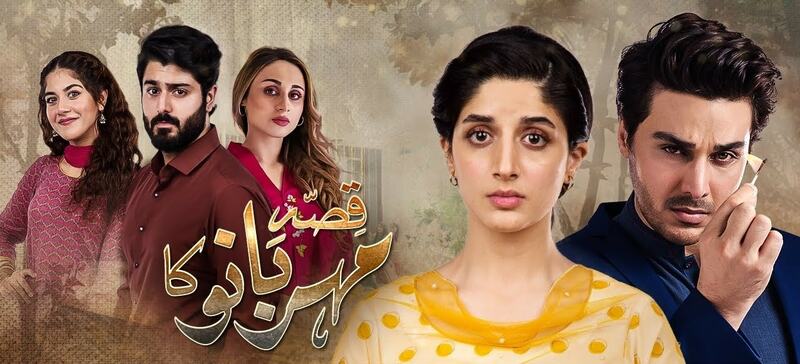 Mawra Hocane, Ahsan Khan & Mashal Khan starrer Qissa Meherbano Ka has us hooked with its gripping narrative.

Every week brings in a new twist to Meherbano's life, and this week too, Qissa Meherbano Ka played with emotions all around as the new episode brought forward some moments to love, some moments to be shocked by, and of course some that left us wanting for more!
Let's explore what this week looked like…
We find ourselves starting the episode off with Mehran (Zaviyaar Nauman Ijaz) and his mother, where the former is still disgruntled by the constant bickering and rude attitude of the latter towards Meherbano (Mawra Hocane). Mehran, who clearly is still infatuated with Meherbano – despite her constant vitriol against him – cannot take this and seems to be at a place where he might take an action that could change the story once more.
On the other hand, our favourite villain to hate these days Murad (Ahsan Khan), is up to no good like always. We see him going to meet Abba Mian and from the get-go it is quite clear that he only has gone to meet his purported father-in-law so that he can talk business. We see Murad constantly remind Abba Mian about the fact that Meherbano has properties on her name which he had previously promised to hand down to them. This not only proves to Abba Mian that Murad only came back for a reason, but also shows that he has gotten his beloved child stuck in a bad situation.
At Murad's residence too, things are as bad as they always were for Meherbano. We find her still stuck between her vicious mother-in-law and Fari (Mashal Khan) who both are constantly hating on her. Things do not seem to be getting any easier for Meherbano until these two women have it their way. The only thing going for Meherbano, however, is her budding relation with her nephew, Ayaz (Khusshal Khan).
We find the two sharing a friendship where he seems to be understanding what his aunt is going through, and it seems he might play an important role in her life in the future. But for now, it truly feels great to see Meherbano getting some solace in her nephew in a house that completely hates her!
With all that has happened this episode, we see Murad's evil actions taking its toll on Abba Mian, who falls sick after Murad asks for all the properties. Even more, we see Murad turning suspicious towards Mehran too, which is a hint towards what we can expect next!
There is tons happening and we bet even more is on its way – making Qissa Meherbano Ka an exciting watch like always!
Stay tuned to find out what's going to happen next!