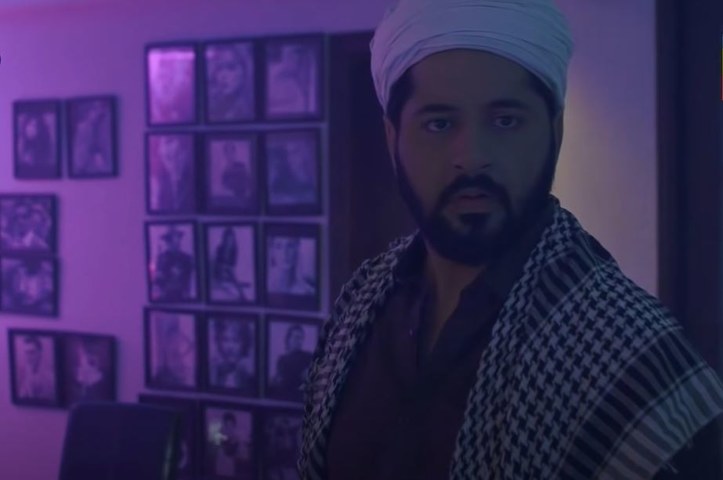 The drama continues to shine on with its intense storyline, after 3 episodes, it has audiences hooked and asking for more!

As the story unfolds we see a completely different Moosa, a polar opposite to what we believed the character was. Played effortlessly by Imran Ashraf, the actor portrays versatility with a natural flair. We're convinced no one could do it better!
Far from the hot-headed and short-tempered tribal leader we saw in the beginning, Moosa is now seen lost in his thoughts about the ever so mesmerising Zohra played by the gorgeous Sarah Khan. The strict tribal leader, Moosa's father also notices him missing from important daily matters and questions his activities.
Moosa and Zohra's Chemistry is Sizzling Hot!
We absolutely love the on-screen chemistry that Imran Ashraf and Sarah Khan share on Raqs e Bismil and cannot wait to see how this epic love saga unfolds further. Those stolen glances by Moosa are to die for, he also directly asks Zohra for her hand in marriage to which she blatantly refuses.
The cupid-struck hero continues pursuing her by waiting for her near the bus stop where she finally asks him to meet in a restaurant. Moosa is ecstatic when Zohra asks him to meet her at night. Little did he know he was in for the biggest shock of his life!
Meanwhile, the Pir and his wife are busy playing match-makers for their son and also get Moosa engaged to a family-friend's daughter, 'Sitara'.
Sakina's Thirst for Vengeance Continues!
Although Anoushay Abbasi a.k.a Sakina plays cousin-sister to Moosa, she is burning with a fiery vengeance against him for not letting her get married to the love of her life. Her relationship with Issa, played by Momin Saqib, is full of fiery taunts and fights as she is not willing to accept him as her husband. Although, Issa is trying his best to be a good and loving husband to her. Sakina was also shown to have convinced her mother-in-law that Moosa had taken a liking to Sitara, when there clearly was no such indication.
Khadija's Story Moves Ahead with More Emotional Blackmailing!
Javeria Abbasi who plays Sakina's mother is seen pleading with her daughter to accept what has happened and move on In life, however does she have to keep repeating the 'bechari maa' and 'mujhe zehar daydo pehlay' act repeatedly? We hope she doesn't have to resort to the same kind of emotional blackmail to her daughter in the next episode as well. We only say this as we are aware of the brilliant performances she has had in her illustrious career.
The Jaw-Dropping Cliffhanger!
Episode 3 ended with Moosa uncovering what Zohra truly is and what she does for a living. We have to admit, we truly felt the blow that Moosa received, one could see how his face changed seeing his 'parsa' Zohra dancing away with strangers in that party. The shock that he felt while that picture of the perfect girl he was in love with broke into a million pieces.
What comes next is making us anxious and we can't wait to see how Moosa handles this ground-breaking reality that he is now faced with. Will he still yearn for Zohra's love even though they come from completely different backgrounds? Watch the next episode to find out!