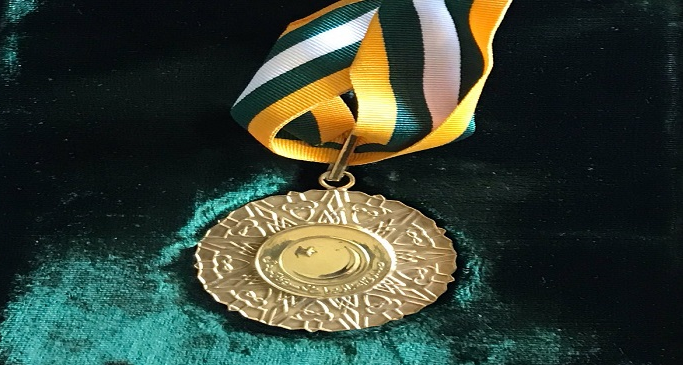 We see how many of our Pakistani celebrities and public figures have received awards this year for their services to the country!

Civilian awards and accolades are an honour to receive, as they publicly acknowledge an individuals accomplishments and services to the field. This year itself, celebrities have been bestowed with the Tamgha e Imtiaz, Pride of Performance and other prestigious awards by the Federal Cabinet.
Some of our contemporary stars who have achieved these huge awards, such as the President's Pride of Performance are Ali Zafar and Humayun Saeed, who received the awards on the 14th of August, 2020. Veteran legends, Ghulam Mohiuddin and Deeba Begum also received the honorary award for their significant contribution to the field of arts on Pakistan Day. Mr. Mohiuddin also shared with Express Tribune how he was happy to receive the award and respect for his services to the industry.
"After serving Lollywood for 43 years, the government of Pakistan has considered me for this prestigious award. I am happy about it. I have witnessed Lollywood go through some serious ups and downs but now I am happy to see local films grace the big screen once again."
Renowned singer and artist Ali Zafar was granted the Pride of Performance and made certain to show his appreciation to all who contributed to this achievement. The actor has been actively involved in making reformative decisions and acts of goodwill, such as helping families through his organisation, the 'Ali Zafar Foundation' and targeting marginalized communities such as minorities, artists and the trans community, bringing both awareness and aide to the cause.
Likewise, Humayun Saeed has expressed his gratitude at receiving the high accolade, taking to his Twitter platform and sharing 'Thank you Allah for Your infinite blessings, for all the success You have given me and for all the achievements You have bestowed upon me. It is my great honour to recieve Pride of Performance from Government of Pakistan. Thank you all for all your love, support & appreciation'.
In addition to the Teefa In Trouble and Mere Paas Tum Ho stars being commended for their Pride of Performance victories, Bushra Ansari and Talat Hussain were said to be receiving the Sitara-e-Imtiaz accolade.
Fashion designer and icon in the industry, Rizwan Beyg, was also awarded the Highest Civilian Honour for his contributions to the industry, the Tamgha-e-Imtiaz. With Rizwan Beygs products and label being centered on corporate social responsibility, female empowerment and rural development. Celebrities congratulated the acclaimed designer on Instagram after he was bestowed the award by the Governor Sindh.
Taking to social media, Rizwan Beyg shared his happiness with friends and supporters alike, 'HUGE thank you to all of you who have stood by me on my journey. May we continue to be proud Pakistanis.Thank you Pakistan for the respect and honour.'
Music composer and artist Sahir Ali Bagga was another public figure to receive the Tamgha-e-Imtiaz, from the Governor Punjab, which he expressed on his social media platform with glee and gratitude.
We are immensely proud of our stars and public figures in the industry who have won the highest civilian awards and contributed to the country with their dedicated services!