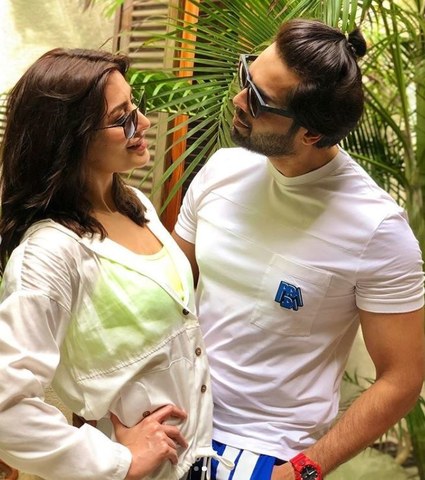 Mehwish Hayat and Fahad Mustafa are the new face of LUX with their latest commercial for the brand going viral.

Leading the newest campaign for Lux will be some familiar faces, Mehwish Hayat and Fahad Mustafa will be starring as the 'It Couple' for the brand, with the TVC released before the Lux Style Awards for the year.
Earlier in August, fans were speculating as to what Punjab Nahi Jaungi star and dynamic host Fahad Mustafa were upto as they enticed viewers with snaps from a special upcoming 'project' which left audience's wondering. Later, when last year's Lux girl Saba Qamar commented with a brand tagline, 'Bus Zara sa…Good Luck' under Mehwish's picture, the situation got even more interesting as sources confirmed that the two would be leading the latest Lux Campaign for the year.
Now it has been confirmed that Mehwish Hayat and Fahad Mustafa are officially the newest It Couple for Lux, ascending the throne from popular Lux couple Mahira Khan and Fawad Khan who held the title previously. It will be exciting to see the powerful chemistry of the dynamic duo after their magnetic performance in last year's Lux Style Awards which left audience's awestruck.
In this year's campaign, Lux will be presenting their concept with the utmost grandeur and elegance as per usual, but we are excited to see what their latest couple will be bringing to the table with the TVC already released featuring 'Chand Ka Roshan Chehra'.