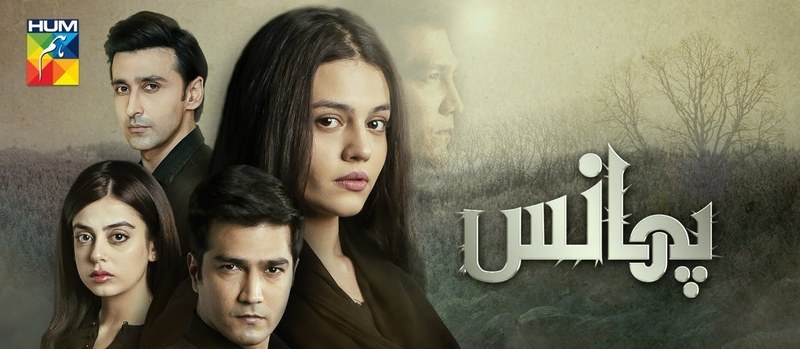 Phaans proves that when you select actors on the characters' requirements, it always clicks! HUM TV's...
Phaans proves that when you select actors on the characters' requirements, it always clicks!
HUM TV's star-studded drama Phaans officially began its innings last weekend with a mega episode and what an episode it turned out to be. Starring Zara Noor Abbas, Shahzad Sheikh, Sami Khan, Arjumand Rahim, and Ali Tahir to name a few, the drama began with a bang and seems to have all the right ingredients to become a blockbuster in the coming days. The lead actors might be working together for the first time but Samina Ejaz's script and Ahmed Kamran's direction is so spot on, it doesn't seem that Sami Khan, Zara Noor Abbas and Shahzad Sheikh hasn't shared the screen before. Also, they fit in the plot like peas in a pod, without giving out much in the first episode.
The Plot
The studious Zeba (Zara Noor Abbas) lives with her mother (Kinza Malik) and sister (Hira Khan), and when their mother's employer (Arjumand Rahim) asks her to come over for a fortnight because of her daughter's wedding, the girls tag along as there is no one to look after them. Although Zeba's fiancé Hashim (Zain Afzal) believes he is capable of looking after her, she rebukes him and goes to the 'big house', as her sister says. There she gets to meet the groom-to-be Samad (Sami Khan) who is impressed that despite her background she is about to graduate, and promises to help her out, an act that his fiancée Hafsa (Yashma Gill) doesn't take kindly.
Her own brother Sahil (Shahzad Sheikh) is the odd man out here, who suffers from a mental disorder and doesn't like to mingle with new people, but takes a liking to the beautiful Zeba. This angers his father (Ali Tahir) who believes that his son should behave like a grown-up, and not act like a child; the mother doesn't take this lightly, for she believes that it was due to her husband's anger issues that the son's personality was destroyed in the first place. Samad behaves normally with him and even makes him dance on their mehndi, but then one sad incident rocks the foundation of all families involved, and Zeba is in the center of that!
The Good – An ensemble cast was never introduced this intelligently!
The way all characters were introduced in Phaans was something other directors can learn from Ahmed Kamran. Not only did the director keep the narrative fast-paced, he introduced each and every character in a classy manner and without going overboard. In the one-hour episode, the viewers find out that Yashma Gill's Hafsa is a suspicious girl, her mother ran away from her house to marry her eventual husband who has anger issues, their son is a disturbed young boy in a grown up's body, their son-in-law-to-be likes to make his fiancée jealous but is a good soul, their household help Shakila is a trusted employee of the family, her younger daughter left her education to help her mother while the elder one wants to complete her education before marriage to an average-looking Hashim who thinks highly of himself for some reason.
Every actor was perfectly cast and gives a performance as per their stature, but the two to stand out are Shahzad Sheikh and Ali Tahir, playing the 'Mentally Disturbed Son' and the 'Angry Old Man' respectively, with conviction. Not only did Shahzad look young but also mentally disturbed, and if you have met someone like that in reality, you will know how perfect he was in the avatar. His ability to make you like his character is the superpower that will keep you interested in Sahil. On the other hand, Ali Tahir plays the 'bad guy' here, his second such role after Inkaar where he was a corrupt lawyer while here, he plays an angry, 'believed-to-be-unfaithful' husband. He cares for his children and that's evident from the way the functions are being held, but then there are the scenes where he acts out of character, and that adds suspense to the proceedings.
Zara Noor Abbas plays the dutiful daughter which is poles apart from her last two plays Ehd-e-Wafa and Zebaish and her fans are terming the change in behavior as a good move for her career. Sami Khan is there as the guy-next-door who is popular everywhere except in the heart and mind of her betrothed. Arjumand Rahim effortlessly plays the rich mother who is an ideal employer and a caring mother, but with skeletons in her cupboard. Mariam Mirza will have more to do as Samad's mother in the coming episode whereas Hira Khan impresses as the poor girl who dreams big.
The Bad – Poor decisions might have caused the dip in ratings!
And then there was Kinza Malik, an extremely talented and graceful actress who has played mother to every good-looking person from Sami Khan to Yumna Zaidi. Yet here, in an attempt to justify her as Zeba's mother, she was cast as someone who works in rich households for a living. Extremely bad choice if you ask me, for she doesn't look like a house help from any angle. It was a purely Salma Zafar kind of a role for which the director could have gone for many other actresses. Also, the timings of the Mega Episode of Phaans were extremely ill-planned – it was aired when the whole world was watching the opening ceremony of Pakistan Super League's sixth edition or was hooked to the opening match that followed. That might have caused the dip in ratings, but thanks to YouTube, the viewers got to watch the mega episode later at their own convenience.
The Verdict – Is Phaans the mystery serial the viewers were waiting for?
Be it ARY Digital's Cheekh or HUM TV's Naqab Zan, both the serials kept the viewers hooked with the suspense they offered; Phaans might fall in the same category but here, the class is different, even if the situation looks the same. The end of the first episode was intelligently conceived, and if the mega episode was created to accommodate the end, the HUM TV officials must be commended. The promo to the second episode throws suspicious towards Sami Khan's Samad, but is he really involved in the incident, or is it really Zain Afzal's Hashim who ran away after committing the act? After all, he wasn't happy with his girl, whereas Samad was courteous to her whenever they met. And what about the wedding that is about to take place; will the seed of doubt change things for Yashma Gill's Hafsa or will a new twist in the tale make things all the more interesting? The mystery deepens … and the game's afoot!