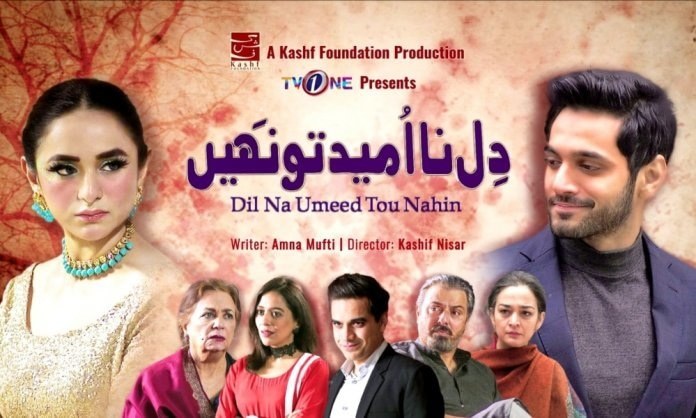 The Kashf Foundation has produced ground-breaking dramas based on the bitter truth realities in Pakistan. It works mainly on empowering women and has raised the bar with producing drama, Dil Na Umeed to Nahi. The play sheds a much needed light on the various ills affecting our country such as polio eradication, child marriages, child abduction, girl-child education, prostitution, dowry system, poverty, the feudal system and beggary as an organised crime. Over the 6 episodes of DNUTN we've been shown all of these issues prevailing in our society, inter-connected with each other and we're awe-struck on the imagery, the script and screenplay.
The Story So Far
The sixth episode highlights the begging mafia in Pakistan and how these innocent people get wrapped up into this ongoing crime ring. This episode follows the story of Allah Rakhee's friend Jamshed who was left behind by his friends in the city of Lahore. He was then rescued by 'Baba Rakha' (Iftikhar Iffi) who acted as a well-wisher but we later find out he was really the devil in disguise. Rakha threatened to amputate and blind Jamshed if he continued to cry for his mother and forced him to beg and steal on the streets for him. It is through such dramas that the truth is revealed to viewers, Rakha calls begging a form of theatre and deems himself the best showman there ever was! Jamshed watches the other boys getting fake injuries painted on them, just like theatre artists prepare for their shows with costume and makeup.
Back to the present, the madam forces Sumbul to go to Nizamis party with Sawera and Zulfi (Omair Rana). Savera (Yasra Rizvi) is visibly worried for Sumbul and is shocked to see her act completely normal after being severely beaten up just a night before. Zulfi's character is as confusing as can be, on one hand he seems to care for both Savera and Sumbul while on the other, he is running the things for the madam and covering up for her wrongdoings too.
Sumbul has a mind of her own and a relentless spirit for freedom, in the last scene she speaks about someone she holds close to her heart. She tells a curious Savera about getting away from this brothel and being free as a bird after meeting 'him'. We believe she means Jamshed, as she saw a video of him campaigning for animal rights on Nizami's phone.
Applaud Worthy Performances in Dil Na Umeed to Nahi
Iftikhar Iffi who plays Baba Rakha has performed his character brilliantly , his smug smile, larger than life singing and his dialogues are sure to irk you. Calling Jamshed and the rest of the boys 'parinday' was a true depiction of what they are, innocent caged 'birds'.
Samiya Mumtaz who plays Naseems mother plays the role of a dutiful wife so well, we love how her character is torn between her husband's conservative wishes and her daughter's love for chasing her dreams of being a cricketer.
The child artists who play Jamshed, Allah Rakhee and Naseem Zehra have embodied their roles beautifully. When Jamshed lies on the bed without saying anything and solely through his expressions the viewer can feel what he's going through. Rakhee holding on to her donkey 'tomato's reigns was equally heart-shattering to watch.
Yumna Zaidi doesn't fail to impress with her changing expressions in every scene, she's a chameleon when it comes to impersonating characters. One of the most versatile actors of this era, Yumna nails her scenes with just the right expressions , body language and dialogue delivery. When you see her talking to Nizami , she is the snobbish, haughty call-girl, whereas when she talks to Savera she is the bubbly, hopeful and full of life Sumbul that will certainly remind you of her younger self, Rakhee.
What's Next?
Will we finally see Jamshed and Sumbul meeting in the next episode? What will be little Rakhees fate against the mountain high debts her family has against the feudal lords?
For those who've not begun watching this drama, you must binge-watch and catch up with the rest of the anxious viewers who can't wait for the next episode to release! Watch the teaser for the next episode of Dil Na Umeed to Nahi here: