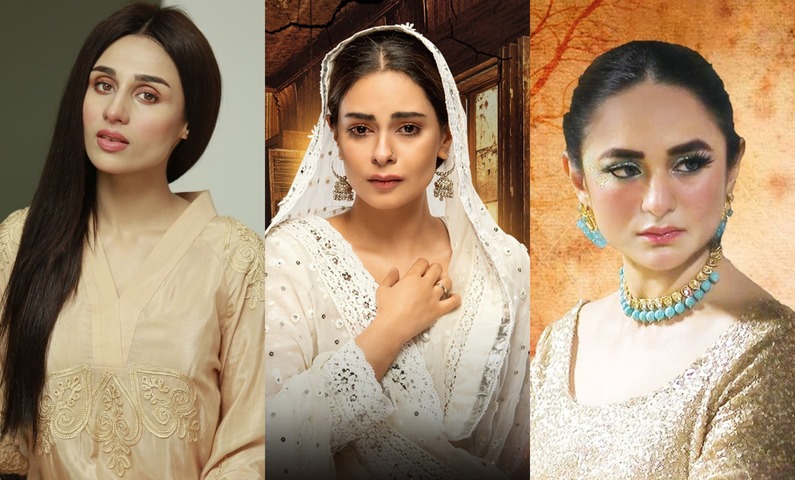 Actresses that bring their A-game to the characters they play!

The Pakistani drama industry has seen a revival of the golden-era of dramas in the past few years. What makes it possible for a drama to become a memorable one for viewers are the characters who remain etched into our minds, long after the play is over.
Female characters in a play are the make and break, you'd either love watching because of them or you'd find them crying all the time and change the channel as soon as you get hold of the remote. However, thankfully at the moment we have some amazing female characters to look forward to every night on our televisions.
This Women's Day we take a look at 5 of the most powerful female characters blazing away on our screens these days.
Hajra Begum - Sania Saeed (Raqeeb Se)
The most dutiful wife to Raqeeb Se's Maqsood Sahab (Noman Ejaz), Hajra Saeed is a character that we have come to love. She may seem confusing to those watching the play, not only is she too good to be true, but it seems like she genuinely cares for everyone around her. Every dialogue she delivers in Raqeeb Se is with such finesse, humility and brilliance that one cannot take their eyes off her once she's on screen.
Sumbul - Yumna Zaidi (Dil Na Umeed Toh Nahi)
Yumna Zaidi is one of the youngest actresses in the Pakistani industry to have a huge number of notable performances. The versatile actress can pull of negative and positive roles with ease, we rememeber her bubbly self as Mehjabeen in Pyar ke Sadqey and we are now loving her as Sumbul the call-girl in Dil Na Umeed to Nahi. Her role as Sumbul is as intriguing as ever, with every scene you can see Zaidi in a different light.
Samra - Amar Khan (Qayamat)
The gorgeous Amar Khan starred in Qayamat as the sweet and innocent yet courageous Samra. In order to save her family she chose to sacrifice herself into a love-less marriage. Qayamat adds one more feather to Amar's cap, the actress gave one of her best performances alongside, Ahsan Khan and her character's breakdown on-screen certainly gave us goosebumps! We can't wait to see what Khan has in store for us with her next project.
Annie – Mashal Khan (Dulhan)
Playing the very poised, posh and very much in love Annie in Dulhan, Mashal Khan's character is one we look forward to watching. Although the storyline may have had its ups and downs, Mashal's performance has certainly been the saving grace. Khan has embodied the role of a woman scorned in love perfectly, instead of just blaming the other woman, she raises questions on her husband's betrayal too. Mashal Khan is one actress to watch out for!
Hoorain – Sonya Hussayn (Saraab)
The actress who can easily pull of any character that comes her way, Sonya Hussayn plays Hoorain in Saraab. Her character suffers from schizophrenia and this may be the most-deglamourised role we've seen her in. From bone-chilling performances to dialogues and expressions that have left us in tears, Sonya Hussayn is extremely believable as Hoorain and one would not want to miss a single episode just to watch her on-screen!
Would you like to add any other characters to this list? Let us know in the comments below!