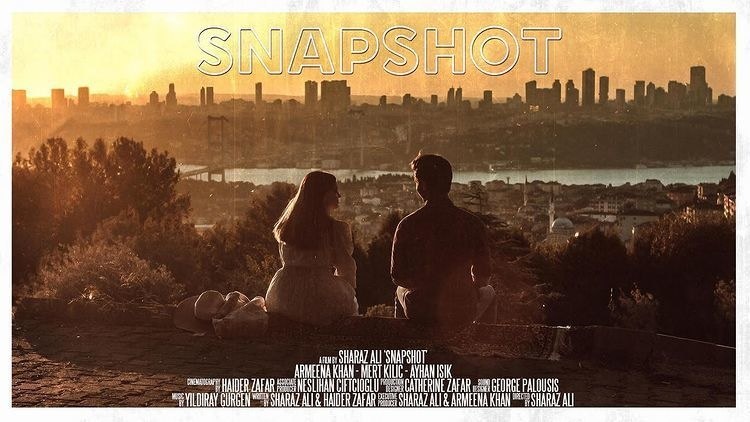 The teaser of the film has just rolled out on social media, marking Armeena Rana Khan's production debut with a bang!

In an era where our entertainment industry is aggressively working to make web series and short films, Armeena Rana Khan has too joined the list of celebrities that have embarked upon this territory.
The starlet's career trajectory is brimming with international experiences as she has worked in noteworthy projects like the British short film "Writhe", the short film, titled "Stranger Within Me" and not to forget, the recently released Amazon Prime, British sci-fi short film, "The Achilles Protocol".
It was about time that the actress produced and starred in her very own short film titled 'Snapshot'. The teaser of the film has just rolled out on social media, marking Khan's production debut with a bang!
Snapshot has already made its way to various film festivals worldwide. Shot in Turkey, it stars Mert Kilic and Turkish television star, Ayhan Isik. It is directed, penned, and co-produced by Sharaz Ali.
As per Armeena herself, the story revolves around the plight of a woman away from her country due to the pandemic. The actress essays the role of a Pakistan-Canadian who finds hope in the darkness, friendship amongst strangers as she traverses through the majestic land of Turkey while lockdown has gripped the entire world.
The short film is bound to resonate with many, given the fact that the pandemic has shaken the travel industry. With flight bans and countries under strict curfew; families, friends, and loved ones have been far apart.
The short teaser itself shows Armeena wearing a mask as she tries to find some inner peace around the blue waters of Istanbul. The trailer is yet to come and reveal a lot more about the short film.
Earlier, Sharaz Ali took to social media and revealed about the film: "The story is set in the real pandemic world we now live in. It's a short story with a big heart and that's exactly what each and every person gave to get this film over the finish line. With lockdowns, curfews and everything else Covid related- this was one of the hardest shoots to complete and one I couldn't have done without everyone involved, each giving it their all and the results speak for themselves"
Here's to hoping that Snapshot turns out to be a massive achievement for Armeena and the Turkish team!
Stay tuned to HIP in Pakistan for more news and updates.