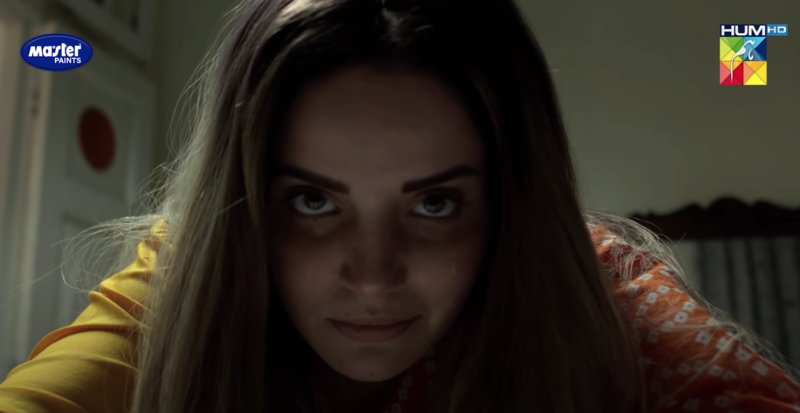 Armeena's role as Tara shines light on the plight of those suffering from mental illness.

The gorgeous Armeena Rana Khan graced our TV screens with her electrifying performance in HUM TV's drama Mohabbatain Chahatain which reached its climax this week. Khan returned to television after a hiatus of 3 years and played the role of an antagonist for the first time ever in her acting career. Starring alongside Hira Mani and Junaid Khan, Armeena Rana Khan definitely caught our attention with her brilliant acting skills.
Armeena's role as Tara is one that has made a mark on the audiences, she essayed the role so impeccably well, becoming one of the hottest on-screen vamps to ever appear on our screens. Her portrayal of Tara brought some much needed awareness on the issues faced by people suffering from mental illnesses.
Armeena Rana Khan as Tara in Mohabbatein Chahatein
Having always played the good girl roles, the Daldal famed actress as an evil mastermind Tara was a shocking yet pleasant surprise for the audiences. Khan's character Tara can easily be called one of the most wicked roles on Pakistani television. Tara was in a highly disturbed state of mind who needed immense help from the people around her, the absence of which turned her into a conniving, manipulative, selfish. jealous and completely self-centred person in the drama. A few episodes into the show and you were bound to hate her guts every time she appeared on screen which is a testament of a great actor.
Kudos to Khan who makes the viewers' squirm a little on their seats each time 'Tara' is serving her killer looks, passing a smug smile or cooking up a new game in her diabolical mind. It takes great courage for anyone to be willing out to work in something completely out of their comfort zone and Armeena has proved her mettle and shown the world what a versatile actor she is by delivering such a mind-boggling performance.
Mohabbatein Chahatein Creates Awareness on Mental Illness
Tara was a person that started off as a petty jealous friend but her insecurities increased over time and her behaviour escalated from silly attempts such as ruining a child's birthday cake and then blaming it on Faraz (Junaid Khan) and Sneha's (Hira Mani) son to finally pushing her husband Minhaj (Ibrahim Alvi) to death.
The final episode saw Tara threaten Sneha and her son, binding Sneha to a chair and locking her son Shehroze in another room, she did this out of sheer jealousy and hate for Sneha and the fact that Faraz and Minhaj both chose Sneha over her. She was unable to cope with the fact that Faraz was unable to love her even though according to her she was more beautiful, talented and was even more educated than Sneha. Armeena stole the limelight in the last episode of Mohabbatain Chahatein with an explosive performance that left audiences stunned. In the last scenes, Tara admits of hating herself and those around her, unable to cope with the bitter reality of being left behind by the man she craved attention from, she stabs herself with a broken piece of mirror and dies a tragic death.
Armeena Khan Shares Her Thoughts on Mental Health
Armeena Khan spoke about the impact the role had on her mind while she filmed her scenes as Tara, she took to her social media accounts to speak about mental health and how important it is to seek help while you can. She encouraged people to reach out to their loved ones, Khan also mentioned the various kinds of abuse that her character had shown over time and encouraged people to recognise the signs and cries for help.
Khan's portrayal of Tara will remain as one of her finest performances over years to come. We can't wait to see what she has in store for her fans next and we hope to see her rocking on our screens sooner than ever!