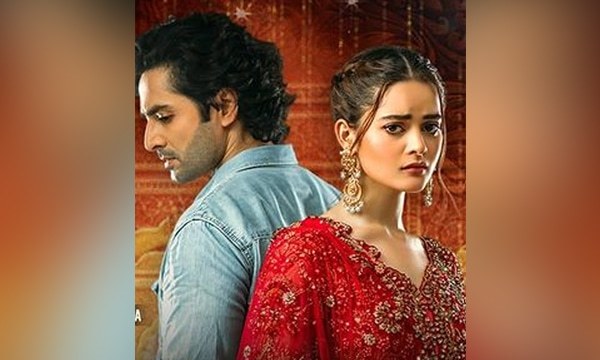 A wave of new Pakistani dramas have been released this season and Big Bang Entertainment's Ishq Hai is amongst the latest entry of stories, vying to impress the audience!
The drama is directed by the Jalan fame director Aabis Raza. We all remember how his past project Jalan created an uproar on social media.
Will Ishq Hai face a similar fate? Will it succeed? Or has it even piqued the interest of the audience so far with its four episodes? Let's review ARY Digital's Ishq Hai, starring Minal Khan and Danish Taimoor in leading roles.
Plot: Yet another 'Yeh Shadi Nai Ho Sakti' Saga
Those who followed the first two episodes of Ishq Hai will know how the main leads 'Shahzaib' (Danish Taimoor) and Isra (Minal Khan) are in love with each other. In fact, our hero is crazy about his lady and is even over-possessive.
But as they say, emotions can be harmful when they are excessive. Consequently, it just takes a matter of days for the melodrama to unfold in the story and events turn toxic for all those involved. Both their families have planned their betrothal to someone else. In Shahzaib's case, it's his maternal cousin Nimra ( Mahenur Haider). Whereas, Haris (Hammad Shoaib) has his eyes on Isra. He is the son of the best friend of Isra's mother (Saima Qureshi) and fell in love with her at first sight.
This week, the drama showed the forlorn lovers trying to unite. Shahzaib forces Isra to abandon her brother's reception only to ruin create a dramatic fuss at his forced Nikkah ceremony with Nimra. While it leads to no avail, it only causes aggravation to all involved.
Ultimately, a humiliated Nimra is in tears, her sister Sameera's (Mahi Baloch) marriage with Shahzaib's brother Raza (Sajjad Paul) also gets called off and the worst happens with Isra. She returns to her family who is shocked she has disappeared from the reception ceremony only to return with a stranger in a car.
Seems like our hero thrives on drama. He creates a similar noise as he drops Isra back to the event, pleading with her family that he wants to marry no one but the daughter of the family.
Meanwhile, Haris is unshaken by the whole episode and is determined to marry Isra. But is this love or he has some other intentions for Isra? Seems like there is a shade to his personality we will find in the upcoming episodes.
Other than the hero and heroine, it is the role (Azekah Daniel) that grabbed all the limelight in back-to-back episodes of Ishq Hai this week. Being Isra's sister-in-law, she is upset that she is not getting any importance. She is immature but shrewd and knows the art of adding fuel to the fire. In the entire episode, she is spotted bickering and complaining that Isra has ruined her marital bliss.
The rest of the episode was more of a drag with family members quarreling and Isra telling Shahzaib to never contact her again. She agrees to marry Haris to stop creating a further mess for her family.
Review: A stale script that needs to raise its game
In a world where directors and writers are hustling to make stories that are award-winning and can be strong enough to be released on Netflix; Ishq Hai is that one project that falls way behind the standard.
We have seen enough Pakistani dramas where the families are not agreeing for marriages, inter-cousin weddings are a norm, the hero's love is toxic and the female protagonist ends up sacrificing it all for her family.
Ishq Hai is the same stale story that we have been repeatedly seeing on our screens for years in some form or the other. Danish Taimoor and Minal Khan are one new couple that is fresh and can even boast a more powerful romantic equation.
Their acting is intense and rightfully portrayed as per the demand of their characters. Azekah Daniel's performance deserves applause. She has aced the cunning expressions that look so lethal on her innocent-looking face, making her stand out amongst all.
We are not a big fan of Danish's curly-haired look in the drama. Meanwhile, Minal looks stunning in all scenes like she always does.
The promo of the next episode reveals Shahzaib threatening Isra not to even think of marrying anyone else. He is furious and frustrated, his character giving us major Mir Haadi vibes from Khaani. Do you think Ishq Hai is worth a watch? Let us know in the comments below.