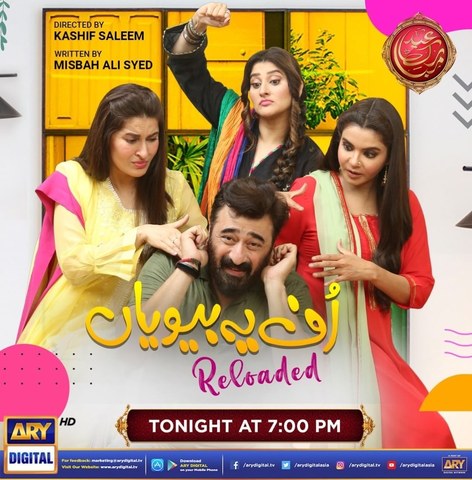 Every Eid, TV channels come up with telefilms that help the viewers relax after a tiring day; this Eid ul Adha ARY...
Every Eid, TV channels come up with telefilms that help the viewers relax after a tiring day; this Eid ul Adha ARY Digital comes up with many such Telefilms and the first one to air this festive season was Uff Yeh Biwiyan Reloaded. Written by Misbah Ali Syed and directed by Kashif Saleem, it revolves around a middle-aged man who has two warring wives, and makes a plan to teach them both a lesson, in style. What made this telefilm one for the longer run is its amazing acting, exceptional writing and direction besides the relatability factor. Let's find out how Uff Yeh Biwiyan Reloaded makes you forget your problems, at least on Eid.
Yasir Nawaz, Sahiba Afzal lead the acting honors
This Eid play revolved around Hussain (Yasir Nawaz) who is married to two wives at the same time (Nida Yasir and Shaista Lodhi), who are at loggerheads even in their dreams. Enters Zeb Ara (Sahiba) who plays both sides before eventually becoming wife number three, and taking charge of the household, in a hilarious twist. The performance of Yasir Nawaz and Sahiba is exceptional as they carry the entire drama on their shoulders, with inputs from Yasir's real-life wife Nida and morning show host turned actress Shaista. It's a laugh out riot where nothing is what it seems, and that's just what the doctor ordered this Eid, didn't he?
The writing takes you down the memory lane
Misbah Ali Syed must be commended for writing a play in support of husbands who have two wives. There are a lot of people like that in the real world and if this play brings a smile on their face, it is like helping a saddened community. Khwaja Shahid's Gullo also pays a rich tribute to late Saleem Nasir's Akbar from Aangan Terrha and keeps the plot moving towards twists and turns.
The execution is simple, but very effective
Kashif Saleem's direction is what keeps the viewers glued to their seats during the plays duration, which is remarkable considering it aired on the first day of Eid. It was shot mostly in one house but the way it was shot is what made it look rich and grand. Had it been another director, the climax might have fallen flat but not here, where the man in charge keeps it in the right direction.
The relatability adds years to the telefilm's shelf life
Usually the TV audience is busy on the first day of Eid but in some households, watching an Eid play is a ritual, and when that Eid play has both class and humor, who would miss it. Uff Yeh Biwiyan Reloaded manages to make a special place for itself in the list of those telefilms that can be watched again, in non-festive days. With Nida Yasir and Yasir Nawaz teaming up, one gets the Nadaniyan feeling whereas Sahiba's addition gives it the filmi touch our telefilms lack. Watch it to kill depression, not time!