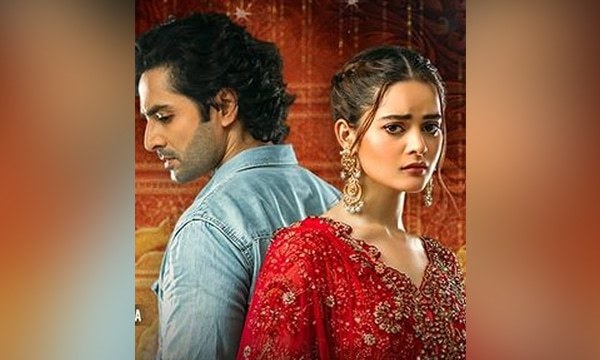 With every passing week, Ishq Hai is gaining immense strength as its plot intensifies.
The drama is directed by the Jalan fame director Aabis Raza and features Minal Khan and Danish Taimoor in leading roles. Their pairing together for the first time on-screen has turned out to be lucky for the stars as their strong chemistry is getting all the spotlight and is one of the top reasons that the story has become amongst the trending ones of the seasons.
Let's take a quick review over what has happened so far in Ishq Hai and what more can we expect from the upcoming episodes.
A bitter Isra is vengeful
Our heroine, Isra (Minal Khan) is hurt to the core and is channeling her pain of losing her father into anger towards her husband, Shahzaib (Danish Taimoor).
She despises him and makes sure that he knows it. There is hatred in her eyes for him, her expressions are loathsome towards him and this is apparently her strategy to break free from him. But madly-in-love, Shahzaib forgives her for all her misbehavior, blaming himself for her misconduct.
(https://www.instagram.com/p/CR1ujxwI0TE/)
Meanwhile, after much struggle, Sameera's (Mahi Baloch) marriage with Shahzaib's brother Raza (Sajjad Paul) has been fixed. The families finally are one page and the date has been set. Nimra (Mahenur Haider) is in severe depression, realizing that she has lost Shahzaib and is vengeful towards all that is happening around her. She is envious of her sister and even more hateful toward Isra.
To ensure that Nimra surely marries Shahzaib in the near future, Sameera makes a scheme to kick Isra out of Shahzaib's life. She even ropes in Shahzaib's mom (Saba Faisal) to create a façade of accepting Isra so that she can win her son's heart and easily feed negativity in his mind about his wife.
Will the scheme work or not? Only time will tell as our hero is showing no signs of ever turning his heart and mind away from Isra. She even misbehaves with his mom when her mother-in-law visits them for the first time at their home.
Though Shahzaib is apologetic to her mother for his wife's misdemeanor, he strongly believes that it's all his fault-which it truly is. He really wants to fix things for everyone but is failing miserably.
On the other hand, Naina (Azekah Daniel) has unveiled her venomous self in front of everyone. She has become that one character in the drama that everyone is scared of and is making the whole situation extremely toxic for all those around.
The promo of the next episode shows Shahzaib suffering from an accident and a jealous Isra asking Nimra that why she has come to visit her ailing husband. Is she getting attached to him eventually? Let's wait and watch.
The Suspense is Keeping us Hooked
Ishq Hai started from a predictable note but it has surprised us with how the plot has taken a turn with unlikely events taking over the tale. It started with an intense romance and turned into stark hatred.
Now we see a probability that Isra might soften up to Shahzaib while he is musing to free her for good. It is likely that our hunch is wrong. However, we are loving the wave of suspense the story has created.
Danish Taimoor and Minal Khan are like ice and fire together. Their chemistry is impeccable and they are ensuring the audience can feel the sweetness and sourness of their equation. They have made yet another drama of Aabis Raza one of the hottest watches of the season.
Are you enjoying Ishq Hai? Let us know in the comments below.