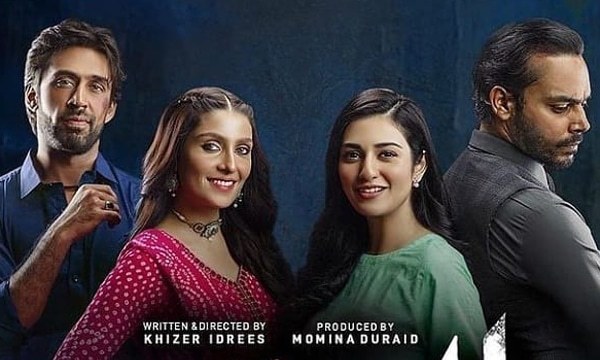 Directed and written by Khizer Idrees, the drama stars Ayeza Khan, Ali Rehman Khan, Sarah Khan, and Gohar Rasheed.
Laapata on Hum TV just went live yesterday with its first episode and what a power-packed premiere it was!
Directed and written by Khizer Idrees, the drama stars Ayeza Khan, Ali Rehman Khan, Sarah Khan, and Gohar Rasheed. We have had eyes on this drama ever since its promos and melodious OST was rolled yet. And seems like it will have all the right ingredients to match our expectations and satiate your thirst for entertaining content!
Let's take a quick review of Laapata's first episode and what we loved so much about the drama!
Of Roof-top Romance, TikToks, and Gambling
The episode begins with a 'slow-mo' fiery entry Shams (Ali Rehman) and Falak (Sarah Khan), dressed to the nines, draped in luxurious wear, stepping out of an expensive car and entering a grand home to meet Shams's parents.
Apparently, it's all a dream as Shams wakes up to his mother's call to get ready and begin his day to sit at his father's shop. Coming back to reality, our hero realizes that he is still in that same small house and still works at his dad's dingy grocery store.
But the thought of his paternal cousin Falak brings a smile to his face. From here begin their cute romance on messages and the secret plans to meet at the roof.
We are also introduced to the TikTok star in the story- the firecracker Geet (Ayeza Khan) who has a huge following on the app and is all set to run away with a boy from his neighborhood.
But clearly she has eyes on her maternal cousin, Shams! When her scheme to marry her boyfriend fails, she shrewdly turns her aim towards our hero despite knowing that he and Falak are crazy about each other.
A budding badminton player, Falak seems like a strong, empowered girl. Meanwhile, Shams is dreaming to earn money somehow so he can get all the riches for himself and his beloved. So much so, he begins to gamble and win money to buy valuable jewelry for Falak. Of course, his lady is over the moon and also curious over how he was able to but it!
The episode ends with Geet interrupting their sweet moment and catching them romancing at the rooftop! Though she promises to keep mum, the promo of the next episode shows Geet up to no good as she has full plans to start her own little love saga with Shams.
A Promising Start to the Drama
We thought Laapata's ensemble cast will be the sole selling point of this drama. But the start of the story seems to unfold a unique chain of events that is bound to keep us hooked for future episodes.
There is so much we loved about the pilot episode. The affection shown between the tight-knit family of brothers and sisters is admirable. For once, there is a shift from the display of toxic family ties and the sweet portrayal of the bond between brothers and their wives is praise-worthy.
Even more laudable is the depiction that Falak is a remarkable badminton player. So far, there has been no objection shown from her family for her interest in being an athlete which is yet another positive element.
The performances of Sarah Khan, Ali Rehman, and Ayeza Khan are on-point. The chemistry between Ali and Sarah is crackling, surely fit for becoming the next hot pair of the season.
Moreover, Ayeza Khan has been stealing the spotlight in most scenes. Her filmy 'adaaien' and deeply kohl-ed eyes are seizing all the attention. She looks like a diva in the drama and we love her energy on-screen.
Even the direction is impeccable. The slow-mo scenes with the chirpy background score are adding the right drama and pizazz we enjoyed so much! The hilarious dialogues and scenes are providing us the right blend of laughter and sobriety in the plot- yet another plus for Laapata.
Thumbs up for the first episode and we are definitely returning for the second episode! Laapata hopefully will not disappoint and will continue to keep us addicted.