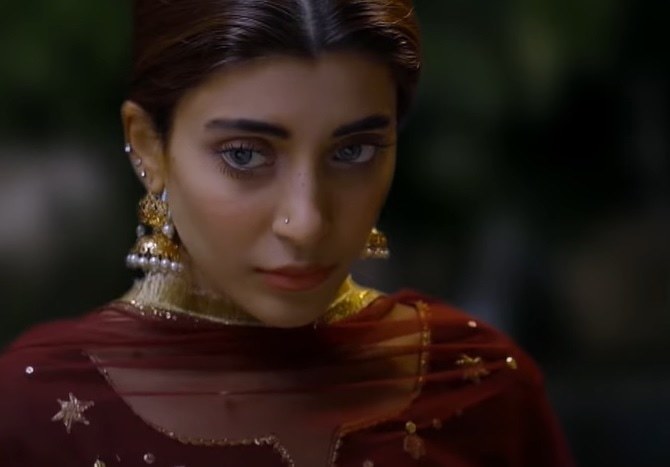 We are getting closer to uncovering the mysterious life of Neeli as characters from her past are surfacing in the episodes.
ARY Digital's much popular thriller 'Neeli Zinda Hai' just gets more riveting with every passing week.
We are surely getting closer to uncovering the mysterious life of Neeli as people from her past are now surfacing in the episodes. The cast of Urwa Hocane, Mohib Mirza, Sonia Mishal, Jenaan Hussain, Kinza Malik, and Syed Mohammed Ahmed deserve a lot of credit. And of course, the team of director Qasim Ali Mureed and writer Adeel Razzaq has made Neeli Zinda Hai a must-watch of the season.
Let's do a quick review of what happened this week in the story and what we are expecting next from the drama!
The return of Neeli's enemy
A plethora of interesting events happened this week, making Neeli stronger than ever before. We know how Dilawar (Tahir Jatoi) dies in the last episode and now it is his dead body that has become a major concern for Sumbul (Sonia Mishal).
A stench has taken over the entire home, resulting from the decay of Dilawar's body in the home's storeroom. The shocking part is only Sumbul can see it while the other house members are oblivious to the corpse. Consequently, Sumbul has no option but to contact the missing Nagina (Jenaan Hussain) who had run from the house post-Neeli's wrath on Dilawar.
Sumbul pleads Nagina to take his body away from the house and the maid had no option but to oblige. However, while burying the corpse, something happens in the graveyard between Neeli and Nagina. The blue-eyed witch haunts and terrorizes her, later taking her shape to mislead the rest in the household. She misbehaves with Amaan's mother, Meherbano, and refuses to do any of her chores.
Later, Neeli becomes invisible, locks the vile mother-in-law in her room, and traps her in the creepy black curtains that she wanted to be changed in her room. Amaan's mother is terrified to the core and is realizing that there is something strange going inside the house, presuming that Sumbul must be behind all.
Everyone assumes Nagina is back, however, only Minaal (Tehreem) can see that it's Neeli who is around. In the ghost's presence, Minaal can speak while she goes mute in front of everyone. However, Sumbul spots her talking as she was playing and draws the connection that it is indeed the paranormal force inside the house who has drawn the disability out of her daughter.
The most important development in the story is Aaliya's (Aaliya Ali) marriage. She confides in Sumbul that how she is in love with a university friend, Danish, and wants to marry him. A fuss erupts inside the home as Sumbal takes charge of helping her sister-in-law with this mission. While she takes Amaan into confidence, it is Meherbano that protests against this proposal. She is envious that why Aaliya divulged this secret to Sumbul and is furious that her daughter was in a relationship all along.
After much aggravation, the matter settles. Aaliya's father (Syed Mohammad Ahmed) has the sweetest discussion with his daughter, satisfying her that he will consider her choice and will decide the best for her. However, something strange happens when Danish's family reaches the home.
His father gets anxious and tells him that he cannot go inside the house. The son and mother are shocked at his behavior and had no option but to leave him alone. However, as soon as they are gone, Danish's father gets trapped inside the car as blood trickles down the car's windshield, driving him into a panic attack.
Those who have been following Neeli Zinda Hai since the beginning will know who Danish's dad is. If we take a quick flashback to episode 6, he is the same man who Neeli gets scared of at her wedding night. Is he her husband? Did he take advantage of her and murdered her? We are super curious to find out!
Suspense is the strength of Neeli Zinda Hai
We have already sung praises of the drama's cast and the director. The writer Adeel Razzaq deserves equal appreciation for weaving suspense so seamlessly in the plot. We still are left in a confusion over what happened with Neeli. Did she commit suicide or was she murdered? Why her imprint is still lurking on earth? Why is she so drawn towards Minaal? The questions remain unsolved.
This week, Syed Mohammed Ahmed did a phenomenal job portraying a father we all need in our lives. His character first calmed Amaan and guided him to be soft with his wife. Later, his discussion with Aaliya over marriage warmed our hearts. The veteran never fails to impress us as the doting dad and Neeli Zinda Hai is yet another one of his works where he has worked his magic!
We are eager to find out what happens next. We are expecting to know more about Neeli's enemy in the upcoming episode. But more importantly, we are wondering when will Amaan realize the existence of Neeli's ghost in his home.