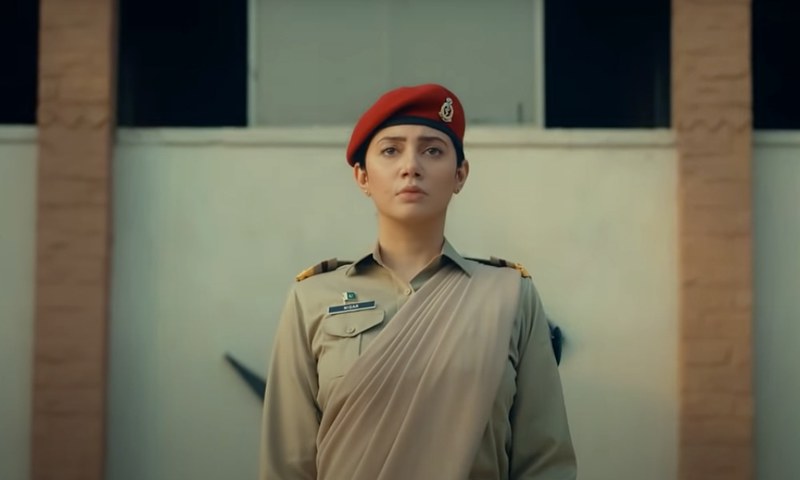 It's the turn of Lieutenant General Nigar Johar to bask in glory after her relentless struggle and hard work.
The buzz around Aik Hai Nigar is at its peak and is showing no signs of dying down- for all the right reasons of course.
It is not every day our screens bless us with inspirational stories and ARY Digital's latest project is bound to be one-of-its-kind. Last time, it was Eik Thi Marium that celebrated the life of Marium Mukhtar-Pakistan's first and only female fighter pilot who tragically lost her life in the line of duty.
And now it's the turn of Lieutenant General Nigar Johar to bask in glory after her relentless struggle and hard work, ranking her amongst the most influential women in Pakistan. The project encompasses huge significance for several reasons and is definitely worth a watch. We bet this untold tale will move all Pakistani women to never stop dreaming big and aiming high in life.
Real Story of an Empowering Women
We live in an era where women's rights and safety are largely threatened. Crimes and abuse against women have increased at an alarming rate and the female population of the country is anxious about their safety.
However, being fearful is not the solution, and only being empowered is the key to battling all the obstacles faced by females in a patriarchal society. That's exactly a telefilm like Aik Hai Nigar aims to do- i.e. to rightly propagate a woman's ability to make bold choices and influence a social change. The example rises from a powerful female from our cut-throat society who is contributing to the wellbeing and growth of a nation, country, and society.
Untold Life of General Nigar Revealed for the First Time
Indeed, we seldom celebrate our national heroes.
Rarely, there is a project once a year that picks up a worthy story of a local inspirational icon and turns their life into a dramatic or cinematic adaptation. In the past, we saw projects based on the lives of illustrious personalities like Manto, Qandel Baloch, Boxer Hussain Shah, Zenith Irfan, Mariam Mukhtar, etc. But there is so much more that needs to be done and so many more figures we need to honor as they deserve for the awareness of our younger generation.
We are extremely jubilant that the life of the Pakistan Army's first female Three-star General will be unveiled on television for the first time for the world to behold. Imagine the impact it will have on so many women who need a ray of hope and a source of inspiration that we bet the project will surely provide so.
Mahira Khan's Graceful Portrayal
It is no secret that social media is debating if Mahira Khan was the right choice for the character of General Nigar. So much so, a post went viral claiming that Areeba Habib would have been a better choice as she has a striking resemblance to the army woman in the spotlight.
Well, we have no doubts that Areeba too would have given her best if she was given the character of General Nigar. But we won't shy away from saying that Mahira Khan as Nigar in the teasers has truly floored us.
She is graceful in the saree uniform, poignant in that army cap, and exudes power in her aura. Khan is a natural beauty. In a no make-up look, she looks breath-taking on screen and we are sure her elegance will do justice to the dignified personality of General Nigar. Super excited to see her performance once the telefilm is released.
Bilal Ashraf's TV Debut
Aik Hai Nigar is also a very significant project for the dreamboat of an actor Bilal Ashraf. He is making his television debut and has previously worked in movies like Janaan, Rangreza, and Superstar.
This is his second project across Mahira Khan, previously appearing beside her in Superstar in a romantic love equation. The teaser so far gives us one glimpse of the actor in a clean shaved look, mustache, and slick black hair. Donning a brown vest as he sits across Mahira dressed as a bride, we are assuming that he will play the role of Nigar's husband in the story.
Further details about his avatar are still a mystery!
Umera Ahmed & Adnan Sarwar Teaming Up
This is one dynamic collaboration and we bet Umera's work alongside Adnan's direction will produce a masterpiece we will remember for years to come.
Adnan Sarwar has previously directed the movie Shah and The Motorcycle Girl, clearly showing he holds projects that pay tribute to local heroes that were close in his heart. Umera Ahmed's pen has been behind projects like Baaghi and Ek Thi Marium. With Aik Hai Nigar, she has added yet another project in her portfolio that will be watched and admired by millions countrywide.
The union of both these minds is bound to make Aik Hai Nigar a blockbuster project with critics rightfully praising its story, direction, cast, and production.