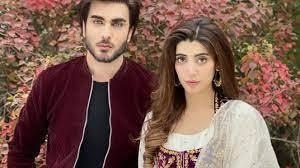 Penned by Rukhsana Nigar and directed by Shahid Shafaat; Amanat's first week turned out to have quite an unpredictable plot.

ARY Digital is welcoming a spree of new dramas and the recently aired 'Amanat' is one of them. As per expectations, the first episode gave us a peep into a riveting story, that kept us engaged throughout.
Prior to the release, the promos had already created a buzz and the unconventional grouping of Urwa Hocane, Imran Abbas, Saboor Aly, Haroon Shahid, Gohar Rasheed, and Srha Asghar seemed like an exciting casting coup. Penned by Rukhsana Nigar and directed by Shahid Shafaat; Amanat's first week turned out to have quite an unpredictable plot. Let's do a quick review of the first episode and what might be coming next in the story.
The Plot
The drama unfolds the tale of Zarrar (Imran Abbas) and Zuni (Saboor Aly) who are supposedly in love. However, our hero is not much at peace with his wife-to-be. Zuni is dominating, controlling, petty and immature. This becomes apparent when she pretends to have an accident just to get Zarrar's attention, who is sunken knee-deep in his work and has little time to devote himself to their wedding scheduled in three days. Zarrar's sister, Samra (Srha Asghar) is married to Zuni's brother, Raheel (Salman Saeed) - making things all the more complicated in their twisted love story.
Haroon Shahid is playing the supporting role of Zarrar's younger brother Junaid. He is young, reckless, and has an unscrupulous attitude towards life. Things turn sour when Zuni gets into a fight with Junaid once he mishandles a fragile vase during transportation. All hell breaks loose when Zuni insults him, so much so, it creates an air of bitterness amongst the families. Zarrar warns his fiancee that they should reconsider the decision of their marriage, upon which Zuni threatens him that his sister's wedding will also be facing consequences this way.
We are also introduced to the powerful but lethal Malik Furqan (Babar Ali). He is rich, influential and terrifying. He shows no mercy towards any soul, be it his servants or his wife. But his torture is inflicted the most severe upon his brother's daughter 'Meher'. An orphan with a timid personality; Malik takes advantage of her vulnerability and treats her like the scum of the earth. To worsen her anguish, he decides to marry her to his mentally disabled son 'Qaiser' (Gohar Rasheed).
His wife Saeeda (Saima Qureshi) pleads for him to be compassionate towards Meher and not ruin her life with this forced, matchless marriage. The egoistic Malik Furqan listens to no one and makes everyone suffers who tries to help Meher escape this nuptial.
However, Saeeda has made her mind. Unlike her husband, she has a warm heart and begs her sister's son, Fawad (Asad Siddiqui) to help Meher and marry her. With much reluctance, Fawad agrees and the pair get married in a hasty, secret ceremony.
Malik Furqan is furious upon finding out that Meher is missing. He knows for sure that his wife is behind this scheme but is trying to get to the bottom of the situation. Meher and Fawad flee to save their lives and we can only hope that they escape the wrath of Malik Furqan. However, his wife back at home is hoping that her own life gets saved and her husband shows sympathy towards her.
Gohar Rasheed steals the spotlight
The first episode was indeed a warm-up of the topsy turvy life of all the characters in the story. The promos have given us a hint that Meher's fate will soon be connected to that of Zarrar.
The performances of all the stars were top-notch. Saboor Aly, with her fine performance, has made sure that we despise Zuni. We find her irritating, small-minded and are sure that she will be turning more hateful in the upcoming episodes.
Gohar Rasheed had the least scenes but he was easily the star of the episode. He is already achieving acclaim for his performance in Lapatta and now his versatile acting as the specially-abled Qaiser has proved that he is a man of many talents.
We love seeing Babar Ali perform like a boss on-screen. He has started coming more frequently in dramas and its amazing to see his acting chops in various roles. He rules any frame he is a part of and he is exuding that deadly power as Malik Faraz like a pro in the story.
Imran Abbas looks suave and dandy like he does in all his dramas, giving his fans more opportunities to swoon over his charm and looks. Urwa Hocane looks more petite and pretty than usual. However, her performance as the meek Meher is on-point. We would love to see her roar and bloom into a bolder character as Urwa can perform such confident roles flawlessly.
The promos reveal that Haroon Shahid will be teaming up with Saboor Aly later in the plot! How is this possible, we can only muse! Thumbs up to Amanat for weaving unpredictability in the air. We will surely be tuning in next week to know what further fares in the life of Zarrar, Zuni and Meher.