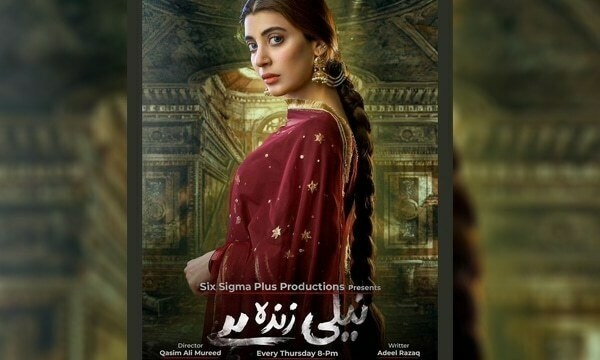 We are finally moving towards unveiling the mystery of the ghost, her husband, and her death.

Neeli Zinda Hai made a huge leap in this week's episode by giving its fans a major peep into Neeli's past.
A much-awaited twist in the plot, we are finally moving towards unveiling the mystery of the walking ghost, her husband, and her death. While she is ensuring she haunts the living daylights of Aman, Sumbul, Minal, and the rest of the family; she herself had a troubling past.
But why is she after Minal? That's a question that is yet to be answered by the makers of the show. Let's take a quick throwback of what has happened in Neeli Zinda Hai this Thursday and what is coming up next in the story.
The secret behind Neeli's murder
The episode begins with Aalim Sahib doing his best to bring peace to the household. Apparently, they all are fighting amongst themselves to survive in the haunted home. Being the only sane voice around, Aalim Sahab tries to school them, giving the message of unity in times when an outside force intends to oust them. The only sweet moment of this episode was Aman's mother (Kinza Malik) eventually apologizing to Sumbul (Sonia Mishal), holding out an olive branch and hugging her to end all the disputes. But she is still not satisfied with Minal (Baby Tehreem) living with them. Believing that Neeli (Urwa Hocane) surely possesses her, she gives a ringing bell to the young child, to remain alert about her whereabouts.
![ ]((https://www.instagram.com/p/CWLX12dJ0W1/)
Meanwhile, Nawab's (Agha Mustafa) chapter finally ends in the drama with Neeli getting her ultimate revenge with his death. It all begins with his wife discovering an old photograph of him, Neeli, and her husband. Of course, she lost her cool and threatened him that she will kick him out of the house if he fails to tell her about Neeli.
Poor Nawab was unable to satisfy her and the ill-fated happens- his wife abandons him outside the house. However, Nawab somehow makes his way to Aman's (Mohib Mirza) home. Still holding the old photo in his lap, he encounters Neeli, pleads for forgiveness, and dies with his wheelchair coming in front of a vehicle. All of this is witnessed by Aman who also discovers the frail picture that falls on the ground after the accident.
This kickstarts another chapter in the story- the one featuring Neeli's husband Pervaiz (Osama Tahir) and his mother (Shamim Hilaly). We see that Pervaiz is living in a shabby home while his mother is sick and suffers from dementia.
She has surely committed some major crime because we witness Pervaiz praying for her easy death and forgiveness.
She doesn't remember her son who takes care of her while surprisingly remembers the name of her remaining children. It was quite melancholic the way she begs her son to kill her, giving us a hint that guilt and misery are surely killing her from within.
On the other hand, Sumbul and Aman try to get to the bottom of the situation by looking through Neeli's old things and finding more images of the dead woman with her husband.
![ ]((https://www.instagram.com/p/CWIrzyZMUpC/)
The promo of the next episode shows Amaan finally hunting down Pervaiz and her husband narrating the story of his wife and the lost days of the past.
Heading towards the finale
The earlier episode of Neeli Zinda Hai showed little development and slowed down after the death of Amaan's father in the story. However, the previous episode pumped us up again and we are finally excited to know the reality of the witch that has been haunting us for all these weeks.
Kudos to Agha Mustafa, who played a supporting role, but aced his performance of being a paralyzed patient. We also loved Osama Tahir's return to the story and are eager to see him more in the upcoming episodes.
An equally compelling performance was portrayed by Shamim Hilaly in this episode. We loved the scene where she kept taking names of her sons and missed out on that one name who was in front of her all along. Let's see what new developments are in store for us in next week's episode of Neeli Zinda Hai.