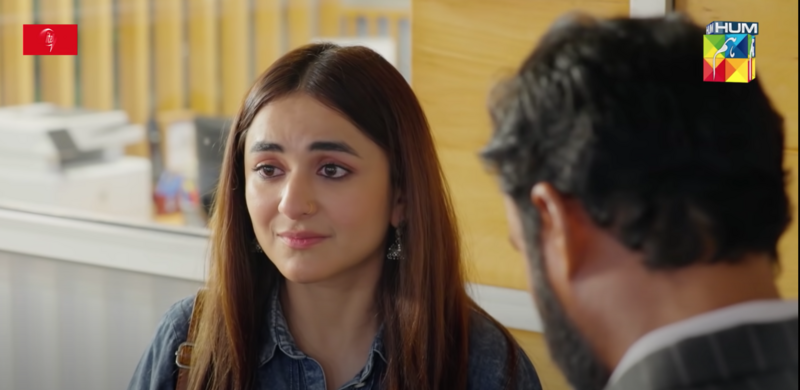 Has Parizaad finally found his true match with RJ Annie?

HUM TV's drama serial Parizaad has been the talk of the town, the story of an unconventional hero, a person who is selfless beyond measure - Parizaad has taken the viewers on an emotional rollercoaster ride that one does not wish to end. From a powerful star cast with its leading man Ahmed Ali Akbar to the new characters that bring an equally interesting development in the story, every performer has done exceptionally well. This week we saw Yumna Zaidi's 'Annie' come to centre stage in Parizaad. The television queen has once again performed brilliantly as the blind RJ Annie - Parizaad's biggest fan and admirer.
The show has managed to keep the audiences interested and waiting for the next episode for 21 weeks without a hiccup along the way which in itself is a feat on its own. Here's what took place in the latest episode.
Yumna Zaidi's Entry Takes Parizaad by Storm
Yumna Zaidi is a welcomed addition to the already loved Parizaad, her character RJ Annie is full of life, cheerful, bubbly and she cannot stop talking about Parizaad and his poetry. However the depth in her character is remarkable, where we saw her happy self, excitedly talking to Parizaad on the phone, we saw the sadness behind her smiling face in the scene where the two met in Parizaad's office. She was there to persuade him once again to let her make a sculpture of his face but he thought she was ridiculing him like the countless others who had made fun of him at different stages in life. After telling her to leave his office, an angry Parizaad was shocked to see Annie reach out for the stick to help her navigate her way out. His world came crashing down and Annie's bewildered yet heart broken expressions made us watch in awe. The episode's best dialogue that stole the spotlight was powerfully delivered by Zaidi as she said, "Mera naam Quratul Ain zarur hai, magar mai dekh nahi sakti". This heart-wrenching moment was a realisation for Parizaad that he was not alone, there was someone else out there who understood how he truly felt.
The Past & The Present
The drama once again gave us some deep meaningful scenes with dialogues that touched our hearts while reminding us of some iconic dialogues from the past. 'Insaan ka asli zarf uskay alfaaz hai' we couldn't help but remember this dialogue by Parizaad's poet friend Nashaad, with all the money and power Parizaad has achieved thanks to his late employer, he is still loved by many for his magical with words. His connection with Annie is also through his poetic self and not his status.
Another memorable dialogue from the past came into play once Annie's true identity was revealed, once Parizaad realised she is blind, his dialogue to Lubna came to life, 'Kaash hum jinsay muhabbat kartay woh andhay hotay' – 'if only the person we loved would not be able to see us'. Kudos to the writer Hashim Nadeem for creating this masterpiece and bringing some much needed content to our television screens.
Parizaad Questions His Self-worth
While parizaad has garnered acceptance from his peers competitors and those around him after inheriting all that wealth, it was eye opening to see him think of himself as the same old Parizaad unworthy of love, believing he was a lesser being than the others and did not deserve the appreciation he was receiving from Annie. Ahmed Ali Akbar performed phenomenally well in the mirror scene where he faces his ghost from the past, as viewers we realise that he sees himself as the old Parizaad and has not truly accepted his self worth even after all this time.
Naheed Shows us the 'true' face of selfishness!
Once again the play touches on the various evils of our society, Naheed (Ushna Shah) and Majid who had used Parizaad and defamed him infront of the entire neighbourhood in order to hide their on-going affair are now ready to use him for his money. Naheed is not only showing interest in Parizaad even though she is a married woman herself but has assumed that Parizaad shares the same feelings too. She tells her sister Parizaad has asked to meet her secretly while it was her who had asked him to meet her and is busy making advances towards him. The same girl who thought less of Parizaad because of his looks is now plotting to garner his affection.