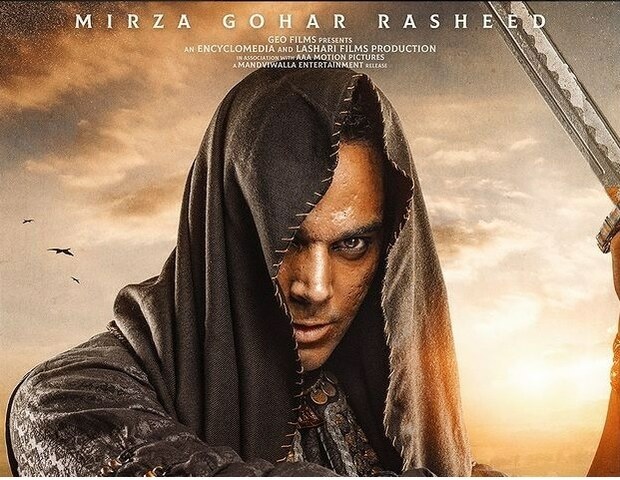 Gohar Rasheed as Maakha Natt has seized the spotlight for his fierce, impeccable characterization of a despicable, vile goon.

The Legend of Maula Jatt is basking in the glory of being the first Pakistani film, unlocking a colossal business of more than PKR 150 crore at both local and international box -office. It is a massive achievement for Pakistani cinema and for the team of director Bilal Lashari and producer Ammara Hikmat.
The villainous star
The cast of the movie i.e the fantastic four-'Fawad Khan as Maula Jatt, Mahira Khan as Mukhoo, Hamza Ali Abbassi as Noori Natt, and Humaima Malik' as Daro- are reaping praise for their phenomenal performance worldwide.
However, the supporting role of Gohar Rasheed as Maakha Natt has equally seized the spotlight for his fierce, impeccable characterization of a despicable, vile goon.
While you will see social media brimming with praises for the leading quad, Gohar joins them in garnering acclaim for being a terrifying villain that compelled the audiences to shake in fear on all his scenes.
Performance that reminds you of Heath Ledger
Heath Ledger's raw and gritty performance as the Joker in 'The Dark Knight' created a benchmark for how all mad villains should be. You see a shade of that same madness and evilness in Gohar's devilish characterization of Maakha.
He is all gore, arrogant, petulant, and makes you cringe while he makes sexual advances toward women. It is perhaps one of his greatest performances as a villain to date and will surely be remembered for years to come in the Pakistan cinema industry. The former version of Maula Jatt had a less detailed version of the character and it was thrilling to watch Maakha's character unveil this time around.
The Death that Garnered Applause
Maakha all the more excitement to epic Maula Vs Noori clash. His hunger for power and thirst for the throne added another rip-roaring shade to the plot. All the action scenes were delivered with aplomb by Gohar. The audience couldn't help bursting into applause when he ultimately dies at the end via one of the characters.
There might be so many reasons to watch The Legend of Maula Jatt. Gohar Rasheed is among one them. It won't be a surprise if he soon bags a role in any of Netflix's series for a villainous character. We have our fingers crossed for it!