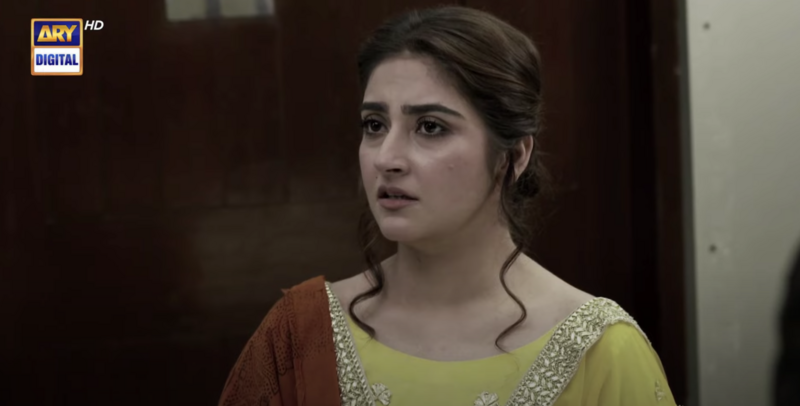 iDream Entertainment's Berukhi on ARY Digital has become one of the most talked about dramas currently on air, and...

iDream Entertainment's Berukhi on ARY Digital has become one of the most talked about dramas currently on air, and it has all to do with the fabulous performances along with the storyline that just keeps on surprising all of us! The latest example of this feat was seen in the currently aired episode, which once again brought a new twist into the lives of Sabeen and Irtiza!
After seeing last week that things had unraveled for the pair who may or may not end up together, it was Sabeen getting closer to her marriage with Kamran, and Irtiza getting more into his feelings of being lovelorn. Now, there seems to be more brewing, and it definitely will bring drama into the lives of the purported pair!
We found the episode this week starting off where we expected it – with Agha Jaan finally taking a step to meet Sabeen. A moment filled with palpable energy, the two meet and a bond of sort is created, with Sabeen even telling him that she is the niece of Mansoor Ahmed. However, at this point a big revelation ends up happening, when she finds out that Irtiza is getting married to her cousin, Maira.
On the other hand, Irtiza's new house help – the same one who ended up creating drama last week – has become Aiya Jaan's eyes and ears in the house. After she revealed so much last episode, this week too, we see her telling Aiya Jaan about Sabeen and how she lives in Mansoor Ahmed's house. She even creates confusion and doubt by telling her employer that she believes that Irtiza is interested in Sabeen – since she felt so after Irtiza took her name in front of her inadvertently. This obviously has Aiya Jaan worried now!
Taking this confusion on to a whole different level, Aiya Jaan goes to Qasim and asks about Sabeenn, to which of course, Qasim isn't able to completely deny the truth. Like us, Qasim also wonders just how is Aiya Jaan finding all of this out! He comes to the conclusion, it's no one but the new house help! When Qasim tries confronts her, and talks about the day Irtiza got injured, she creates an emotional ploy, leaving Qasim with no choice but to leave her be.
With all of this going on, Sabeen's Mayoon is also in full swing. However, this is when things take a mega twist when Sabeen receives a call from the orphanage manager telling her that a girl from the orphanage has gotten injured and she is in a critical state. Sabeen naturally gets restless and wants to visit her. We find Sabeen leaving her event in the middle and going to the hospital, where Kamran also reaches when he furiously finds out she's walked out of her own Mayoon.
However, as fate would have it, not only Kamran is there – but, Irtiza too when the former arrives! Kamran finds Irtiza in the hospital consoling her and at that moment, all hell breaks loose! This is a new hell for Sabeen and now, the real drama starts!