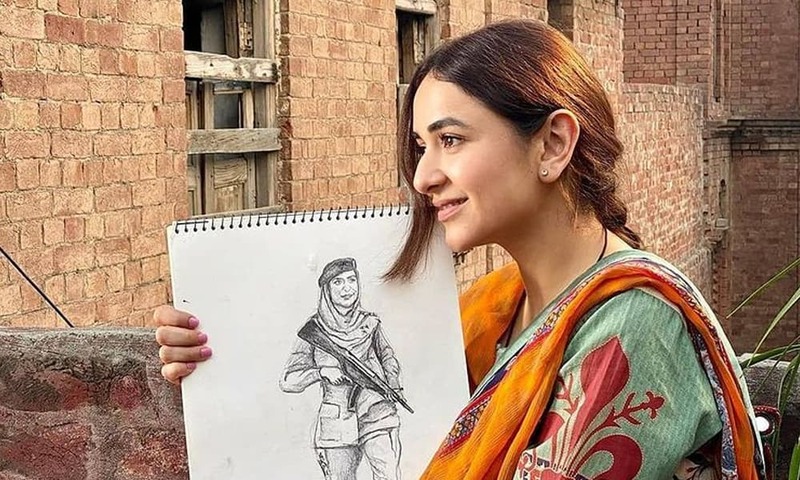 The journey of the headstrong girls towards PMA is progressing as they strive to break norms and chase their dreams.

Sinf e Ahan on ARY Digital is roaring loud and mighty with its squad of women, all set to take Pakistan Army by storm.
With every passing episode, the journey of the headstrong girls towards Pakistan Military Academy (PMA) is progressing as they strive to break norms and chase their dreams.
We are loving how the lives of Arzoo, Pariwesh, Rabia, Mahjabeen, and Shahista are taking a turn to support their ambition, their families gradually supporting them to pursue their wildest desire.
Let's rewind what happened last Friday in Sinf e Ahan and why it left us craving for more!
Empowerment all around
It was liberating to witness how Shahista (Yumna Zaidi) and her father reached an accord with the Pakhtoon girl's desire to become a captain. He proudly told his family how his daughter has cleared ISSB and will soon make it big in the Pakistan Army.
Arzoo (Syra Yousuf) couldn't be happier on unlocking the first step towards becoming an army woman. She felt accomplished until Noraiz (Asad Siddiqui) tried to crush her spirits, making her feel guilty for chasing the army dream over him. Deep down, he is insecure and feels jealous. We are waiting for the day when she will shut him down for good for emotionally manipulating her.
The happiest of the lot appeared to be Pariwesh's (Ramsha Khan) father. Since he is all about empowering his daughter, he is ready to fight the Sardar of the clan to ensure she makes it to Kakul. Despite being discreet about the good feat, news traveled fast in the tribe that Pariwesh has made it to PMA.
We also came to know how deep Mahjabeen and Rabia's friendship was in the past. In a detailed throwback, we witnessed how Mahjabeen was all praises for Daniyal (Usman Mukhtar) when Rabia revealed to her that she has hunted down a bhabhi for her brother. But why things didn't go ahead between Mahjabeen and Daniyal? We are curious to find out.
While Dananeer was missing from the episode, we were introduced to the Sri Lankan actress, Nathmy Parrera (Yehali Tashiya). Her father was affiliated with PMA and she, being a Sri Lankan army recruit, has been selected for training at Kakul for 6 months. We loved the peacefulness in her character and the bond she shared with her mother. Nathmy is also looking for her father's long-lost friend Mujahid and we wonder what his character will add to the story.
The promo of the next episode revealed Shehryar Munawar's entry into the plot. Seemed like the next episode will be power-packed, with the girls kickstarting their military lives at Kakul.
Scenes that moved us!
Since its first episode, Sinf e Ahan featured scenes and dialogues that warmed our hearts. This week, we loved how Shahista's father stood up against his conventional mother to support her daughter. His chest swelled with pride when he met the people of his clan who congratulated him for having a child who will be the first female army officer in the family. Similarly, the scene where Pariwash and her whole family enjoy television together and are in awe of the men in uniform was empowering to watch.
We also enjoyed the sweet chemistry between Rabia and Mahjabeen, while they stood in the kitchen making kebabs. Hopefully, army life will unite them again, blessing us with more heartwarming scenes between the duo. Equally lovable were Nathmy's deep conversations with her mother and her deceased father. The scene where the mother-daughter sat beneath the stars to enjoy a heart-to-hear)t was endearing. The performances displayed by all actresses are impeccable and Yehali Tashiya's acting prowess is equally compelling. However, we strongly believe that Yumna Zaidi has a more challenging task of portraying a Pashtun girl. Her Pashto accent is on-point, so is her body language and expressions. She is cute, fiery, and strong in her avatar, making her character as Shahista an addictive watch.
We truly cannot get enough of Sinf e Ahan. We are predicting that the drama will surely make it big, probably even bigger than Ehd e Wafa.