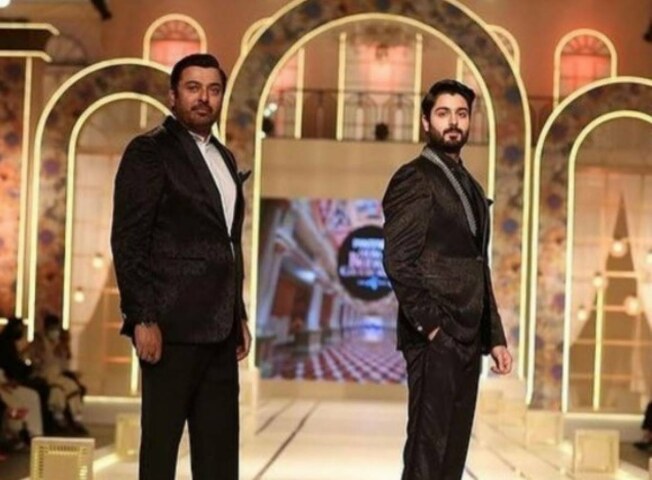 Zaviyar's acting chops seem quite promising and it's evident that he has a long way to go in the industry.

Pakistan's entertainment industry is blessed with a new dreamboat and that seems to be Nauman Ijaz's son, Zaviyar Ejaz.
Tall, handsome, and flaunting that hot- stubble and handle-bar moustache; he has acquired quite a fan-base on social media.
But it's not just his looks that have made him the talk of the town. His acting chops seem quite promising and it's evident that Zaviyar has a long way to go in the industry.
Already flying high by grabbing roles in two massive projects, Hum TV's Sang-e-Mah and Qissa Meherbano Ka, the young hero is proving to be a dynamic presence on screen. Hopes are high that he will take over his father's footsteps and will prove that he Is a force to be reckoned with.
Nevertheless, being the son of one of the most wanted stars in showbiz isn't easy. There are accusations of encouraging the practice of nepotism on both father and son. However, in a recent interview with Voice of America Urdu, Naumaan Aijaz quashed all such rumors by revealing how he was initially hesitant of Zaviyar aspiring a career in acting.
Speaking to the renowned journalist, Omair Alavi in a video interview for Voice of America Urdu, he narrated the entire tale of Zaviyar's launch in dramas.
"It was a coincidence that he got into the industry last year. He never went into media gatherings with me nor paid any visit to any of the sets of my dramas. No one had seen him or met him.

Last year, my elder son told me that wanted to act. I asked him 'how come?'. He replied that I also perform theater in my university and I have developed this inclination to pursue it.

However, I told him that you will not look attractive on the screen since you have a lot of weight. Since you are just 23-24 years old, you need to cut down your weight. You need a lot of motivation for this and the passion for acting comes from within. It cannot be like that you wake up one day and aspire that you want to perform. That is not possible."
Naumaan further added how his son fulfilled his ambition and lost weight for this purpose.
"After our discussion, he worked on himself and lost weight up to 25-27 kgs. He also developed sciatica pain because of it. I saw motivation in him and we were on holiday when he walked with me on the ramp for Uniworth. If I would have wanted to launch him, I would have created a production myself and featured him in it. He just got an opportunity on his own and asked me if he can pursue it. To that, I told him that he surely can!"
The interview surely revealed the real tale of Zaviyar's introduction in the world of showbiz. The rising star has unlimited potential, which can be seen in his performances as Mehran in Qissa Meherbano Ka and Hikmat in Sang e Mah.