The trailer for Cereal Films and HUM Films' 'Dum Mastam' was released tonight at the grand launch. The movie...

The trailer for Cereal Films and HUM Films' 'Dum Mastam' was released tonight at the grand launch. The movie features the gorgeous and talented Amar Khan and power-house Imran Ashraf in leading roles for the first time on the silver screen, while the ever-charming Adnan Siddiqui makes a grand entrance in the later part of Dum Mastam's trailer. Dum Mastam marks the debut production for Adnan Siddiqui alongside Akhtar Hasnain who is co-producing it. Penned down by Amar Khan and directed by maestro Ehteshamuddin, Dum Mastam promises to be an block-buster in the making!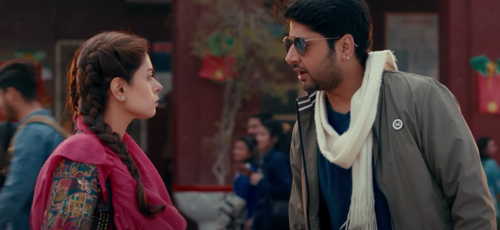 Already ruling the hearts of audiences on television screens, the leading pair are all set to set the stage on fire in your nearest cinema this Eid!
We also spotted legendary actor Seifee Hasan, Salim Meraj and Momin Saqib who seems to be playing the baddie this time. We can't wait to see the star-studded cast bring the film alive! From the well-choreographed dances, vibrant imagery to the well delivered comic line and punches, Dum Mastam's trailer has caught our eye.
Imran Ashraf and Amar Khan Steal hearts as Bao & Aliya in Dum Mastam's trailer!
We are introduced to the 'lover-boy' Bao aka Imran Ashraf who is head over heels in love with Amar Khan who plays the role of 'Aliya'. The vivacious, bubbly and bold Aliya dreams of becoming a star and says she has no time for any love story. We see Bao remain in pursuit of Aliya, however just like any good ol' classical flick would play out, Dum Mastam's trailer sees a change in pace when Aliya's family refuses Bao's proposal, he seems to have his heart broken and announces he has no interest in marrying her either! We're loving the chemistry between Amar Khan and Imran Ashraf throughout the trailer and can't wait to see the two together on the big screen.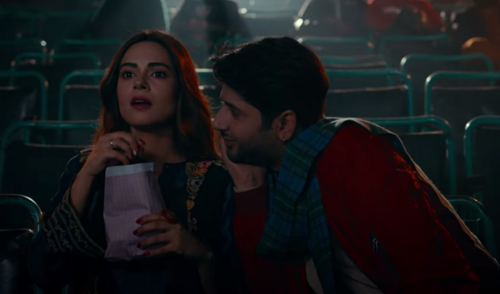 The next scenes show Aliya getting approached by Adnan Siddiqui for dancing 'cabaret' and performing for him, she gladly accepts but it looks like her family does not support her decision and her dreams of making it as a huge star may never come true. In a turn of events, Bao who has a melodious voice gains fame and becomes a star overnight even when he had no aspirations to do so.
The movie has a lot to offer and we've been left wondering who is behind the masked youtube video, why are the popular reviewers we know and love including journalist and film critic, Omair Alavi, actor Arsalan Naseer and director and host, Wajahat Rauf accusing Bao of being a fraud? We'll have to watch the film to find out!
The film will release on Eid ul Fitr 2022 in cinemas near you.