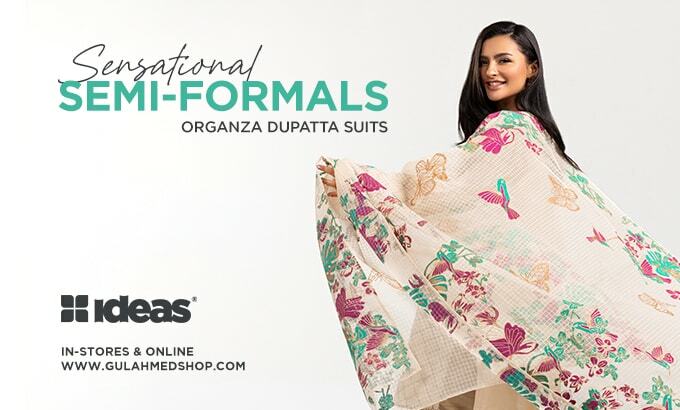 Get a headstart on your Eid fashion!

Summer is right around the corner with all brands bombarding the stores with their new collections. For us, the cool and light fabrics and fresh designs by Ideas is the winner! The perfect solution to Eid festivities to Ramadan pot-lucks! Ideas offers a wide range of styles to pick from its ready-to-wear two-piece suits collection featuring matching shirts and dupattas.
Here are our few favorites from Ideas Pret's latest 2-Piece Suits collection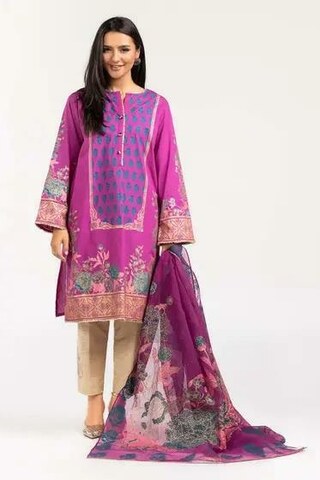 To add more colour to your usually monochrome wardrobe, this two-piece is a solid choice. This bright orchid shade gives off a fresh and energetic aura! It's a blue screen-printed cambric kurta with lace embellishments on the neckline, sleeves, and Daman making it a good choice for Eid festivities. This outfit can be paired with solid-colored pants and a plain clutch and you're ready to steal the spotlight on any Eid dawat!
A soft orange kurta is an appropriate choice for summer, giving a bright and fresh vibe! The intricate pattern on the shirt edged with a deep maroon lace completes the look. The long puffed sleeve cinched around the wrist adds more dimension and the traditional kurta collar gives it a formal touch. The sheer organza screen-printed dupatta has been finished with white embroidery creating a perfect outfit for Ramadan get-togethers!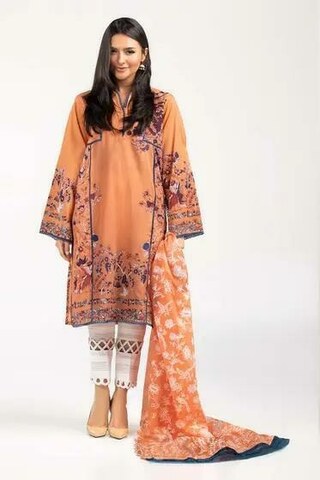 Pastels and muted tones are a must-have to beat the heat! A light orange shirt is perfect to pull off any summer festive look! A subtle shade of orange contrasted with a bold navy screen-print is a perfect fit for Eid! This cambric kurta with lace embellished front and flowing sleeves when paired with a solid screen-printed dupatta makes u a comfortable and chic outfit to wear at the Eid lunch you're planning to host.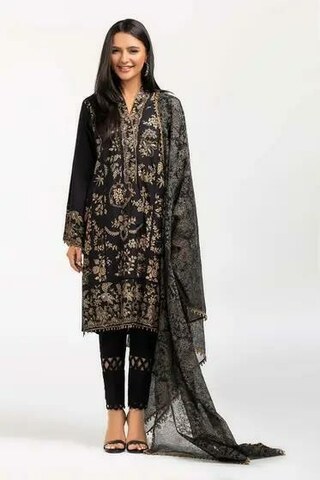 Black is always the safest bet! Classy and elegant, black manages to bring the best in you! This stunning two-piece is a top pick! The solid black cambric with muted gold screen print is contemporary yet chic! The subtle details of laces add the extra touch, along with a dull gold screen-printed dupatta tying the entire look together!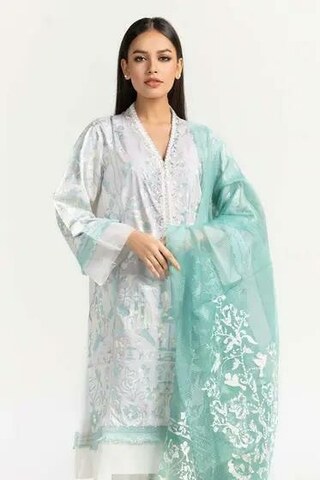 This stunning piece by Gul Ahmed is the perfect fit this summer! The cool icy tones contrast the sweltering summer heat and provide a refreshing feel to it. The sheer organza dupatta with the intricate screenprint adds a slightly formal touch to the outfit, making it a solid choice for iftar parties and dawats.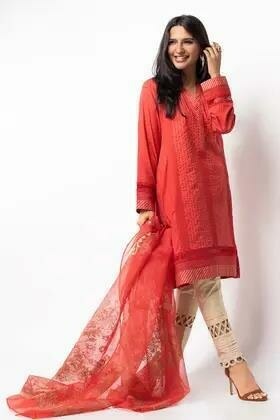 This Rust Kurta is the perfect pop of color, giving you a bright and energetic aura! This solid piece focuses on the beautifully detailed tailor-work, with hints of dull gold to add depth to this simple shirt. The Printed organza dupatta adds the extra oomph, and if paired with traditional gold jhumkas, it could be classified as an Eid Day 1 Look!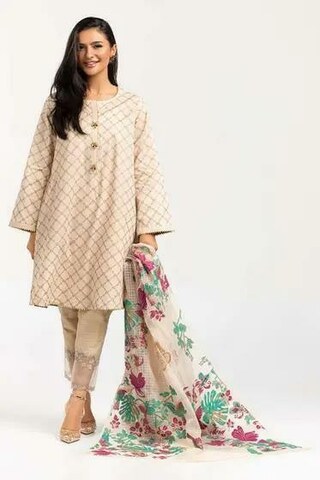 This beautiful beige shade kurta can be worn anytime or any day, making it practical and sophisticated at the same time. The dull gold screen-printed cambric shirt with little details such as the buttons and edges lined with delicate gold lace ties the look together. This goes well with a colorful floral printed dupatta giving a soft feminine touch, making it a good fit for a warm Eid afternoon.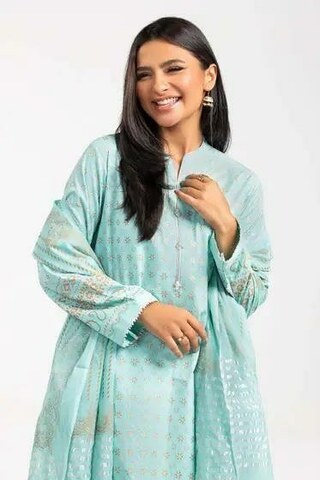 This soft pastel shade is a must-have for the scorching summer season. The cool shade of sky blue with subtle notes of gold and silver screen printing adds beautiful detail to a solid piece. The traditional neckline and delicate lace further elaborate on the details. Elegant yet chic!
Check out the latest collection of ready-to-wear 2-Piece Suits by Ideas Pret at www.gulahmedshop.com to make your Ramadan and Eid shopping easy and stress-free! Don't forget that you will get FREE DELIVERY on orders worth PKR 2,000 or more!