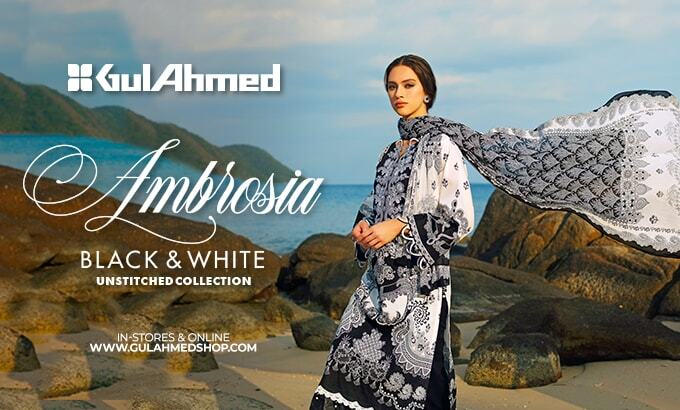 It's finally here!

While we love our vibrant colors, trendy neon's and cool pastels for the summer, there is something about a very basic color combination that no wardrobe is complete without. It's the good old fashioned black and white combo. And needless to say, the GulAhmed Lawn Collection is more or less incomplete without the Black and White Collection. It is classy, trendy and a wardrobe staple for any kind of fashion preference.
This year too, GulAhmed has a trendy collection of black and white dresses that you can get creative with. The collection consists of both two-piece and three-piece designs, paired with an array of dupatta choices. You can actually mix and match between outfits and create a whole range of looks with just two or three outfits.
The black and white collection by GulAhmed features both dressy, formal options as well as more daily wear. Let's take a look at our favorites from the black and white collection.
Casual – Priced Under Rs 3,000
This classic yet simple black and white print is heavier on the white making it a perfect choice for the sweltering summer. And if you, like us, have always been nervous about wearing white then this black and white dress is a great way to get started.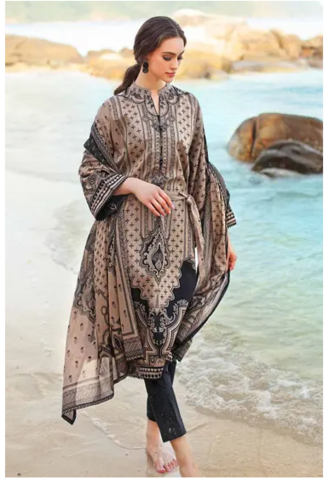 This two-piece outfit pairs black with beige for a classy uplift to the usual white pairing. Pair it with black trousers, tights or shalwar to complete the look.
And we absolutely love the way this one combines florals with a geometric patterned dupatta. It is both whimsical and trendy!
Special – Priced Under Rs 5,000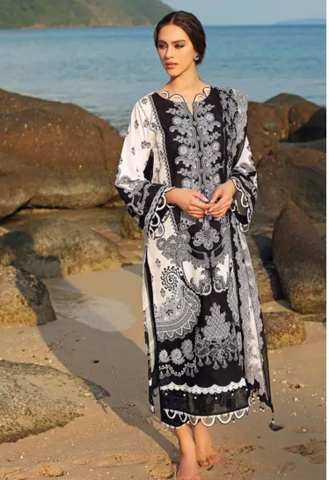 This one has a nice balance of black and white. And the embroidery on the front of the shirt means that you can keep it for a special occasion at work. The great thing about black and white dresses is also that you can embellish them metallic accents or even different colored accents for a dressier look.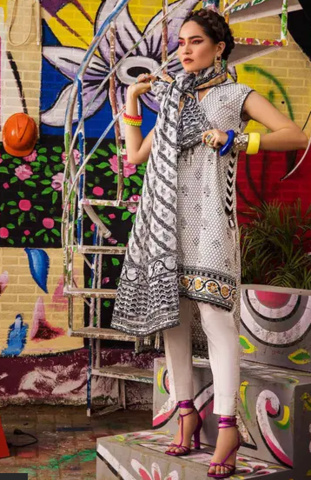 This one has a subtle pop of yellow with the black and white. The karandi organza dupatta with this three-piece makes it an easy one to dress up for an evening out. Pair the outfit with some colorful accessories for a real style statement!
Formal – Under Rs 7,000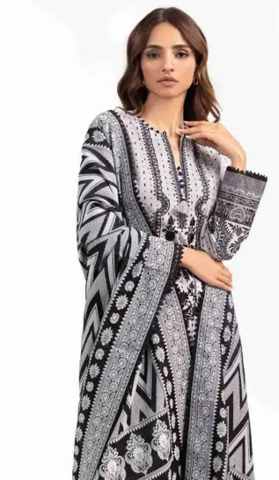 We are absolutely in love with this one! The Chevron print, jacquard dupatta adds both depth and grace to this black and white dress. The embroidered neckline is subtle, and yet it stands out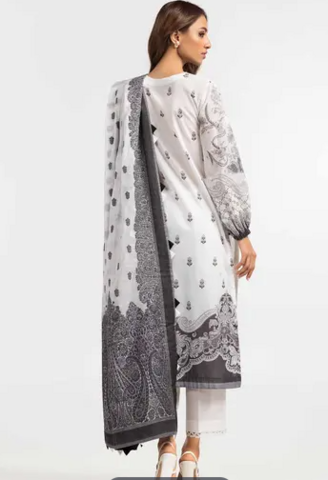 The intricate paisley print on the dupatta of this outfit has our heart. The entire outfit is more white than black, giving it an understated elegance. The embroidered neckline is also white. The white on white creates a look of old-world charm and we are here for it.
But this is not all, there are so many more outfits in the GulAhmed black and white collection that we are coveting right now! Go and have a look at the entire collection on www.gulahmedshop.com