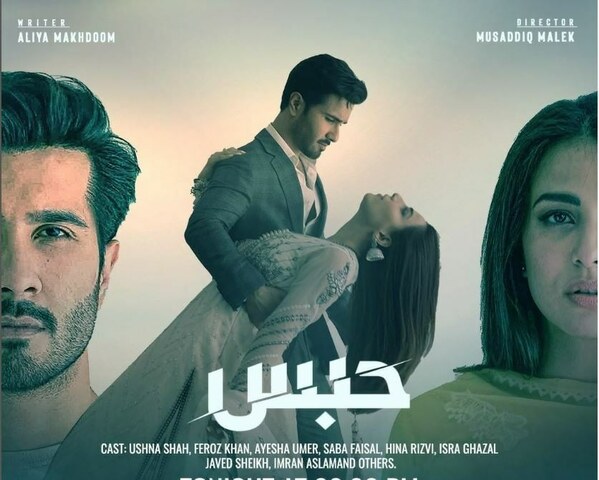 Ayesha, Basit, and Fahad's situation get worse. While attempting to make sense of everything that has happened, ...

Ayesha, Basit, and Fahad's situation get worse. While attempting to make sense of everything that has happened, Basit encounters an accident that presumably provides an opportunity for the two to mend fences and restore what has been damaged.
Because of its simple storyline, excellent acting, and flawless execution, the ARY Digital serial Habs has become a favourite among Pakistani drama fans. The drama, which has been written by Aliya Makhdoom and is directed by Musadiq Malik, stars a new on-screen couple in Feroze Khan and Ushna Shah. Given how well they both portray their roles, the two are receiving a lot of praise. The plot centres on Ayesha (Ushna Shah) and Basit (Feroze Khan), who are bound together by marriage and struggle to make things work for themselves. Ayesha and Basit both hail from quite diverse backgrounds with different circumstances. Basit hails from an affluent but broken household. When he was a little child, his mother left him behind so that she could remarry. Basit had lost confidence in women, especially his mother, but he was obligated to wed by his father's will in order to inherit all of the money and businesses that his father left behind. Ayesha, on the other hand, comes from a middle-class household where the home is only managed by women because Ayesha's father passed away a long time ago. Ayesha's mother is a materialistic, arrogant woman who puts her family's financial stability ahead of all other concerns.
Basit (Feroze Khan) has decided to divorce Ayesha (Ushna Shah). Bano (Dania Anwer) meets Fahad (Musadiq Malik) to talk to Basit and end the misunderstandings between him and Ayesha. Fahad assures Bano that he will speak with Basit and make an effort to clear out the misunderstandings between the two.
Ayesha meets Fahad in his car to discuss the issue and try to find a solution. But she forgets her phone in Fahad's car. Fahad managed to persuade Basit to sit and talk for a while in order to dispel his misconceptions. As Basit is listening to Fahad's explanations, during which he swears on his mother and also affirms Ayesha's commitment and swears that neither he nor Ayesha could even think of doing such a thing. While the two were still conversing Ayesha's cellphone suddenly begins to ring in Fahad's car. Upon finding her phone in Fahad's car Basit becomes even more enraged.
Basit comes to Ayesha's place inquiring about what her phone was doing in Fahad's car. Ayesha is unsure of how to respond to this and is perplexed. Basit storms off in rage, but meets a horrific accident as he is driving while distracted by his thoughts.
Fahad is informed of Basit's accident via a call from an unidentified number. Both Fahad and Ayesha rush to the hospital. He has fortunately survived, but the doctor warns that it will take some time for him to fully heal.
Ayesha stays with Basit at the hospital. When Basit gains conciousness, he discovers Ayesha asleep by his bedside; he gently strokes her hair to the side. Ayesha was still there when Basit got up the next morning, they both didn't speak but there was alot silent communication between the two as Ayesha helped him eat and told him about his condition. Ayesha is taking care of Basit as he recovers and it seems like this will help the two get back together and reconcile.
We experienced a range of emotions in this episode, especially when Basit was still seen struggling with his doubts while Ayesha was making the same stupid mistakes. We are particularly disappointed about how Ayesha's character seems to have been written in haste in recent episodes. Initially, Ayesha was shown as this sensible girl yet she is been seen following then same loop with one blunder after the other. However, Feroze and Ushna were as always brilliant as Ayesha and Basit, and appear totally committed to their roles. We hope the drama progresses in a logical manner rather than remaining stuck in the same gloomy and confusing plot.
What do you think is going to happen in this week's double episode?