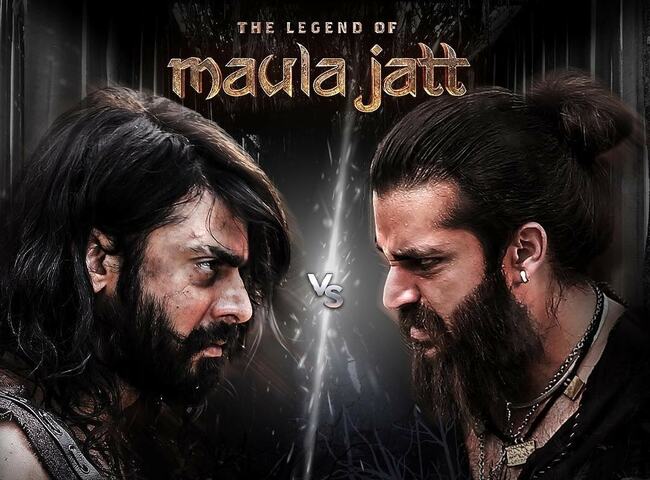 With so much wait, it has already made everyone so hungry for its screening.

In early 2017, the much-awaited 'The Legend of Maula Jatt' (TLoMJ) went into production and had the Pakistan entertainment industry desperately waiting for it to hit the cinemas. Initially, some lawsuits and later the COVID-19 pandemic shelved its release. However, we will finally witness the movie on the silver screen after 5 years.
It is also being released at a time when the box-office business has slowed down and the industry needs a mighty boost to bring the audiences back to theaters to view content 'Made in Pakistan'. With all the hype and hoopla in the air, it is predicted that TLoMJ will shatter all box-office records.
There is so much significance that TLoMJ holds for the audience. With so much wait, it has already made everyone so hungry for its screening.
Let's reflect on some of the reasons TLoMJ has been able to stand out so far!
A unique band of heroes
Of course, one of the major reasons the whole of Pakistan is craving TLoMJ is because its stars Fawad Khan. He has been an actor who has heightened his exclusivity and stardom by being so selective in his projects, making his fans yearn to see him more on screen. But then there is also Hamza Ali Abbasi, who is a powerful actor and has entirely sidelined himself from the world of entertainment. TLoMJ is surely amongst his last projects that will be unveiled this month.
We are equally excited to see Gohar Rasheed and his wild transformation, Ali Azmat and Faris Shafi in their respective roles. We bet that together the men will be striking like thunder on screen, making the movie an invincible project for years to come.
A daring project of the gandasa genre
In many ways, TLoMJ is one daring project by director Bilal Lashari. He boldly took the challenge of dabbling with the cult Punjabi gandasa genre- a genre that failed to evolve and was later blamed for the death of Lollywood. Lashari is aiming to explore it while giving the new Maula Jatt a taste that will entice the millennials and Gen Z.
It has no songs or dance sequences like the recent movies. What's more, it has hard-core Punjabi dialogues that the masses might not understand. However, it will have mind-boggling stunts, set in a pre-industrial period, and will essay an explosive rivalry between Jatts and Natts, essayed by A-list actors in the country. The director has made it clear that he doesn't aim to revive the gandasa genre but rather tell it in his own style in an era where it has become almost nonexistent.
A dose of women empowerment
TLoMJ might be a story of the yore but female viewers will be excited to witness Daro, essayed by Humaima Malick, as a fiery warrior of a woman. Noori Natt's sister in the story, Daro is powerful and is her own person. She knows how to wield a sword, ride a horse, and can defeat her enemy with fighting skills equivalent to any man.
The film indeed seems like a male-dominated plot. But the addition of the firecracker Daro amongst all the men will be a game-changer. We are also excited to see what flavor Mukhoo Jatti's character, essayed by Mahira Khan, will add to the story. She is playing Fawad Khan's love interest in the story.
Ammara Hikmat and Bilal Lashari's dynamic partnership
It is quite evident that so far Ammara Hikmat and Bilal Lashari have steered TLoMJ out of quite troublesome times. From various interviews, we have realized that the duo have been quite patient with the project and fought security threats, lawsuits, and, not-to-forget, the pandemic to make this project see the light of day.
Their partnership together has been no less than a blessing for the movie. Bilal Lashari has already made his acclaim as a director with the award-winning Waar. Hikmat has aimed high by becoming the investor and producer of Pakistan's most expensive film. All eyes are on this trailblazing duo as everyone is excited about the work they have claimed to work effortlessly hard on. Will they be truly able to make a difference? We hope so!
The Legend of Maula Jatt will release in theatres all over Pakistan on October 13, 2022.