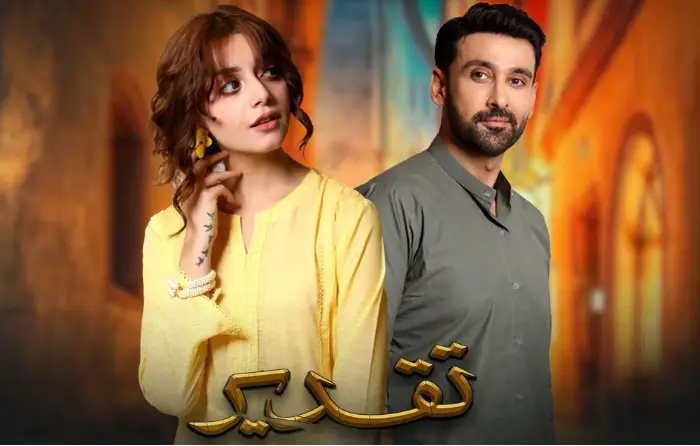 This week's episodes made it quite evident that nothing in Rumi's story would be simple.

Asad continues to prove the kind of typical husband our society produces because he is now just concerned with pleasing his mother. Rumi's innocence can really make it more challenging for her.
Maheen is making every effort to make everyone hate Rumi. Taqdeer, a new soap opera from Ary Digital, fills a long-standing need for this kind of getaway entertainment among Pakistani drama viewers. It fills the void on our screens for melodramatic drama and airs from Monday to Thursday at 9:00 p.m.
It is written by Doorway Entertainment and is a Big Bang Entertainment production. It revolves around the traditional family politics that infect most Pakistani households, with a mother-in-law (Saba Faisal) who is unwilling to relinquish her position as the head of the house and constantly puts obstacles in her son and daughter-in-law's paths. Rumi (Alizeh Shah), the only daughter and youngest sibling of two brothers, is always showered with love and care by her family. After her marriage, however, things are rarely as rosy for her at her susral. After she gets married to Asad (Sami Khan), she faces difficulties that she could never have ever imagined. Rumi was chosen for Asad by his mother, and Asad fell in love with her naiveté and simplicity. When it was actually a love marriage, Asad made his mother believe into thinking that he did it at her request.
Rumi resolves to do things Fehmida's (Saba Faisal) way and does her best to avoid creating further difficulties for herself. She doesn't want to face Asad's wrath after seeing how cunning and two-faced her mother-in-law can be. Asad, his mother, Zuni (Maryam Noor), and Maheen (Aliya Ali) challenge her with more difficult problems this week. To make Rumi responsible for all of the household chores, her mother-in-law fired the housekeeper. She tripped and injured herself while mopping the floor. However, Asad's mother led him to believe that it was her negligence that caused her to trip and fall. But just as Asad leaves, she accuses Rumi of controlling Asad and tells her that if she hires a maid, she would be held accountable for whatever happens. Meanwhile, Rumi discovers her sister-in-law, Zuni (Maryam Noor) speaking to her boyfriend when she is on call. When Rumi confronts Zuni, she declines right away.
This infuriates Rumi's mother-in-law who feels that her daughter is being unfairly blamed and slaps Rumi. Fehmida completely alters the story when Asad arrives home, portraying Rumi in bad light. Asad asks Rumi to stop causing trouble because his mother can't handle any stress after having a heart attack and believes Rumi is lying about his sister and about getting slapped. Even though Rumi is terribly devastated, she makes an effort to keep her feelings for Asad intact and apologizes to him.
With persistent pressure from her Phuppo (Hina Rizvi), Rumi's father Tahir (Javed Sheikh) banishes his son from the family after he refused to wed his niece Ramsha (Anushay). He was shot by mobile snatchers while he was outside at night, suffering injuries. This made Tahir understand how wrong it was of him to force his decision on his son. Everyone agreed to Zaira's (Rumi's best friend) proposal as a result of the entire episode and Rumi's persuasion. It is clear that Humna (Amna Malik) is upset about this. However, it appears that Guria (Hina Rizvi) is hatching some evil scheme and won't be able to rest until she marries Haris and Ramsha. Both Humna and her mother want the sisters settled in their uncle's home, and establish their rule.
This week's episodes made it quite evident that nothing in Rumi's story would be simple. She does, however, start to speak up a little and defend herself after Maheen provokes her. Sami Khan's portrayal of his character as a stern spouse and the type of guy we see in every family has greatly impressed us. Fehmida is superbly portrayed by Saba Faisal, who effectively makes us hate the wicked mother-in-law she is playing. Alizeh Shah occasionally overacts as Rumi, making the performance look forced. We are anxious to learn what else Rumi's fate has in store for her.