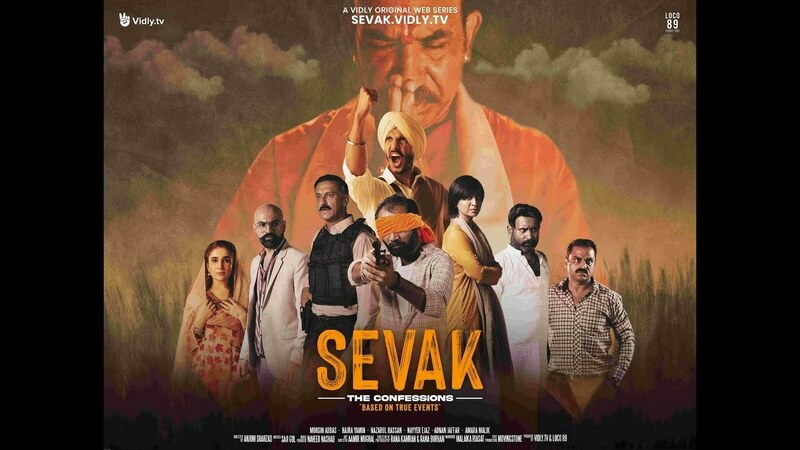 Sevak: The Confessions dropped its second episode this week and it is even more explosive than the last one....

Sevak: The Confessions dropped its second episode this week and it is even more explosive than the last one.
Thrilling, dark, and packed with suspense; the Vidly.tv web series is unfolding some deep political secrets of the past that marred Muslim and Sikh families in India. The series is a bold step by writer Saji Gul and director Anjum Shehzad as it narrates the atrocities that happened in India by extremist groups, from 1984 to 2022.
Let's see how Sevak's story has paced so far this week and how it ended up on a cliffhanger, giving us major goosebumps.
Vidya in Trouble
Being a passionate journalist, it is evident that Vidya (Hajra Yamin) will not rest till she gets to the bottom of the matter that needs public attention. Ever since, Mannu and his secret story of the Sikh Singer, Jeet Singh's death (Mohsin Abbas Haider) begin to make her curious, her life has been turned upside down in its pursuit.
She begins to chase Mannu (Nazar ul Hasan) but ends up coming under the radar of goons that are probably enemies of Mannu as well. Together, they both run and hide in Vidya's home but they surely need security. Two policemen are then hailed by her brother to guard the house. But fate had other plans for Vidya and her new friend.
A twist happens in the plot when she realizes that the cops safeguarding her house are involved with the goons who were chasing her in Mannu's locality. While they both succeed in hiding themselves, they are very close to being discovered. Will they make it out alive? Let's see what the next episode unfolds.
In between the story, we keep encountering historical flashbacks. We also see Jeet Singh as a child and how he grows up seeing his mother in depression and riots against Sikh happening all around him. One of the throwbacks described how the Khalistan Movement was kickstarted by the Sikh community in India. We also went back in time and witnessed how the issue of Babri Masjid was ignited,, which triggered violent Muslim-Hindu clashes all over the country. In one of the scenes, Vidya can be seen exploring a rusty file of her father's that recorded the tragic deaths of Muslims over the years in India.
A major eye-opener
Sevak: The Confessions is a story that all entertainment buffs need to see. It is shocking, true, and extremely gripping while making us realize how many Indians are losing their lives till day due to political vendettas.
Hajra Yamin is truly the star of the series. She is bold, unapologetic, and passionate in her portrayal of Vidya. She has rightly exhibited herself as a contemporary journalist who will not back down till she achieves her mission. But where will this fiery devotion to her career take her in life? Let's wait and watch