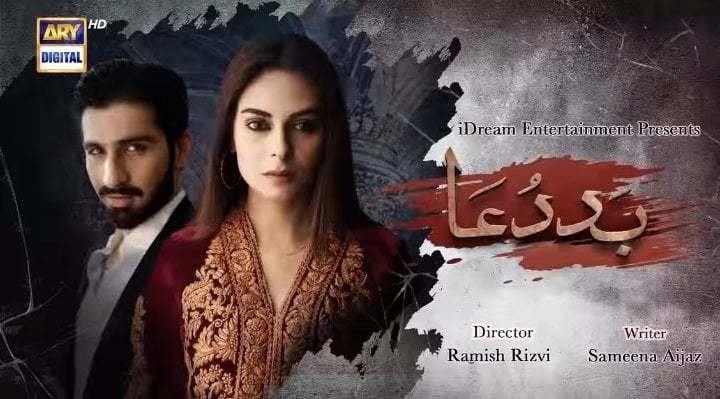 Baddua starring Amar Khan, Muneeb Butt and Mohsin Abbas is off to a promising start!

One of Ary's latest drama to be aired is Baddua starring the ever so beautiful Amar Khan, the dapper Muneeb Butt and chocolate-hero Mohsin Abbas. The show has taken a promising start and has managed to achieve 5.1 TRP's with its first double episode on Monday.
Let's take a look at what Baddua's first episode was all about.
We were introduced to the very bubbly and outgoing Abeer played by Amar Khan. Poles apart from her super-hit qayamat role of Samra, Abeer is a girl who has wild dreams, goals, is highly ambitious and knows what she wants and is not afraid to get it. Born into a conservative middle class family Abeer wants to break through and live life as she pleases with the man of her dreams even if he is her friend's fiancé! Enter Muneeb Butt, her friend Neelam's fiancé 'Junaid', Abeer is smitten with Junaid from the first time she meets him and cannot stop thinking about him. She is lost in his charm, good looks and the fact that he has a lot of money also helps!
Abeer plots to try and turn Junaids attention towards her, she lies to her friend Neelam by saying she needs to call her mother back home. However, she copies Junaids number quickly to her phone. Later that night she changes the sim and begins talking to Junaid. Lo and behold he also reciprocated, forgetting the fact that he is engaged after all to Neelam. Abeer and Junaids friendship grows and the two decide to meet for lunch where Junaid discovers the girl he has been talking to on the phone was Abeer! He says he doesn't mind and that he was pleasantly surprised. While everything has been going according to Abeer's plan, Mohsin who is head over heels in love with Abeer sees her at the restaurant with Junaid. Mohsin is shocked but being the decent guy that he is, does not interrupt Abeer.
Who is Mohsin?
Let's talk about our second hero Mohsin played by Mohsin Abbas, he is in love with Abeer but little does he know she is just passing her time with him. Mohsin has already mentioned to his mother that he wants to marry Abeer and not his cousin, ignoring his mother's wishes. Abeer on the other hand is tired of Mohsin pestering her and ignores his calls and messages, she is clearly not interested in him anymore and has just been playing him all this time. Mohsin Abbas has essayed the role of a lover-boy perfectly and we are yet to see how he will handle the rejection by Abeer since he is madly in love with her.
Amar Khan Impresses With her role as 'Abeer'
Amar Khan as 'Samra' from Qayamat was loved by audiences all over and this time Baddua brings us 'Abeer' who is ferocious, cunning and a go-getter. There is no line she wouldn't cross to get what she wants which was evident when she went after her friend Neelam's fiancé right after she met him. Abeer decided she wanted him for herself and began her mission immediately. Amar Khan has proven her mettle once again after showing off her versatile acting skills in Baddua! We are anxious to see what Abeer's fate will be as the story unfolds.
Follow HIP for the latest entertainment news and updates.