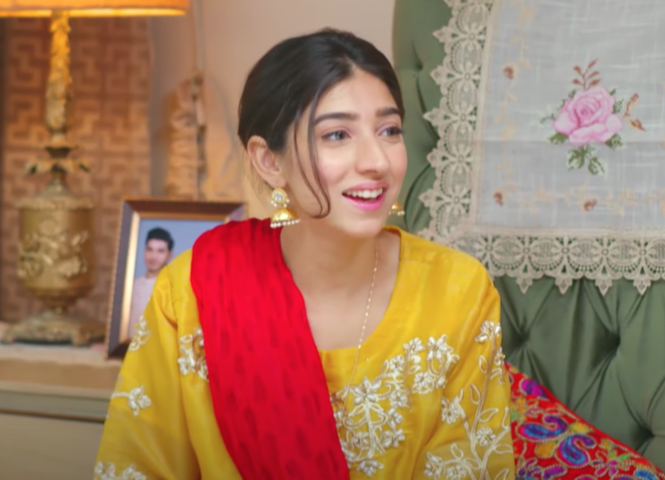 A story of love, lies, jealousy and betrayal, Mohabbat Chor di Maine has us hooked.

Mohabbat Chor di Maine is one of the latest dramas running successfully on Geo Entertainment. The show is produced under the banner of 7th Sky Entertainment, directed by Shaqielle Khan and is penned down by Naila Ansari. Mariyam Nafees, Hajra Yamin and Mohsin Abbas Haider are playing the lead roles as Sehar, Komal and Umar. A story of love, lies, jealousy and betrayal, Mohabbat Chor di Maine has a gripping narrative that already has us hooked....
The Plot
The leading man, Umar (Mohsin Abbas Haider) hails from an affluent background and is married to his wife Komal (Hajra Yamin), she is nothing short of a 'hitler' of sorts. Her personality is such that everyone in the household thinks twice before speaking to her including her husband. Little does she know Umar has been harbouring a dark secret from her. His frequent visits to Lahore on account of business turned out to be him secretly meeting his second wife Sehar (Mariyam Nafees). The cat is let out of the bag when Komal, decides to surprise Umar on their wedding anniversary but discovers another woman in his life. She is disheartened and broken but decides to make her cheating husband's life a living hell. Sehar on the other hand is a polar opposite to Komal and Umar has a soft spot for her as he believes he is truly in love with her and is unhappy with Komal. While Komal is a sophisticated, classy and educated, Sehar on the other hand, hails from the village, is uneducated and is extremely naïve for her own good. Things heat up when Komal decides to threaten Umar into divorcing his second wife but he refuses to do so.
Mariyam Nafees aka Sehar Breathes Life into Mohabbat Chor Di Maine
Hajra Yamin and Mariyam Nafees play the two wives of Umar (Mohsin Abbas), both women have completely oppsite personalities. While the constant screaming and verbal abuse by Hajra Yamin's 'Komal' does get a little too much at times, Maryam Nafees' Sehar is just as Umar describes her to his sister, Sehar is like a 'Thanda hawa ka joka' - a breath of fresh air. Nafees has proved her mettle once again through her remarkable performance as the illiterate villager who is unaware of the real life outside of her bubble, she believes that every person has some goodness in them. Her chirpy and bubbly persona has left us in smiles and we're loving her on-screen chemistry with Mohsin Abbas Haider. We're anxious to see how the story unfolds for Sehar in the drama, will she be able to win the battle against Komal and maintain her place in Umar's heart? We'll have to watch the next episode to find out.
Will Sehar Survive in Komal's House?
The innocent Sehar has now moved to Karachi after her mother left her alone in Lahore. Sehar is also pregnant with Umar's child and in order to protect her, he agrees to bring her to Karachi. She has been cooped up in a hotel where Umar meets her from time to time but Komal finds out the truth and is furious. Next episode's teaser shows a naïve Sehar saying 'Komal Api' brought me to this house when Umar questions how she got there. Sehar's happy go lucky bubble is about to burst once she faces Komal's wrath. Let's see how the story unfolds as the two women stay under one roof fighting over the same man.