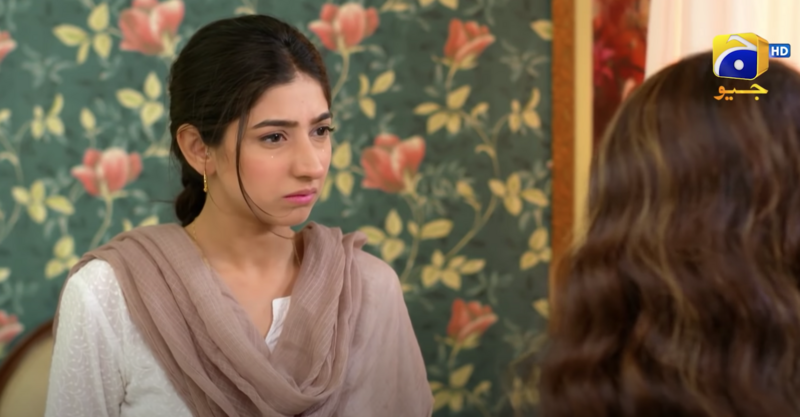 Starring Mariyam Nafees, Hajra Yamin, Mohsin Abbas Haider and Farhan Malhi in lead roles the drama has been...

Starring Mariyam Nafees, Hajra Yamin, Mohsin Abbas Haider and Farhan Malhi in lead roles the drama has been developing at a fast pace and here's what happened in the last week....
Sehar and Komal's Face Off Leads to Dire Consequences
Komal's plan to bring Sehar (Mariyam Nafees) into her home and then scare her away has not been going too well and has also backfired on her to some extent, however, Komal is not one to give up so easily. Sehar has been the timid, naïve girl from the village who nods and listens to her Komal Api but after leaving her new-born child in Komal's care she comes home to find him on the floor about to be suffocated by his own blanket. Upon finding out the cause she gets to know it was Komal's daughter Filza who left the child on the bed alone and he fell down. Just as any mother would react in that situation, Sehar lost her temper and scolded Filza for leaving her son alone on the bed, Komal walked in during this moment and tempers flared between the two women. This was the first time we saw Sehar talking back to Komal and this did definitely not sit too well with the later.
The clash between the two women lead to Komal locking Sehar and her child in her room for two whole days, during this time Umar was not in the country and had travelled to Dubai for work. Komal did not spare Umar's sister Zainy either and locked her in the house too. Zainy could not tolerate it anymore and requested help from Hazim (Farhan Malhi). Having a past with Komal, he is aware of her mood-swings and upon finding out what she had done to Zainy and Sehar he realised she was mentally unhinged at that moment and he took her away to the hospital.
Komal Falls Sick and Umar's Stance Takes a Turn
Umar finds out the truth from his daughter and he is furious about it, he threatens Komal with divorce, this shatters Komal and her world comes crashing down. Her anger has gotten the better of her and she gets ill and is diagnosed with depression. Seeing this Umar's anger subsides and he feels guilty for Komal's sickness which was caused by him. He takes it out on his sister and wife Sehar and tells them they are equally to blame for Komal's declining health. After some vigorous convincing Komal returns back home with Umar and Sehar once again is left out of all family outings and plans.
Mariyam Nafees as 'Sehar' is the Saving Grace of Mohabbat Chor di Maine
Hajra Yamin's character has been shown as the ultimate badass, someone who cannot tolerate any misdoings with herself. In order to show how her failed relationships from the past have affected her they have shown her as a person who is always screaming, that too at the top of her voice. It does get a tad bit annoying to watch her screaming her head off in every single episode. Sehar on the other hand is calm, composed, sweet and a gentle being who is loving to everyone around her. As the second wife she has not forgotten her place and neither is she overstepping on Komal's shoes however, Komal is not ready to forgive her and her vengeance is just beginning it seems.
Mariyam Nafees has made the show that has over-the-top theatrics a bearable watch, proving her mettle as a brilliant actor once again. Paired across actors like Hajra Yamin and Mohsin Abbas Haider she has stolen the spotlight with essaying the role as a villager. This is the first time the starlet has been seen in such a role and she has us hooked with her acting proficiency, proving her versatility as an actress.
Watch what happens next in Mohabbat Chor Di Maine this week: