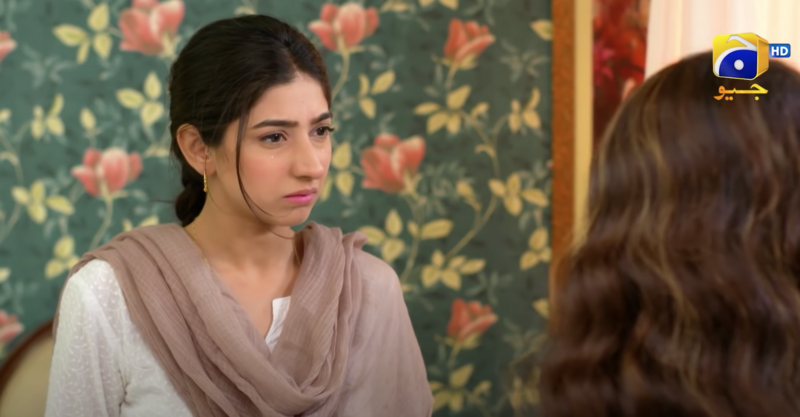 Maryam Nafees 's 'Sehar' impresses with her powerful performance this week.

Geo entertainment's Mohabbat Chor Di Maine has had the audiences hooked. The show has quite an interesting storyline and has had some major twists and turns along the way. While the story did get a tad bit repetitive for a short time, the power-packed performances from the cast have made the show worth the watch. Airing seven days a week, the story has moved along and developed quite quickly as compared to the general once a week dramas on air.
Let's take a look at what happened during the last week:
Sehar Finally Decided to Stand up for Herself
The naive, young, innocent and gullible Sehar (Mariyam Nafees) has finally seen the light of the day and is thinking about herself and her child for the first time. After being kicked out of the house by her husband Umar and Komal (Hajra Yamin), Sehar and her mother were homeless, having nowhere to go. Haazim (Farhan Mali) gave them a place in his home and counselled Sehar on filing defamation charges against Umar who had wrongly accused Sehar to be involved with the loafer Sarfaraz in stealing the jewellery from the house. Komal blamed Sehar to be in cahoots with Sarfaraz from the very start and Umar did not give Sehar a chance to say anything in her defence or to prove her innocence. Thanks to Haazim she was able to take a stand and this incident seems to have changed Sehar completely. We are loving the new and improved Sehar who is a brave fighter and is willing to go to any extent to prove her innocence in order to save her. Maryam Nafees has once again proved her mettle and shown versatility in her acting skills. From the timid Sehar to her new fighter self, she has proven she can pull of all kinds of roles effectively.
Komals character has us confused!
Once again Hajra Yamin's Komal has us confused, a woman who is loud, demanding, controlling and to some extent emotionally abusive can live life on her own but due to her ego she cannot accept the fact that her marriage is over and it is beyond any repair. A woman who holds such power should not be running behind a spouse that has betrayed her in the first place. She should not have to think of ways to win him over by feigning sickness and faking suicide. Instead of teaching him a lesson for betraying her, she is fighting for him, Hajra's character definitely deserved better and we believe the writers did injustice to Komal as she was shown as a strong , powerful woman who wouldn't take any nonsense from anybody.
Umar Loses Both his Wives Torn between his two wives, Umer finally made the difficult decision of leaving Komal by divorcing her after he learnt of the role she played in helping Sarfaraz out of jail and kicking out sehar from his life. He apologised to Sehar but she refused to believe him anymore and demanded a divorce from him. We are yet to see if Sehar forgives Umar and comes back or sticks to her plans of going back to Punjab.
What's Next Will Komal's divorce pave a new path for her and Haazim to be together once again? Watch Mohabbat Chor di Maine to find out.